An exciting line up for our 18th Season!
Calendar Girls
By Tim Firth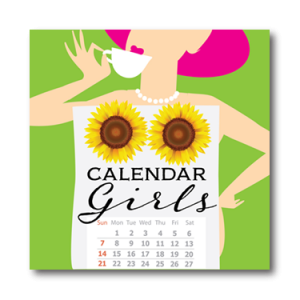 Directed by Michael Donahue
Produced by Janet Bartelmay
In this delightful comedy, Annie and her best friend Chris belong to the Women's Institute – a do-good organization in the heart of Yorkshire. When a member's husband dies of leukemia, the best friends resolve to raise funds, but donations are tight. They persuade fellow Institute members to pose for an "alternative" calendar that attracts media, fame and funds. Based on a true story, Calendar Girls is an uplifting, feel-good story of friendship, ingenuity and triumph. Later made into a popular film, Calendar Girls received the British Comedy Award for Best Comedy and several Golden Globe nominations.  Closed – An audience and critical hit!
Performance Dates And Times
Thursday, Friday and Saturday 7:30 p.m.
October 2, 3, 8, 9, 10, 15, 16 & 17
Sunday Matinees 2:00pm
October 4 & 11
Snow White and the Family Dwarf
By Greg Palmer

Directed by Beth Whitehead
Produced by Prince McLaughlin and David Whitehead
The familiar story of Snow White but with enough comic plot twists and turns to keep us all guessing. The Dwarfs are a family of three sisters and four brothers whose last name is Dwarf. Snow's arrival is a surprise, but quickly the family jumps to her aid. As the Queen obsesses over physical beauty and the Prince searches for the perfect bride, the Dwarf family demonstrates that real beauty is in caring for each other. A heart-warming tale, and perfect for audiences of all ages.  General Admission Seating – Tickets on sale now!
Co-Produced by Providence Players and The Young Hearts
This special production of a holiday treat will benefit the work of The Young Hearts, a group of amazing teens who raise funds to battle blood cancers and other diseases.  Half of all net proceeds from this production will be donated to Young Hearts Foundation in pursuit of their important mission.  For the past three years, over $24,000 was generated to support this important cause, and PPF hopes to increase its support in 2015.
Performance Dates And Times
Thursday, Friday and Saturday 7:30 p.m.
December 11, 12, 17, 18, & 19
Saturday & Sunday Matinees 2:00 p.m.
December 12, 13, 19, & 20
Almost, Maine
By John Cariani
Directed by Chip Gertzog
Welcome to Almost, Maine. A town so far north it's almost in Canada. Well, almost. One cold, clear Friday night in the middle of winter, while the northern lights hover in the sky above, Almost's residents find themselves falling in and out of love in the strangest ways. Knees are bruised. Hearts are broken. Love is lost, found, and confounded. And life for the people of Almost, Maine will never be the same. Witty, romantic and clever: a real crowd-pleaser.  Tickets on sale now!
Performance Dates And Times
Thursday, Friday and Saturday 7:30 p.m.
April 1, 2, 7, 8, 9, 14, 15 & 16
Sunday Matinees 2:00 p.m.
April 3 & 10
Red Herring
By Michael Hollinger
Directed by Beth Hughes-Brown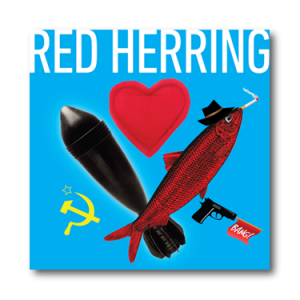 Three love stories, a murder mystery and a nuclear espionage plot converge in this noir comedy about marriage and other explosive devices. It's 1952: America's on the verge of the H-bomb, Dwight Eisenhower's on the campaign trail,and I Love Lucy's on Monday nights. Meanwhile, Senator Joe McCarthy's daughter just got engaged to a soviet spy, and a Boston detective has to findout who dumped the dead guy in the Harbor. Love, laughter and espionage –the perfect evening out!  Tickets on sale now!
Performance Dates And Times
Thursday, Friday and Saturday 7:30 p.m.
June 3, 4, 9, 10, 11, 16, 17 & 18
Sunday Matinees 2:00 p.m.
June 5 & 12