By Mary Zuzik Andrechik
There is no sign up, no tickets, no need to RSVP.  We will send the link to all patrons, members and donors at the date and time noted.  Then you can watch the show at your leisure, on your time.  Enjoy!
Running Time:  15 minutes
Play Synopsis
A light-hearted comedy, Sleight of Hand follows 95-year-old Harvey as he looks to add some excitement to his life by robbing a bank.  His wife, Esther, and best friends, Arthur and Mildred, all think he is crazy, but Harvey forges ahead on his adventure.  While in the bank, he must confront the flaws in his plan, along with the Bank President and Bank Security, until his beloved Esther rushes in.  Sleight of Hand is a delightful, short comedy that proves that you are never too old to cross something off your bucket list.
About the Playwright and Director
Mary Zuzik Andrechik is a veteran actor, having over 25 years of experience on stages all across the country.  Most recently, she performed in Providence Players' The Librarian as the Clown.
When the pandemic hit, she began to explore other creative outlets, accepting a writing challenge from Cone Man Running Productions in Houston, TX, and Sleight of Hand was born!  Since the start of quarantine, Mary has written three short plays.  Among them, Sleight of Hand and Alexandra's Second Act, or How Tamora Saved My Life  have been performed as audio plays on The War of the Words podcast.  Her holiday play, Tingle Saves Hanumas was read as part of Adventure Theatre's Jingle in July festival.
Mary is also thrilled to take the reins as Director on this very personal project.  Mary completed this play the day before her aunt, Iris Zuzik, passed away at the fabulous age of 97!  Iris was a FORCE…the original Esther/Mildred/Harvey/Arthur…a WWII Vet and a lady who truly LIVED.  This play is dedicated, with much love, to her.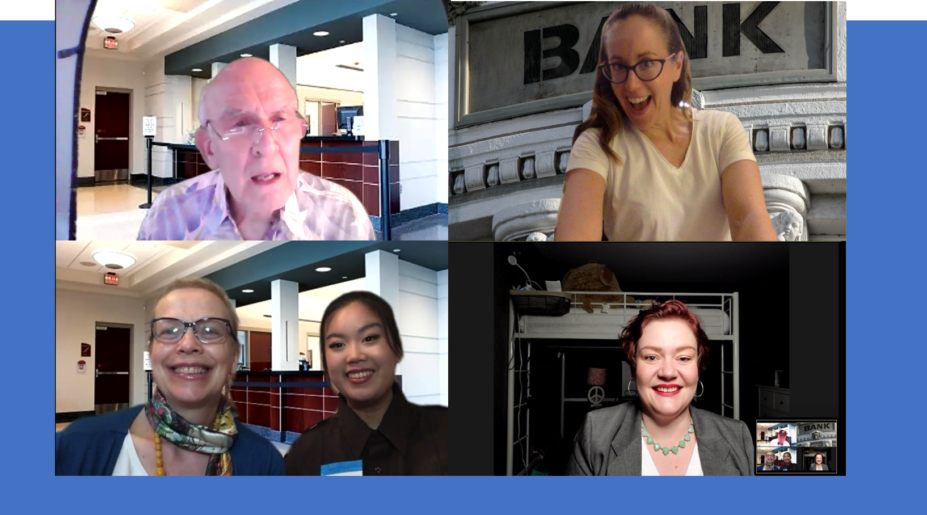 About the Actors
Frankie Haan (Esther) is doing her second pandemic zoom show, going from playing an 8-year-old child in Kitchen Sink Drama to a 95-year-old woman in Sleight of Hand.  Previously, before kids, Frankie performed in many community theaters in the area, with some favorite roles including Meg Brockie in Brigadoon, Berthe in Pippin, and Marty in Grease.  Frankie is delighted to be doing this show with her daughter, MyChi, and colleagues Mary and Joe!
MyChi Haan (Officer Linda Bakri) is a teenager currently taking a gap year before heading off to London in 2021!  She will be studying theater and creative writing at the University of Roehampton. MyChi has been in every show at her high school, doing makeup or acting. Her favorite roles are Farrah the Fairy (She Kills Monsters), Mack (Peter and the Starcatcher) and Kitty (Chicago). During her free time, she likes learning the cello, baking/cooking and cuddling with her dog Charlie.
Danette Illig (Bank Teller) After retiring to Northern Virginia 2 years ago, Danette is thrilled to be part of her first production in Virginia with the Providence Players. She has acted in numerous productions in Connecticut and NYC over the past 25 years, including Veronica's Room, Dinner With Friends, Porch, and Outward Bound to name a few. This Zoom production was novel and fun. Thank you, Mary, for the opportunity. Danette looks forward to seeing and acting with everyone in person one day soon.
Amanda Jones (Leila Trumbold) is thrilled to be appearing in her first (virtual) production with PPF! She was most recently seen as Jessie in Silver Spring Stage's production of Sweat. Other favorite roles include Meg Brockie in Brigadoon (RMT), Betty Haynes in White Christmas (RMT), Winnifred Banks in Mary Poppins (RCP), Tessa in The Gondoliers (VLOC), and Pitti-Sing in The Mikado (VLOC). By day, Amanda is a nurse practitioner at NIH.
Fred C. Lash (Harvey) is quite pleased to once again be performing in a PPF show (although in a far different format!), having played mean ol' Henry Potter twice in PPF's two productions of It's A Wonderful Life: The Radio Show.  Fred most recently appeared in LTA's A Few Good Men, The Fantasticks, August: Osage County, and West Side Story.  He has been appearing in Northern Virginia community theatre production since 1990 and has been nominated numerous times for awards.
Joe Puzzo (Arthur) was so happy to be in this play and get to know some Providence Players. Joe's favorite roles were Pippin in Pippin, Tommy Albright in Brigadoon and Joseph in Joseph and the Amazing Technicolor Dreamcoat.  In his younger days, Joe spent over a year entertaining on a cruise ship. Joe was a teacher, teaching mainly music for 36 years. He just retired and is now looking forward to doing more plays & musicals.
Renate Wallenberg (Mildred) is so happy to be in her second show with her beloved PPF!  She was last seen as Jennie in The Front Page with PPF.  Other favorite roles include Oliva in Mariela in the Desert (in Spanish) at Gala Hispanic Theater; Tasha in Isn't It Romantic? with Silver Spring Stage; Eurycleia in The Odyssey and Mrs. Kirby in You Can't Take It With You, both with Foundry Players; Louise in Private Lives with Potomac Players; Margaret in Business Lunch at the Russian Tea Room with Chevy Chase Players; Mrs. Cratchit in A Christmas Carol and (another!) Mildred in Still Life, both with the British Embassy Players; and Dr. Bradley in The Man Who Came to Dinner with Theater Lab.