Play Reading Night (Virtual)
Play Readings are on hold for the summer.  
Below are a few photos from our last in-home play reading event.
Providence (Virtual) Happy Hour
Happy Hours are on hold for the summer.  
Oh, we long for the days we could all sit in a pub and enjoy a meal, beverages and each other!  We will again soon.  Until then, enjoy these photos from our last two "in-person" happy hours!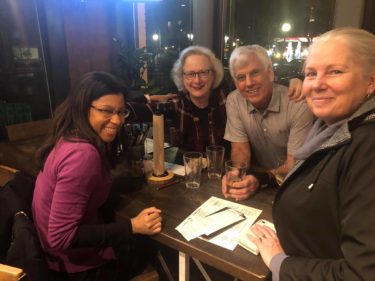 Annual Membership Meeting
The Annual Meeting took place on Monday night, June 8, 2020.  We are happy to share that over 50 members attended.  Thank you to everyone who joined in!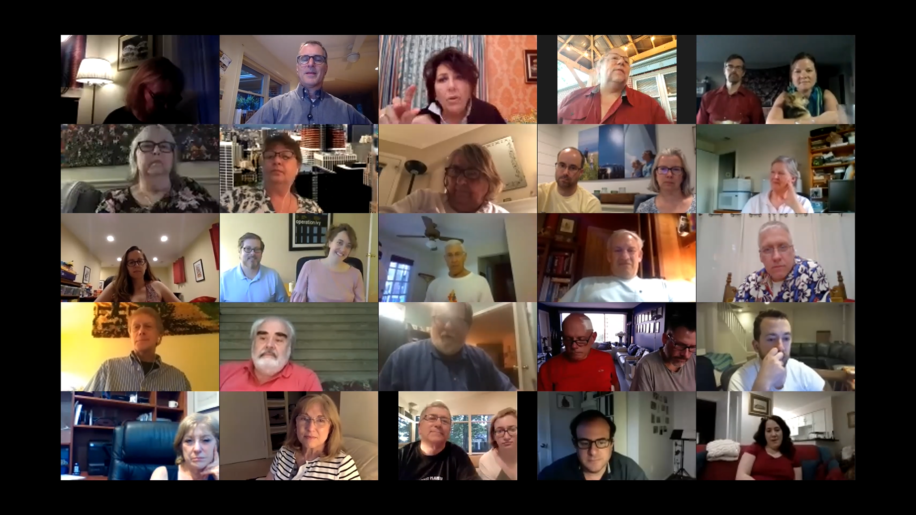 For those of you missed it, here is a brief summary and highlights from the meeting:
Jayne L. Victor gave the President's report on all the wonderful accomplishments for the year, including a brief from Kevin Harnisch on scholarships, Julie Janson on virtual PopUp productions and auditions and David Whitehead on the COVID-19 Emergency Appeal and donated tickets.

Make sure you get your tickets to Mere Mortals, by David Ives.

Andra Whitt gave the Treasurer's report.  Providence Players is in sound financial shape, and we are projecting we will achieve a small surplus by fiscal year end, June 30.
Mario Font gave an update on all-things WATCH, and plans for the upcoming year.
Tina Thronson welcomed new members, Nancy Joyner, Tracy Lewis, Brian Nikols, and Robert "Buzz" Schultz.
Beth Whitehead introduced the new season with news that timing on when it will start is still to be determined:  Angel Street (Gaslight), by Patrick Hamilton; Junie B. in Jingle Bells, Batman Smells! by Allison Gregory;  Guess Who's Coming to Dinner, by Todd Kreidler; and Don't Dress for Dinner, by Marc Camoletti and adapted by Robin Hawdon.
Volunteer recognition:  special recognition was given to Charlotte Gertzog, John Smith, Tara Tripp, Thomas Udlock, and Bobby Welsh
Janet Bartelmay, as chair of the Nominating Committee, presented a slate of board members for election to a new three-year term:  Janet Bartelmay, Nick Manicone, and David Whitehead.  A motion was made, seconded and the membership voted to approve the slate.
Save the Date:  Season Announcement Event
Postponed for now.
Set Build Weekends
Postponed for now.
Other Events or Notices
Check back regularly for audition information.