A Two Part-Series:  The Empty Stage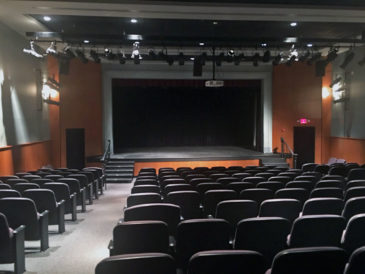 As follow up to the last WEBLetter, we continue with our next part of a two-part series, The Empty Stage.  The first part of the series, A Space Transformed, highlighted how set designers transform the space to create an environment.  This piece focuses on how actors then take the environment created and bring it to life.  I am so pleased to have several amazing actors share their approach to their characters, and I thank Sophia Manicone, Chris Persil, Jaclyn Robertson (video) and Michael Donahue for sharing their approach to their work.  Each actor does it differently, and so I hope you enjoy these insights into the minds of some very talented Providence Players' member artists.
Part Two:  A Space Comes to Life
We asked each artist, "How do you approach a role?  How do you develop a character that makes it come to life on stage?"  Here are the answers:
Sophia Manicone:  "Anytime I'm cast in a role, I feel really grateful for the opportunity to tell a story with the other actors and the whole creative team behind the production.  Although we all do very different things, we are all working together very closely and that feels really great! The cast and creative team have the honor of sharing important and powerful themes and messages. Sometimes these themes can be groundbreaking ideas that may push against social norms. Watching a live production can really help people reflect.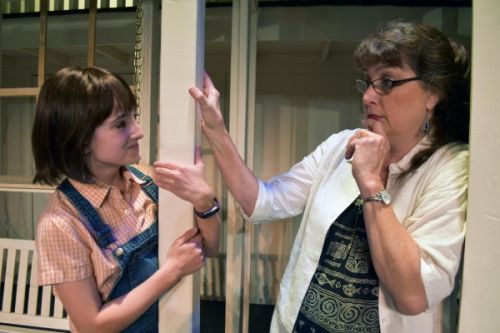 As an actor, I feel my most important job is to find a way to step into the shoes of the person I'm trying to portray on stage.  I want to experience the character's feelings so that I can help the audience understand (and maybe even feel) the character's thoughts and emotions. It's an amazing thing to be able to share a message with a giant room of people and all experience a journey together. For that reason, I think theater plays an important role in our community. I'm very lucky to have had the chance to play some amazing roles, even as a kid.
One of my most rewarding (and challenging) roles, was the role of Scout in To Kill a Mockingbird.  My director and mentor, Beth Whitehead, encouraged me to try to understand why Scout says and does the things she does.  Throughout the process, I had to keep asking myself: Why does Scout do or say that? What does Scout want right now, in this part of the show?  And what does Scout ultimately want by the end of the show? I really worked hard to understand her motives and objectives on a scene by scene basis.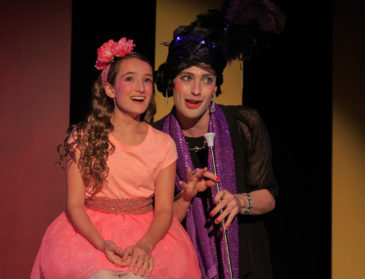 Working with Beth on the role of Scout, I learned that to develop well rounded and dynamic characters, I need to be actively thinking about what the character wants and what tactic they're using with their lines to get them there. Something that's important and helpful to me is developing an inner monologue.  It helps me understand what my character might be thinking about during a scene. It's important to not just act your lines, but to react to what other characters are saying. Although it's not the first time that you are saying or hearing those things, it needs to feel like it's the first time your character is!
Actors also need to explore, not only the emotional aspect of what forms the character, but also what completes the character physically. Using physicality in a role really makes the character come alive. When you get into the head-space of a character, you can understand why they might move a certain way. For the role of Scout, I had to work hard on her physicality. Scout is a tomboy and I'm the complete opposite of that! I had to change the way I move, the way I walk, sit, run, and even talk! You should have seen my cast mates trying to teach me to catch a football! I drew inspiration from my younger sister, Izzie, who has much more Scout-like physicality.
And last, but not least, another technique I used when developing Scout was to rely on resources! It's important to do your research before portraying such an iconic character. If you're ever doing a classic play, I think it's important to read the book and try to annotate it. Watch the movie and other peoples' betrayals to draw inspiration, but be careful not copy those other actors. One thing I remember doing (and it took a long time) was going through the book and highlighting all the questions Scout would ask so I could fully realize what a curious person she is. An important thing to focus on when working on the annotations was the question of what changes the character is experiencing. Spending time on this helps to understand the character's arc.  I am so incredibly grateful to everyone at Providence Players for teaching me so much, especially Beth!  Even though I was only 12 years old when I played Scout, they had confidence in me and gave me the tools to make the most of an incredibly iconic role. It was one of the most amazing experiences of my life."
Chris Persil: "Building a character is a many-faceted process and if there's anything I've learned over the years, it's that everyone has their OWN method of approaching it, and not everyone holds on to their 'method' as they grow and discover new pathways to becoming a better actor.   For me, I studied Stanislavski in college and learned the 'Method', the popular approach that was carried on and tweaked with Meisner and Stella Adler.
I took different 'Scene Study' courses, in two different acting schools in New York, in which I not only had the opportunity to develop my craft, but over time I learned, and became thoroughly convinced that there are multiple ways to developing a character.   Both schools were rewarding in their own light.   Once, at The Barrow Group (I think it was my first day), I was told to do my prepared monologue in front of the entire class, which I did.  Then the instructor told me to do it again, without being a character.  Just say the lines – strip it down to just the words.  The result was a few skeletal paragraphs of emotionless blather.   Then, through small exercises, he added 'layers', and in about 2 hours, I had a new monologue that was more real than anything I could have imagined.
So how do I start creating?  Well, the first thing I like to do is learn the lines ASAP!   I like to get 'off book' as quickly as possible, so that afterwards I am left with a wonderful ball of Play-doh that can be molded and shaped into anything I desire.  Next, I think of movement, mannerisms, voice, and intensity.   Do I have an accent?  Do I have a certain gait?  A limp?   It's all part of the physical process.  In The Front Page, a 2018 PFF production (directed by Michael Donahue), I played Mr. Pincus, a messenger who I shaped into a twitchy, nervous fellow with a light bounce in his toes, and a high pitched voice.
Next layer – Truth.  As Elaine May says: "The actor's business is to justify."  Be truthful.  Where is my character going?  What do I want from the scene?  What is my struggle? What are my obstacles?  In the role of Mr. Gilmer, the prosecuting attorney in PFF's 2017 production of To Kill A Mockingbird, my character is faced with doing his job and convicting Tom, with an underlying sympathy for the injustice that is surrounding him.  I could be soft and gentle with Tom, or I could yell and be in his face.  It's adding these layers that I find the most fun.
Lastly, a word about improvisation.  It may not necessarily be a "layer" to building a character in the traditional sense, but I truly feel it is such a key component to all styles of acting.   In fact, I have used it in many of the roles I have played recently.  Many folks associate improv with comedy, and rightfully so.  It goes back to the days of Commedia Dell'arte.  But improvisation is a skill that can transfer wonderfully into the realm of drama too."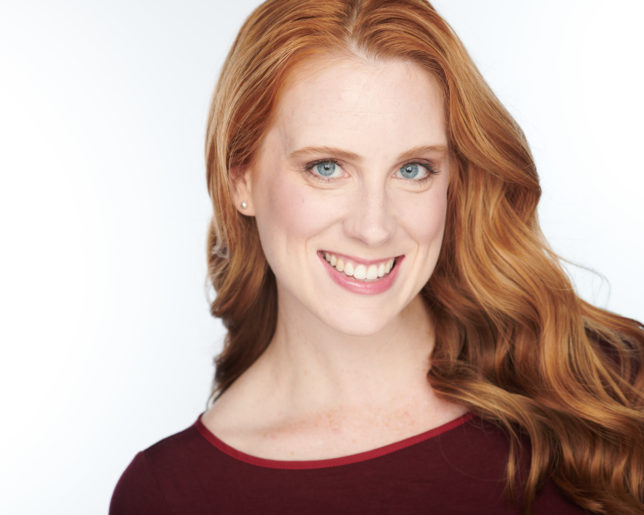 Jaclyn Robertson (video):  "Hi PPF Members!  In this month's edition of our WEBLetter, we are asking long-time PPF cast members what their process is for filling the stage and creating a character…I'm just going to give you a little glimpse of what it looks like for me to create a character…
So, for me its "music"…music plays a huge part in my life.  For Beatrice, for example, every night before I got on stage to do that five and half minute-long soliloquy, I listened to music from The Last of the Mohicans sound track…" (Watch the full video)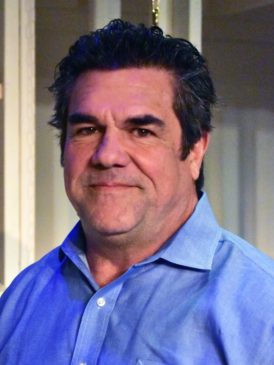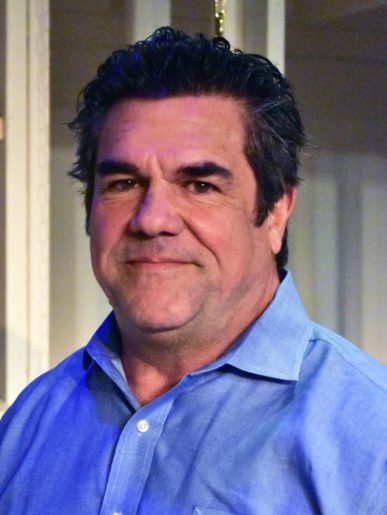 Michael Donahue:  "Theatre designers transform the empty stage by creating a unique, and genuine theatrical world that conveys stories of life's experiences.  Actors transform themselves and in turn the theatrical space by creating unique, genuine characters which inhabit the words of the playwright.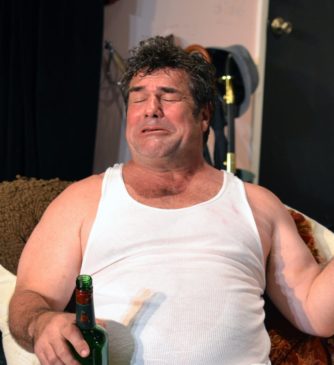 As Hamlet says, "The play is the thing to catch the conscience of the King!"  Reading the play numerous times is essential to understanding my character's relationship to my surroundings (design) and my fellow characters.  Creating a character is like detective work, with each reading more clues are revealed that helps me bring truth and genuineness to my characters and to the play.  Every play presents a different challenge but my process for transformation remains the same.
My process is to read the play for:
the story.
the characters relationship to other characters. What do others say about my character and what does my character say about others.
the singular thread that ties the thoughts, words and actions from the beginning of the story through the end. Often, I am curious about what my character will say and do at any point in the play and discover after many readings that the answer is usually deeper within the evolution of the story and the characters. No matter how complex the play is I have found the character's emotional and motivational truth throughout the play are tied together by this single thread.
to analyze and discover the genuine humanness of the character regardless the genre of the play be it tragic, dramatic, comedic or farcical.
the construct of the playwright's overall approach to the language of the play and specifically to the character. This is important to understanding the emotional state of the character at any point in time in the story.
All the above are my tools for creating my character.  For me, the most important goal as an actor is to tell a compelling story throughout all aspects of the theatrical world and allow our audience a moment in time in which we are all present and the only world and consciousness is within the walls of the James Lee Community theatre.
Thank you to Sophia, Chris, Jaclyn and Mike for their incredible insights!
David P. Whitehead
WEBLetter Editor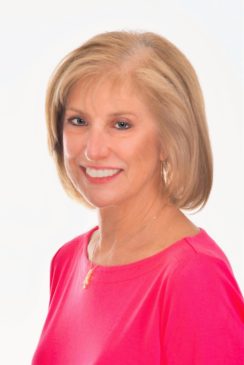 Board Member Spotlight:  Susan Kaplan, Founding Member, Board Member & Actress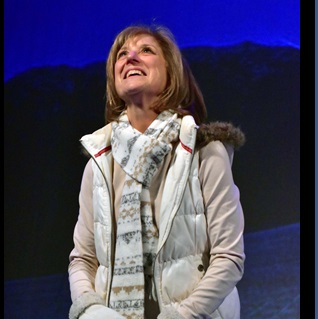 Susan Kaplan is a founding member of Providence Players. She is currently on the board and has been a member of the executive committee as Secretary. Susan has performed in a number of Providence Players productions including the role of Alice Sycamore in its first show, "You Can't Take It With You" in 1998.  She has also performed in productions of "The Phantom Tollbooth," "Almost Maine," "Is He Dead?," "Good Help Is So Hard to Murder," and "The Good Doctor" to name a few.  Susan has won two WATCH awards for Outstanding Props in a Play for PPF's productions of "Saturday, Sunday, Monday" and "Sideman."
"As a child, my parents always said I had a flair for the dramatic.  I wrote and directed plays for the neighborhood children, and my parents patiently sat through many of these enduring productions.  At least once a year, my parents dressed up my siblings and me, loaded us into the car, and took us into "the city" to see a Broadway show.  The magic of the theater – the costumes, the music, the scenery – all stayed with me.  I never took classes in theater although I performed in a Classical Guitar Trio and in singing groups.  As an elementary school teacher, I brought my love of theater to my students, directing them in a variety of plays and musicals.
My own acting debut occurred with the PTA of the Lawrence School in Brookline, Massachusetts.  Cast first as Henrietta in Little Mary Sunshine by Rick Besoyan and then as Emily in Our Town by Thornton Wilder, the acting bug bit, and I was hooked.  Fast forward in time, and I was a parent volunteer for the Mantua Elementary School Drama Club. I made costumes, coached lines, and herded children backstage.
When the PTA decided to mount You Can't Take It with You by George S. Kaufman and Moss Hart, I auditioned and was cast as Alice Sycamore, the practical young daughter in a family of eccentrics.  Since then, I have been involved in many of PPF's productions both onstage and backstage.  I have produced, assistant directed, assistant stage managed, costumed, and crewed.
With every show, I have learned new skills, risen to new challenges, and met new, wonderful people.  Beginning with You Can't Take It with You in 1998, where I learned how to correctly apply theater make-up, to my most recent stint as Producer of And Then There Were None where I learned how to support the Director, Actors, and Tech, every experience has been positive and rewarding.
I have had substantial roles and supporting roles.  In each production, the directors were talented visionaries, and the cast and crew made the shows come to life on stage. Theater allows me to tap into my inner self to bring out the most in my character. It allows me to be someone different from my everyday life.  If you asked me which roles I enjoyed most, I would have to say I love the comic roles: Maribelle in Good Help is So Hard to Murder and The Spelling Bee in The Phantom Tollbooth.  For both, I had wonderful co-actors who taught me the collaborative art of acting.  The director of each show allowed the actors to "find" their characters, create their persona, and determine their interactions with other cast members.
PPF brings high quality productions to our community. PPF is theater of the community, by the community, and for the community.  It is a welcoming home for both the novice and the experienced theater person.  I am proud to serve on the Board and to be a founding member of this very talented troupe of artists."
A Special Holiday Experience for Members – First Come, First Served
Have your holiday tickets yet?  It's not too late.  This special adaptation of O. Henry's short story will bring joy and a holiday spirit to your season.  And, we are making it even more special to members.
The director, Beth Whitehead, is including 15-20 seats on stage for each performance.  Those on stage will experience an even more intimate experience than regular patrons.  We offer these seats to members and donors first, and you simply need to let us know via email (tickets@providenceplayers.org) how many of these special seats you wish to reserve.  Don't delay!  Seats are reserved on a first come, first served basis.  Available seats on the day of the performance will be offered to patrons until filled.  Seating for the holiday show is general admission.
To learn more about the holiday show and the rest of the 2019-2020 season, click here.  Get your tickets today.
Save the Date:  Set Build, November 9, 2019 – The Gift of the Magi
Come one, come all!  The more hands, the lighter the work and the more we get done.  John White, set designer, thinks we may be able to get it all done on the first day, if we have enough people. Please RSVP to info@providenceplayers.org, if you can join us.  And we hope you can!
Reminder:  Annual Winter Fest (Holiday) Party, January 11, 2020
It is never too early to plan for a party.  Just a reminder that the holiday event will happen (again) after the holidays.  The timing of this event to after the New Year made it possible for more people to attend last year.  And the more, the better!  Join us for this wonderfully festive annual event.  Food, friends and fun!  Put it on your calendars, so you can plan to join us!
Blast from the Past:  You Can't Take It With You, Providence Players' (then Mantua Players) First Production
The highlight on Susan Kaplan (above) made it clear how special that first Providence Players production was.  In no way could anyone guess that a small Mantua PTA group fundraiser could turn into a successful, award-winning community theater.  A special thank you to all the founding members for their commitment to the school and community, making this first production of You Can't Take It With You possible.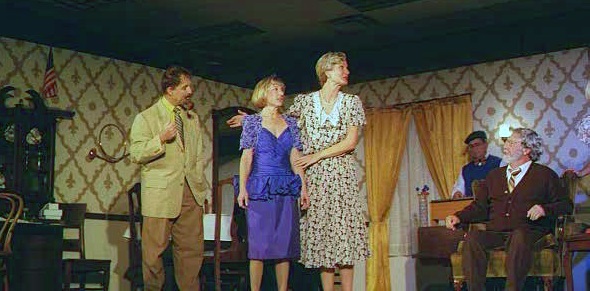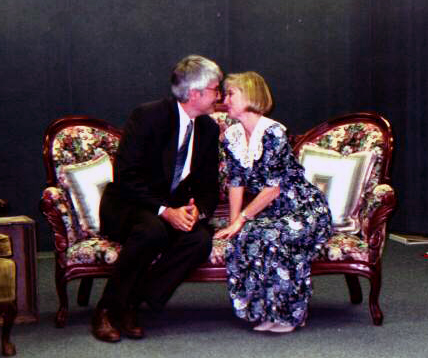 Member Updates
Larry Craven is performing in a "big band."  He plays trumpet and we will be performing at the Carlyle Club (https://www.thecarlyleclub.com/) in Alexandra, VA on Monday, November 11, 2019 at 7:00 pm.  This will be a night of swing music to which everyone can listen and dance.  Larry shares that the food there is very good, and one can eat dinner while listening to the small jazz combos which will play at the beginning of the evening.
Welcome back renewing members:  Kirsten Apker, Doodie Brethwaite, John & Lisa Iekel, Chuck O'Toole & Leah Nylen, Christopher Persil, Scott Stofko and John & Kathy White!
And welcome new members:  Henry Corrigan, Ann Montanari, and Linda & Mal Zerden! Welcome to Providence Players!
(Have an update you would like to share with your fellow members?  Please send an email to members@providenceplayers.org with the subject line "Member Update" and we will include it!)
(In a show with another company?  Join our Facebook Group page.  Share the news!)
Click here to see a list of previous WEBLetters.
Editor:  David P. Whitehead (send a message to David)