August: Osage County 
By Tracy Letts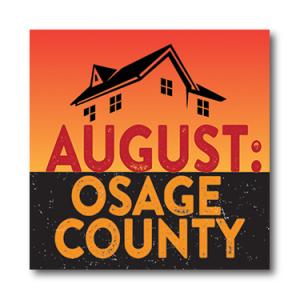 A missing father, a pill-popping mother and three sisters harboring dubious little secrets. When the large Weston family unexpectedly reunites after Dad disappears, their Oklahoma family homestead explodes in a maelstrom of repressed truths and unsettling mysteries. Mix in Violet, the drugged-up, scathingly acidic matriarch, and you've got a major play that unflinchingly—and uproariously—exposes the dark side of the Midwestern American family. Winner of the 2008 Pulitzer Prize for Drama and Tony Award for Best New Play, August: Osage County is one of the most riveting and critically acclaimed plays in recent Broadway history.
Performance Dates And Times
Thursday, Friday and Saturday 7:30 p.m.
March 29 – April 13
Sunday Matinees 2:00 p.m.
March 31 & April 7
Leaving Iowa
Called "a comedy with a surprisingly deep soul… simultaneously hilarious and touching," Leaving Iowa portrays Don's journey to return his father's ashes to his childhood home, only to discover that Grandma's house is now a grocery store. This father-and son road trip shifts smoothly from the present to Don's memories of the annual, torturous vacations of his childhood: the classic American summer vacation, which often meant being trapped in the back seat of a station wagon. Don's memories bring to life the people of his past and present, weave a tale of reconciling idealism with reality, and ultimately show us what it means to love one's family.
Performance Dates And Times
Thursday, Friday and Saturday 7:30 p.m.
May 31 – June 15
Sunday Matinees 2:00 p.m.
June 2 & 9
Season Ticket Holders: