Providence Players Open Michael Hollinger's Noir Comedy "Red Herring" This Weekend in Falls Church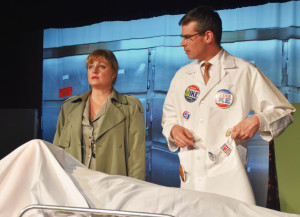 The Providence Players close their 2015-2016 season with a number of belly laughs from Michael Hollinger's comedy Red Herring. The production opens Friday, June 3rd and runs through the 18th at the James Lee Community Center Theater in Falls Church. Classified (highly) as a "comedic noir fable" Red Herring is a madcap mash-up of a spy thriller, hard-boiled detective story and romantic comedy. It's 1952 and America likes Ike and hates Commies. Frank, a rough-and-tumble G-man and his tough-as-nails girlfriend, policewoman Maggie, are caught in a deliciously tangled plot involving three love stories, a murder mystery and nuclear espionage. Senator Joe McCarthy's daughter just got engaged to a Soviet spy, and Boston detective Maggie Pelletier has to find out who dumped the dead guy in the Harbor — or else lose out on a honeymoon in Havana.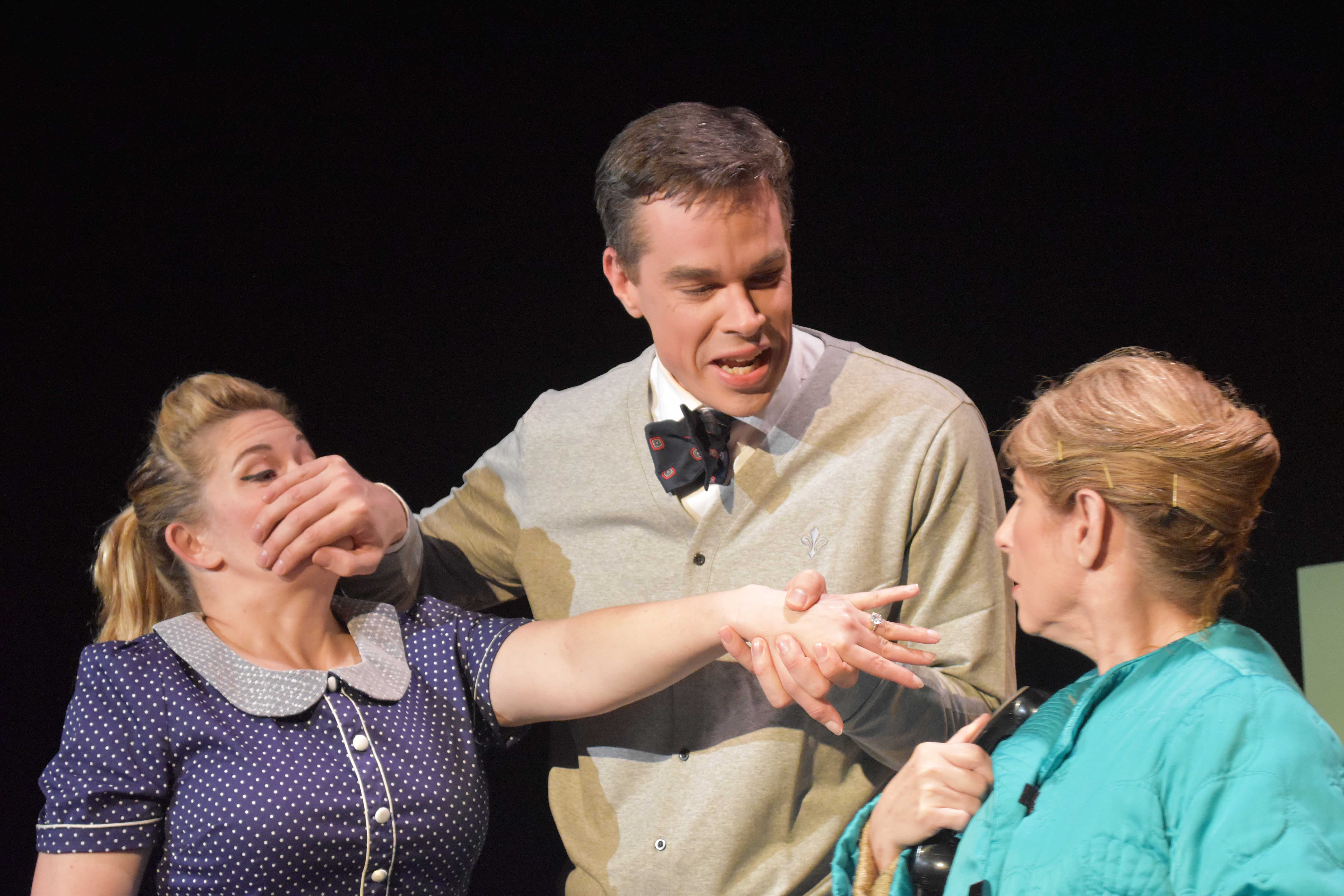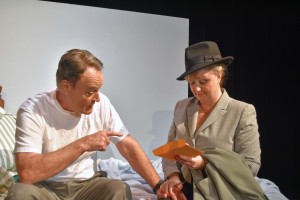 Over the course of two dozen, funny and surprising scenes, the play takes you from the fishing docks in Boston, to Senator Joseph McCarthy's home in Wisconsin, back to various locale's in 1952 Boston, and on to the South Pacific for a nuclear test. The show is fast paced and Director Beth Hughes-Brown has crafted a devilishly funny production.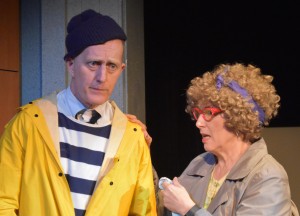 About the production Hughes-Brown says " We all need a good laugh (and not a sarcastic one, or one where you feel the need to check to see who's watching), but a good, life-affirming belly laugh. With that goal in mind, I've assembled some of the finest comedians I've come across in my theatrical career for your pleasure for  two hours of your life with thanks to Michael Hollinger, who really knows how to string words together to accomplish "the spontaneous sounds and movements of the face and body that are the instinctive expressions of lively amusement" – a.k.a., the Oxford Dictionary's definition of laughter! Red Herring is a romp of a show that will take you from bedroom to bedroom, to a fishing pier and a morgue, to a bar, hotel room and confessional, and of course a boat or two – all at the time of Senator Joe McCarthy's hearings that tried to rout the Red Scourge (Commies!) from our country. It's a who-dunnit and a love story at the same time – or rather, make that THREE love stories."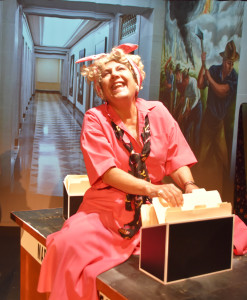 Providence Players Board President Jayne Victor, who appears in the production says "PPF Board Member John Coscia had seen Hollinger's play and suggested the company take a look at it as a possibility or this season. We vetted it at one of our monthly play readings and those present at the reading are still probably laughing. Fast paced, smart and very funny, we knew our audiences would love it."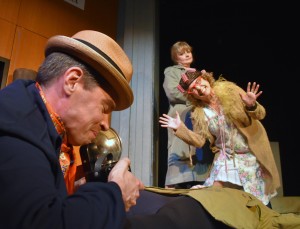 The play is challenging technically, particularly on a fairly small stage. "The challenge in this production is the multiple settings, 24 very fast paced scenes and the farcical timing of the play. Relatively simple settings, effective use of the entire stage, and the use of projection will help set the mood, place and pace of the show. Director Beth Hughes-Brown is a master at mounting this type of comedy and will have audiences in stitches with this production." says Chip Gertzog, Technical Director for the production.
Meet the Cast and Director of Red Herring

Michael Bagwell (Major Hartwell, Sen. McCarthy, Airport Announcer) is making his PPF debut in Red Herring. He was seen earlier this year as McNair the congressional custodian in 1776 at McLean Community Players (MCP). Other past roles include Harry the Horse in Guys and Dolls (MCP), Cecil B. DeMille in Sunset Boulevard (Reston Community Players), Caldwell B. Cladwell in Urinetown (Dominion Stage), and Tony in The Full Monty (Little Theater of Alexandria).
Christopher Crockett (James Appel, Woody, Harry) might look familiar; he was in PPF's last show, Almost, Maine. Before that he appeared in On the Razzle at Silver Spring Stage. While living in Arizona he performed in The Complete Works of William Shakespeare (Abridged), A Few Good Men, and Torch Song Trilogy. Other local favorites include Montgomery Playhouse's Barefoot in the Park and Proof and Rockville Little Theater's You Can't Take It With You. By day, he's the astronomy writer for Science News Magazine.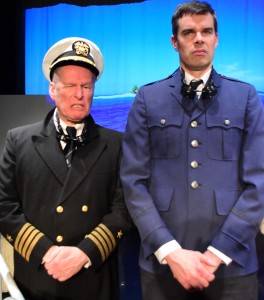 Patrick David (Frank Keller, Priest, Chairman) is still recovering from wearing high heels for Beth Brown in  Is He Dead?, but is happy to back, working again under her talented direction (and playing his own gender). Past collaborations with Beth include the comedies Moon Over Buffalo, Play On and Sleuth. Patrick is also thrilled to be back with his Rumor's director and stage wife (Liz Mykietyn and Charlene Sloan), and his youngest wren from Twelfth Night (Tina Thronson). He has appeared in many other PPF productions Patrick is a past PPF Board member, a talented set designer and a fixture at PPF's set builds. Pat's work has been recognized with a number of WATCH nominations.
Julie Janson (Props, Bartender, Announcer) is participating in her ninth PPF production. Her previous properties work includes Rumors, Of Mice and Men (WATCH nomination), The Lion, the Witch, and the Wardrobe, Other Desert Cities (WATCH award) and Calendar Girls (WATCH nomination). She has also performed in a number of PPF productions, including Of Mice and Men, The Lion, the Witch, and the Wardrobe, Glass Mendacity, and Almost, Maine. When she is not doing theater she serves in the U.S. Air Force and volunteers for Main Line Animal Rescue, Braille Tails, and Broadway Barks. Julie is thrilled to have been selected to make her PPF directorial debut next fall with our production of Amadeus.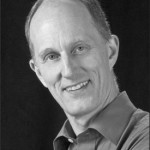 James McDaniel (Andrei Borchevsky, Petey, Herbert) has performed in Community Theater for many years, and with a number of theater groups in the DC area. James is making his PPF debut in Red Herring. By day, he's an instructional designer for Defense Acquisition University. He live with two cats, Tux the Wonder Cat and Sport (the Demon), and with his wife, Sherman, who provides outrageous customer service in buying/selling real estate.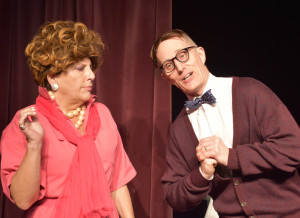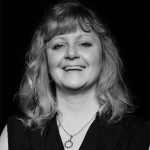 Liz Mykietyn (Maggie Pelletier) is overjoyed to be part of this Red Herring team alongside one of her best friends ever and amazing actress, Charlene Sloan. Sharing the stage with the incredibly talented Patrick David again is awesome! Liz joined PPF in 2005 with over 40 years of experience in acting, directing, writing, choreography and publicity for Community Theater. She received the WATCH award for Best Director for PPF's Rumors in 2014. Liz loves performing with PPF, especially in her all-time favorite role as Truvy in Steel Magnolias and now as Maggie, too. Just this past winter, Liz appeared in PPF's Almost, Maine and will be directing PPF's holiday show Best Christmas Pageant Ever this coming December.
Amanda Ranowsky (Dr. Kasden, Witness) is delighted to be under the direction of comedic genius Beth Hughes-Brown once again. She previously appeared on the PPF stage as Smitty/the Maid in Play On!, Mrs. Cratchit in A Christmas Carol, Jean Louise in Snow White and the Family Dwarf, and Ginnette in Almost, Maine. She is thrilled to be working with this hilarious cast and amazingly talented crew. She is also very grateful to her family and friends for their constant love and support.
Charlene Sloan (Lynn McCarthy) is thrilled to be back at PPF! Favorite roles include The Queen in Snow White and the Family Dwarf (PPF), Chris Gorman in Rumors (PPF), Mrs. T/Bad Idea Bear in Avenue Q (Little Theater of Alexandria), Ruth Condomine in Blithe Spirit (PTC), Jean Perkins in Funny Money (LTA), and Kay Ridgeway-Mostyn in Murder on the Nile (PTC). Charlene can be seen on TV as the Host of "Lifestyles" on MeTV, 10 a.m. Saturday mornings. This past winter, Charlene served as props mistress and stealth actor in PPF's production of Almost, Maine where her contribution was invaluable.  Charlene also works with Broadway Barks and Braille Tails, wonderful organizations dedicated to the plight of homeless animals and increasing Braille literacy among the visually impaired.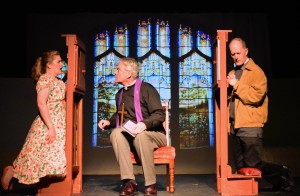 Tina Thronson (Mrs. Kravitz, Mrs. McCarthy) How lucky can a girl get? A long association with PPF in acting and directing, stage management and costume design, Tina has appeared on this stage in Lend Me a Tenor, The Skin of Our Teeth, Twelfth Night, Side Man and Other Desert Cities – to name a few. She is also proud to have directed The Laramie Project, Dinner with Friends, Steel Magnolias, Born Yesterday and Other Desert Cities for PPF – to name a few. Tina directed the Players' first James Lee Community Center Theater show, The Man Who Came to Dinner, which garnered eight WATCH nominations and three WATCH awards. She is a past president and current member of the PPF Board.
Jayne L. Victor (Van Norstrand, Clerk) is delighted to be back on the PPF stage under the direction of Beth Hughes-Brown. PPF acting credits include Calendar Girls, House of Blue Leaves, Dinner With Friends, Shadowbox, All My Sons (WATCH nomination), Big Tree Falls and Moon Over Buffalo. Other acting credits include LTA and Hexagon Theatre. Jayne has also directed two shows for PPF: Auntie Mame (eight WATCH nominations including Best Play) and last spring's comedy The Glass Mendacity (WATCH nomination). Jayne has also done set decoration for the company and is the current president of the PPF Board.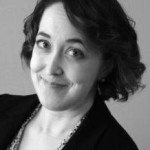 Andra Whitt (Bartender, Announcer) Andra has acted, crewed, stage managed, propped, and board membered for PPF the past five years since first joining PPF for our 2011 production of Auntie Mame.  She is a three time WATCH nominee. This talented and versatile actress made us cry with her riveting performance as Terry Glimmer in PPF's Side Man and turned around and made us laugh as Essie in You Can't Take It With You and as Claire in Rumors. Andra is a current member of the PPF Board and is the face of PPF in the Box Office this year.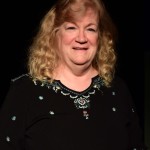 Beth Hughes-Brown (Director) has been making PPF audiences laugh both as an actress and as a director for 17 years. Previous directorial outings for PPF include Is He Dead?, Sleuth, Moon over Buffalo, A Christmas Carol, Witness for the Prosecution, Cash on Delivery, Arsenic and Old Lace, Play On! and Lend Me a Tenor. Some of Beth's favorite roles with PPF have included Cookie in Rumors, Olive the Lush in Big Tree Falls (for which she received a WATCH nomination), Veta Simmons in Harvey, Ouiser in Steel Magnolias, Delilah in Good Help is So Hard to Murder, Messenger 7013 in Heaven Can Wait, Annabelle in George Washington Slept Here, and Dolly Dibble in MacBeth Did It. As a director, her productions have garnered numerous WATCH nominations and awards. She is married to Tim the Sultry, mother to Katie the Entrancing and Annie the Prodigious.  By day, she is a government wonk.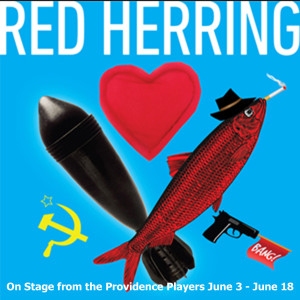 Performance Dates and Times
Thursday, Friday and Saturday 7:30 p.m.
June 3, 4, 9, 10, 11, 16, 17 & 18
Sunday Matinees 2:00 p.m.
June 5 & 12
At the James Lee Community Center Theater – 2855 Annandale Rd Falls Church