Another outstanding Providence Players cast under the devilishly funny direction of Beth Hughes-Brown bring laughter (lots), mystery, and romance to the PPF stage in this riotous mash-up of a spy thriller, hard-boiled detective story and romantic comedy.  Come see "Red Herring" and laugh with us!
Opens This Friday- June 3rd Thru June 18th
At the James Lee Community Center Theater – 2855 Annandale Rd Falls Church
Tickets Here – Purchase Online for Best Seat Selection – No Fees!
Performance Dates and Times
Thursday, Friday and Saturday 7:30 p.m.
June 3, 4, 9, 10, 11, 16, 17 & 18
Sunday Matinees 2:00 p.m.
June 5 & 12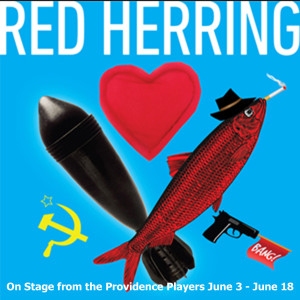 By Michael Hollinger
Directed by Beth Hughes-Brown
Love, laughter and espionage –the perfect evening out! Providence Players presents the zany spy farce/detective thriller/love story by award-winning playwright Michael Hollinger. Set in the 1950s, the play spoofs Red Scare era politics and culture. America's on the verge of the H-bomb, Dwight Eisenhower's on the campaign trail, and I Love Lucy's on Monday nights. Meanwhile, Senator Joe McCarthy's daughter just got engaged to a soviet spy, and a Boston detective has to find out who dumped the dead guy in the Harbor. Three love stories, a murder mystery and a nuclear espionage plot converge in this noir comedy about marriage and other explosive devices. (Not for young children – some bawdy humor and suggestive innuendo – PG13)
The Providence Players Cast of Red Herring
Maggie Pelletier………………………………………..……….Liz Mykietyn
Frank Keller/Priest/Chairman……………………….…………Patrick David
Lynn McCarthy……..……….….……………………………….Charlene Sloan
James Appel/Woody/Harry….………………………………..Christopher Crockett
Mrs. Kravitz/Mrs. McCarthy……………………….……….….Tina Thronson
Andrei Borchevsky/Petey/Herbert…………………….….…..James McDaniel
Van Norstrand/Clerk……………………………………..……Jayne Victor
Dr. Kasden/Witness…….…………………………………..…Amanda Ranowsky
Bartender/Announcer………………………………….….….Julie Janson/Andra Whitt
Major Hartwell/Sen. McCarthy/Airport Announcer…………Michael Bagwell