Tracy Lett's award-winning "tragicomedy" receives high praise from critics:
"Tracy Letts' fiercely funny, turbo-charged tragicomedy is, flat-out, no asterisks and without qualifications, the most exciting new American play Broadway has seen in years." – Charles Isherwood, New York Times.
"Enormously Entertaining…" Clive Barnes, New York Post.
"A great big exhilarating gift for theatergoers." Joe Dziemianowicz, Daily News.
"An astonishing, incredibly funny creation, introducing a major playwright to Broadway!" Michael Kuchwara, Associated Press.
Rehearsals are in full swing!
Meet the director and cast in our previous post.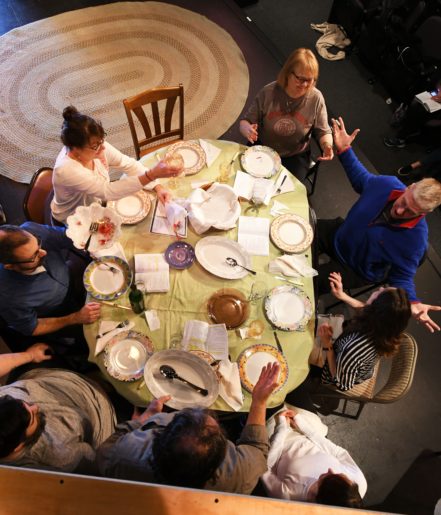 (Top-Bottom) John Coscia as Charlie Aiken leads the Weston family in prayer before the meal; Nora Rice as Jean Fordham cringes as David S. Rawlings as Steve Heidebrecht pontificates; Beth Gilles-Whitehead as Barbara Fordham and Clint Bagwell as Bill Fordham confront the issues;  David S. Rawlings as Steve Heidebrecht, Mary Zuzik Andrechik as Karen Weston and Nora Rice as Jean Fordham; Lily Pond as Johnna Monevata sets the stage (literally) for Act II; Director Michael Donahue discusses a moment with Deborah Davidson (playing Mattie Fay Aiken) as other cast members look on; Mary Zuzik Andrechik as Karen Weston snuggles with Steve Heidebrecht played by David S. Rawlings; and John Coscia as Charlie and Joshua Paul McCreary as Charlie's son, Little Charles. Photos by Chip Gertzog.