Tickets are available for the final two performances (Friday 10/20 and Saturday 10/21 at 7:30 pm) of the Providence Players hit comedy production of Ken Ludwig's  Moon Over Buffalo but they have been selling quickly. For the best possible seat selection, order online now.
I'm telling you, this is your last chance!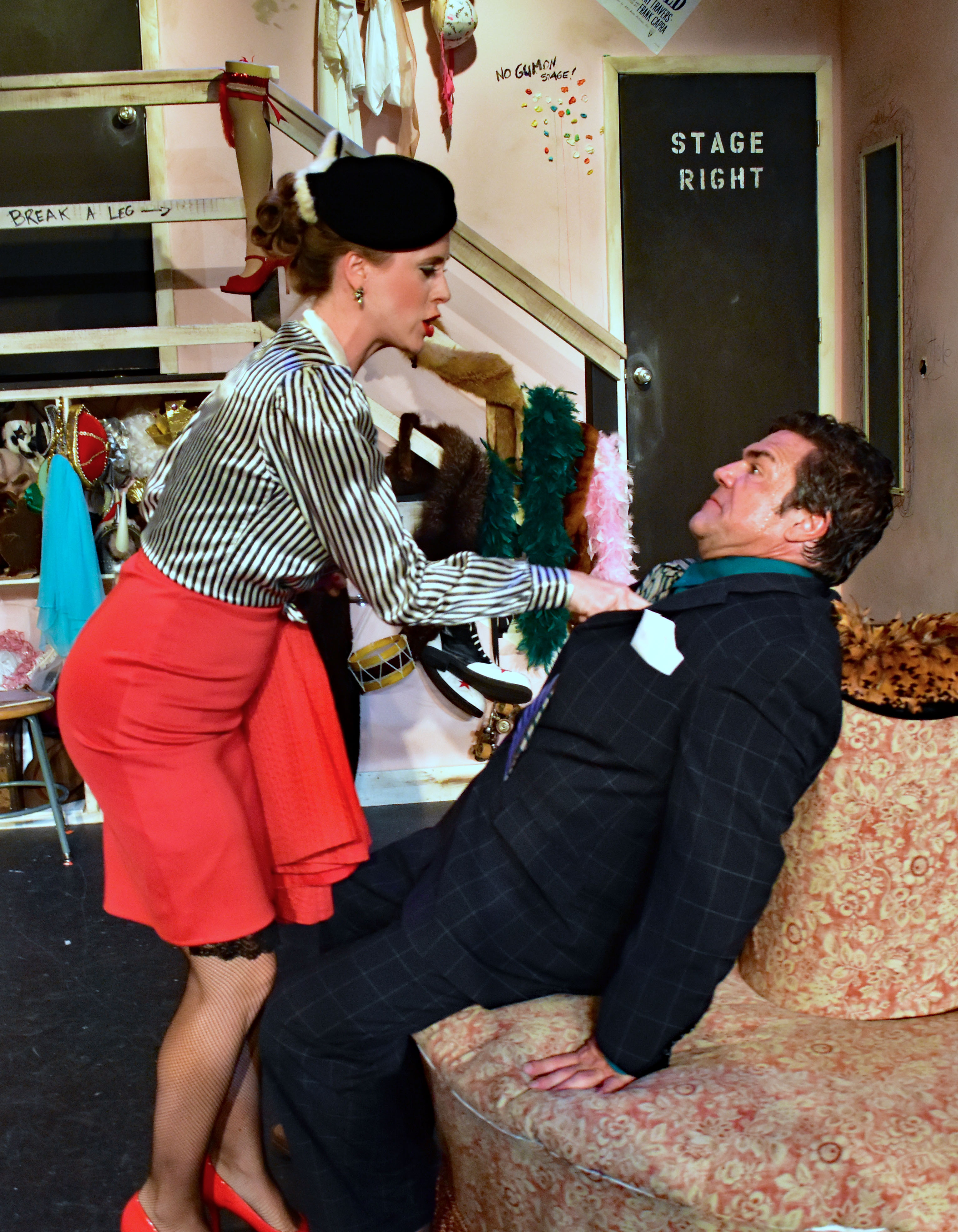 "We greatly enjoyed the play. Thank you to all! I laughed so hard at one point that I could barely catch my breath!"
"It is marvelous. Don' miss it!"
"Hilarious and so well acted!!"
"Saw tonight and I laughed so hard I cried! Very funny! Actors did a fabulous job–go see it and forget your worries for a time and laugh your head off."
– Audience Member Comments
Moon Over Buffalo closes tomorrow night,  Saturday October 21, 
At the James Lee Community Center Theater at 2855 Annandale Road in Falls Church.
Remaining Performance Dates and Times 
October 20, 21
Friday and Saturday 7:30 pm
Tickets are $20 for Adults and $17 for Seniors (62+) and Students
 "Michael Donahue, as George Hay, and Maria Watson, as his wife Charlotte, are both wonderful and seasoned actors, well suited to the parts." DcMetroTheaterArts. Photo by Chip Gertzog, Providence Players
Top- Robey Manno as Ethel
Chuck O'Toole as Paul and Jenny Madorsky as Rosalind
Jaclyn Robertson as Eileen and Scott Stofko as Howard
Bottom – Eric Trumbull as Richard
Praise from the Critic
"Moon Over Buffalo is a delightful homage to classic back-stage farce, and the audience is treated to theatrical wackiness as the Hays struggle to survive. The Providence Players of Fairfax production is filled with experienced and talented actors who make the most of the scene-stealing…parts that playwright Ken Ludwig has written. Michael Donahue, as George Hay, and Maria Watson, as his wife Charlotte, are both wonderful and seasoned actors.. The gags are…well-played here, and the audience loved seeing some of the more familiar ones coming. Mistaken identities, secret romances, former lovers, confusion with costumes are all wonderfully done, as we also enjoy sword fights, slamming doors, and hilariously ineffective efforts to sober up a drunken actor. The costumes by Christian D. Faulkner and set design by Jason Hamrick are both spot on. It is a wonderful comedy, riotously directed by Jayne Victor, who clearly loves the farce as much as Ludwig, and both director and playwright know what to do with it. It is well worth coming to see Providence Players' Moon over Buffalo." Chuck Leonard, DcMetroTheaterArts
Last Chance For Season Tickets
For outstanding value, convenience and service, become a PPF season subscriber.There is never a service fee charge for online ticket purchases from the Providence Players and the best available seat selection is always online.
Moon Over Buffalo is the opening production of our 20th Anniversary Season. If you are not one already, this is a perfect season to become a season ticket holder. Its your best value and a wonderful way to support PPF,  one of the premier award winning, all volunteer, non-profit community theater troupes in the area. Season tickets are on sale through the end of the run of Moon Over Buffalo