The Glass Mendacity – Audition Announcement
By Maureen Morley and Time Willmorth
Directed by Jayne L. Victor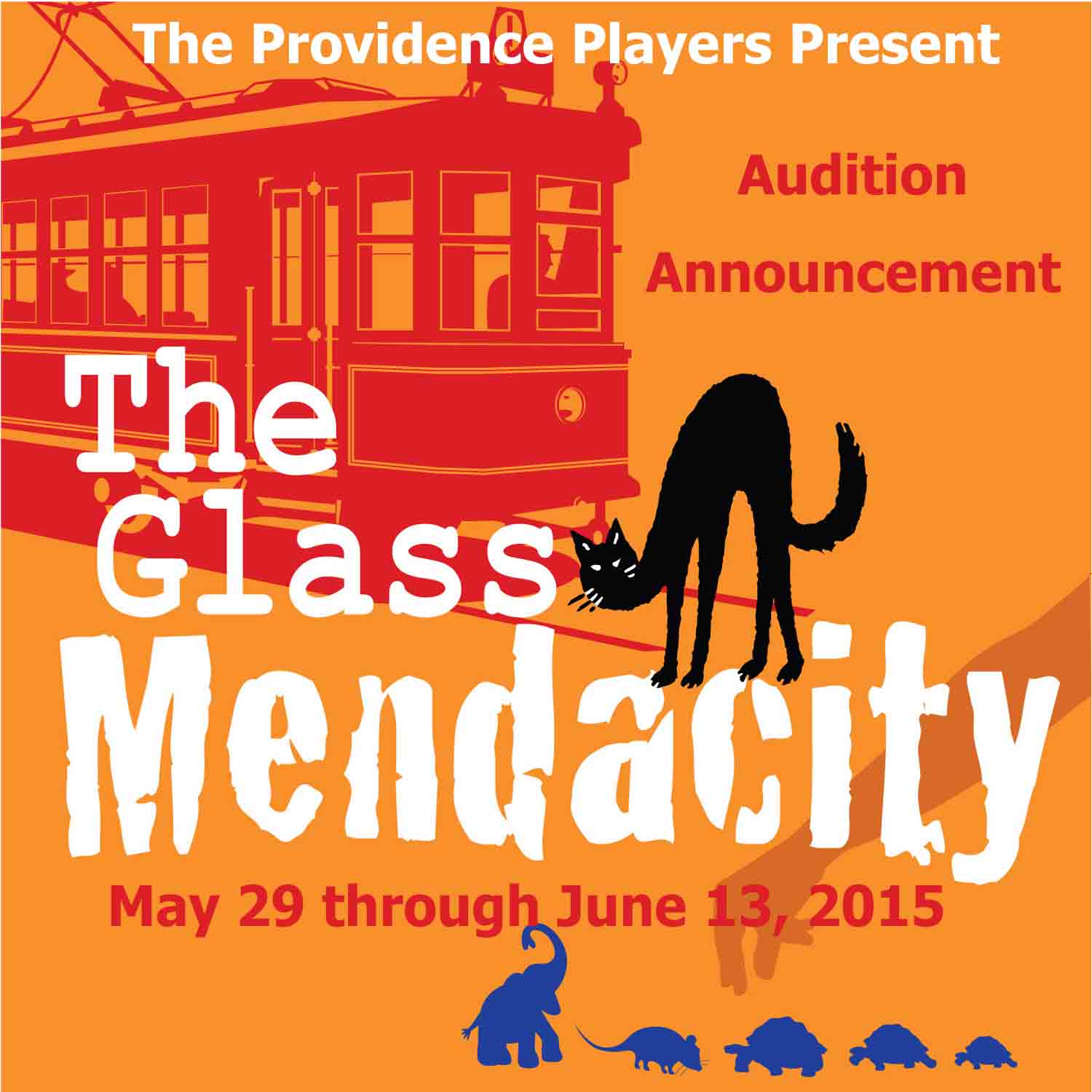 What do you get when you put the characters of A Streetcar Named Desire, The Glass Menagerie and Cat on a Hot Tin Roof in the same room?  A hilarious comedy that parodies some of Tennessee William's most popular southern dramas.  It's Big Daddy's birthday and the entire blended family has gathered at Belle Reve to celebrate with sweet tea, cheese balls, cards and brutish, unfettered, southern charm. If you don't know these plays, don't fret. These off-kilter and dysfunctional family shenanigans can be enjoyed by all!
 Eight Roles (4 Men – 4 Woman) – All Open
The Providence Players of Fairfax is a non-profit community theater troupe. All participation is on a volunteer, non-compensated basis.
Print the Full Audition Announcement, Audition Form and Production Calendar Here
(This will open a new browser window – click on the pdf file listed)
Performance Dates and Times
Preview:   May 28, 2015 7:00pm Curtain
Evening Performances: Thursdays, Fridays, Saturdays; 7:30 pm Curtain –  May 29, 30, June 4, 5, 6, 11, 12 & 13
Matinees: Sundays; 2:00 pm curtain –  May 31 & June 7
Audition Dates
FINAL NIGHT -Wednesday March 11  7:00 – 9:30 pm (In the James Lee Urbanites Room)- FINAL NIGHT
Call-Backs (if needed – by invitation):
NEW DATE –Thursday March 12  7:00 – 9:30 pm (In the James Lee Urbanites Room)-NEW DATE
Location
The James Lee Community Center
2855 Annandale Road
Falls Church, VA 22042
Auditions will be held in the Urbanites Room – NOT IN THE THEATER. The Urbanites Room is located to the left of the main desk at the front entrance of the community center.
Audition Information/Instructions
PLEASE RSVP to providenceplayers@cox.net with the date you plan on auditioning.
Print the Audition Announcement – Click on this link and then on the .pdf file and print or save
HOW WE WORK: Most PPF auditions have actors up and down to read multiple times in multiple combinations and scenes. Most actors find this fun. As space allows, you will be able to watch all the auditions. You may be asked to go into the hallway with audition partners and work a bit on a scene.  We will do our best to get you up multiple times reading for parts you are interested in. You will also be asked to read for other parts you may not be auditioning for. The Providence Players strives to make our productions open to interested and engaged actors & actresses, regardless of their level of experience. We try and make our auditions as relaxing and fun as possible.
AUDITION PROCESS:

Please prepare a short comedic monologue

. Auditions will consist of readings from the script. Auditioners may be asked to do a brief ice breaker.
AUDITION SIDES: Sides for the audition process will be supplied at auditions.
AUDITION FORM: Resumes and headshots will be accepted, but are not required. Please ALSO COMPLETE the attached PPF The Glass Mendacity Audition Form and bring it with you to the audition.
MEMBERSHIP:  The Providence Players of Fairfax is a membership organization. Membership is not required to audition. If cast, actors in addition to production team members will be asked to become members of the Providence Players ($10) for the season (if they are not already).
RSVP: Please send us an RSVP if you plan to audition to providenceplayers@cox.net (or email us any questions you may have).
Rehearsal Schedule:
A copy of the preliminary stage rehearsal schedule is included with this announcement and will be available online and at auditions. Stage rehearsals begin April 27, 2015. In addition to the stage rehearsal schedule, additional full cast readings of the play and some selected scene study and character work may be scheduled based on actor availability in March and April prior to the stage schedule. The schedule for these will be finalized a week or two after auditions.   Unless indicated otherwise, all rehearsals will happen at the James Lee Community Center. Rehearsals will be held in the evenings roughly from 6:30/6:45 to 9:45 pm and on Saturdays and Sundays as indicated.
 Please come to auditions prepared to list any scheduling conflicts you have over this time period.
The Glass Mendacity from the Director
The fragile and damaged characters in Tennessee Williams' plays are ideal for parody; the success of his works requires focus and concentration on his characters to bring his plays to life.  Writers Maureen Morley and Tom Willmorth have created a hilarious parody that could be re-named " The Glass Streetcar Menagerie on a Hot Tin Roof"! It combines characters and story lines from Williams' three best known plays.  In The Glass Mendacity narrator/attorney Mitch O'Connor visits his client Big Daddy Dubois, who is dying of a spastic colon, his daughter Blanche Kowalski (crazy as a loon) is married to Stanley who is having an affair with Maggie the Cat (who spends the entire play in an array of slips).  Laura is haunted by her love for Mitch and her collection of glass figurines that in reality are ice cubes; why do the figurines keep disappearing??
The Glass Mendacity Character Descriptions
While these characters are indeed based on Tennessee Williams' original characters, the biggest difference is that these characters have a sense of humor.  Some of the characters are actually composites of two or more of their original selves.
MITCH O'CONNOR – male 35-65
A combination of Jim O'Connor, the Gentleman Caller from The Glass Menagerie and Mitch from A Streetcar Named Desire.  O'Connor, though successful, is a homebody, who wants something more out of life.
BIG DADDY DUBOIS – male 50-70
As the name implies, he is big and bold and no-nonsense.  He is father, here, to Brick, Blanche and Laura.  He is based on the Big Daddy character from Cat on a Hot Tin Roof.
AMANDA DUBOIS – female 40-70
A combination of Big Mama from Cat on a Hot Tin Roof and Amanda Wingfield from The Glass Menagerie.  She is flamboyant and flighty and prefers to dwell on past glories.  Her devotion to her family is never far from the surface.
MAGGIE THE CAT – female 30 and up
Maggie is a sexy scheming seductress based on the character of the same name from Cat on a Hot Tin Roof.
BRICK DUBOIS – male 30 and up
He is the quiet, sullen, brooding type rendered silent by self-pity and alcohol.  He has no lines in the play, but plenty of stage time.
STANLEY KOWALSKI – male 35-55
He is similar in all respects to the character on which he is based in A Streetcar Named Desire.  He is a working class brute, but here is married to Blanche Dubois.
BLANCH DUBOIS – female 30-55
She is a withered flower with a penchant for young boys.  She is based on the character of the same name from A Streetcar Named Desire.
LAURA DUBOIS female 30 and up
She is painfully shy, walks with a limp and lives in a dream world. This character is based on the character of Laura Wingfield from The Glass Menagerie.
Print the Full Audition Announcement, Audition Form and Production Calendar Here
(This will open a new browser window – click on the pdf file listed)