How the Sausage Gets Made:  Producer Selection!
This is the final edition of "How the Sausage Gets Made!"  Hopefully you've enjoyed the series as much as we've enjoyed bringing it to you.  If you wish to read the first two parts in the series about "Play Selection," go here, or "Director Selection," go here.  Today, we are focusing on how the board selects producers.
What is a producer you ask?  Great question!
The producer is the individual who helps ensure that all aspects of a specific production honors the company's policies, procedures and budget demands.  He or she:
Organizes production team meetings and manages the production budget.
Helps organize the production schedule which includes set build and set strike.
Is in charge of actor and crew care, which includes providing food on days required (e.g., tech week) and actor and crew safety.
Helps organize and produce the playbill.
Is the key liaison between the production and the board of directors, and reports to the board each month on the show's progress – from auditions to strike.
The producer does not report to the director, and the director does not report to the producer.  They are equal partners in delivering a quality theater experience within their separate and distinct roles.  Both are accountable directly to the board of directors.  The producer role is a very important role which is why the board selects the producer for each production.
So, what are the steps to selection?
First, we develop a pool of qualified candidates.   Since the producer reports to the board each month, the list is primarily board members (though not required.)  Those who express interest are typically individuals comfortable with the financials, financial controls and budget management.  As you can appreciate, this is not a long list.
Second, we solicit interest from individuals for each production.  Often, those interested in producing a particular show have an interest in the production or are interested in supporting the person chosen to direct the show.  Clear communication between the producer and director is critical to the success of the production.
Finally, producers are appointed.  Since the number of candidates is not large, we can knock this out at one board meeting with a simple vote of the board for each show.  We are extremely appreciative to the individual for taking on the role, as they often receive little attention for a good deal of responsibility and work.
The entire process happens quickly once directors are chosen.  As with directors, we strive to find a different producer for each play.  We have an incredible group of committed members who sacrifice to do this work, and the board is most appreciative.
David P. Whitehead
WEBLetter Editor
Board Member Spotlight:  Meet Our Board Secretary, Roxanne Waite
Roxanne Waite is a veteran member of Providence Players and has played roles onstage and off.  This includes roles as Mrs. Cratchit in "A Christmas Carol," The Earl of Essence and The Terrible Trivium in "The Phantom Tollbooth" and Cassie Cooper in "Rumors."  She also has played many support roles as stage manager, crew, costumes, lighting, front of house and now serves on Providence Players' board of directors as the Board Secretary.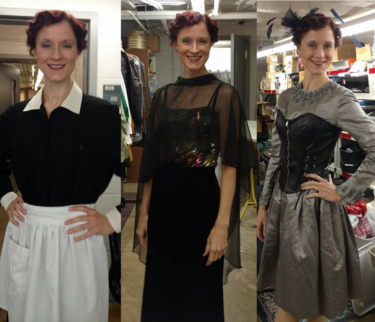 "While I've never had any formal training other than a couple of drama classes in high school, performing and theater has always been a part of my life.  I grew up in Silver Spring, but left the area for about 13 years.  Right after moving back in 2014, lifelong friend and now fellow PPF member, Andra Whitt, told me that her theater was getting ready to do Rumors by Neil Simon and that I needed to audition.   We had both been cast in that show in our senior year of high school, though she ended up not being able to do it. It was a no-brainer to audition as it's such a fun show and I was looking to meet more people and get reconnected to the area.  We were both cast again, and it was very exciting to be able to finally fulfill that experience we missed out on in high school.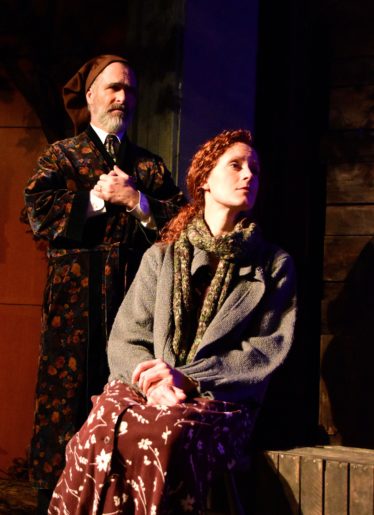 Sharing the stage together again after so many years was so special!  And, I got to meet so many other wonderful people, who are now also lifelong friends.  There is definitely something special about the PPF family — so welcoming, so talented, so hardworking, such incredible shows — and it is such a joy to be able to be a part of it.  With that first show I was totally hooked, and I've been involved in so many different aspects of creating a show since.  I've appeared on stage in Rumors, Amadeus, The Phantom Tollbooth, and most recently A Christmas Carol (2018).
I've worked behind the scenes in various capacities for countless others.  Putting up a show, especially in the quality that PPF does, is a huge undertaking and takes a community. We have members who are so talented in so many different ways, in both their theater lives and their 'real' lives, and they bring all of this talent to bear to the PPF stage. Something that's wonderful about this group is the willingness and true excitement of teaching and mentoring people in areas where they want to learn and expand their skillset.  I've been able to learn stage management, running lights and sound, lighting design and costumes design. I've helped build and take down sets, ushered, house managed, and probably more.   In 2016 I was asked to join the board and that was another no-brainer; it is an honor to serve this community which I love so much and has given me so much."  It's an honor to have YOU as part of this community, Roxanne!
Annual Membership Meeting, June 3, 2019
Come hear from the directors of all four mainstage productions, who will share their vision of the show they will direct.  In addition, we will elect board members, get important updates on the Providence Players, and, most importantly, spend time with your theater friends!  Food, friends and fun!  Join us!
Join our "Road Trip Memories" Contest!
In celebration of our final mainstage production, Leaving Iowa, we invited our community you to share in our journey. Whether one took regular road trips as a child or an adult, or even planned that perfect road trip that never quite came to fruition, we reflect on what those journeys meant to us — and how they shaped who we are today.  We have launched a weekly photo/story sharing contest: "Road Trip Memories."  It will give you an opportunity to share your personal road trip photo and story and become part of the Leaving Iowa experience. And yes, there's a prize! We already have our first weekly winner.  Click here to see and read all the wonderful entries.  To read about how the contest works, click here.
Member Happening Highlight:  Season Announcement!
We had over 50 members join us for the Season Announcement Event on April 24.  For those of you who joined us, thanks for coming out!  What a truly wonderful event and such exciting news on the new 2019-2020 season.  A good time was had by all!  Click here to enjoy the photos of the event!
Announcing the winner of the "Name that Sitcom" contest!
I know you are just waiting with anticipation for this one.  As background, we instituted a game during the performance of August: Osage County.  The music from popular Sitcoms, which aired during the 1960s, 70s, 80s or 90s, was played during each scene break.  We received over 300 entries and 183 entries had at least nine (9) correct.  Those 183 individuals were entered into a drawing.  The winner:  Kathy Nebhut!  She got 15 of the 18 correct.  Member Nora Rice, from the cast, drew the winning slip the night of the Season Announcement event.  Kathy will receive a $50 gift certificate to The Italian Cafe and two free tickets to the next production of Leaving Iowa.  Kathy has been coming to Providence Players productions for years, and typically comes with her husband, David.  Congratulations to Kathy.
Join us for the last show of the season, Leaving Iowa
You are not going to want to miss the last show of our 21st season!  Called "a comedy with a surprisingly deep soul… simultaneously hilarious and touching," Leaving Iowa portrays Don's journey to return his father's ashes to his childhood home, only to discover that Grandma's house is now a grocery store. This father-and-son road trip shifts smoothly from the present to Don's memories of the annual, torturous vacations of his childhood: the classic American summer vacation, which often meant being trapped in the back seat of a station wagon. Don's memories bring to life the people of his past and present, weave a tale of reconciling idealism with reality, and ultimately show us what it means to love one's family.  Get your tickets today.
Blast from the Past:  Classic Photos
Here are number of photos from past productions – with a number of current members.  Can you identify which show these are?  For two free tickets to Leaving Iowa (not yet purchased), identify the correct the name of each show.  First correct answer emailed to info@providenceplayers.org gets the tickets!  (Sorry, but board and past board members are not eligible to win.) Click on the image to enjoy the full collage.  Enjoy!
Member Updates
Members,  Champe and Caden Mitchell, are on an academic STEAM team (joined by Amruta Rajeev, Bill Gurski and Nicole Hagen – all from Luther Jackson Middle School in Falls Church), with a heavy emphasis on the theatrical aspect.  With support from their coach, fellow member and mother, Laura Champe Mitchell, they took first place for their age group (middle school) for their challenge in both the Regional and the Virginia State Destination Imagination Tournaments, and are now headed to Global Finals in Kansas City at the end of May!  They also won the tournament-wide Da Vinci Award for Outstanding Creativity at Regionals.  The Da Vinci Award is only awarded to one team (and often not awarded at all) who most clearly demonstrates a spirit of adventurous risk in their solutions.   Congratulation Champe and Caden (and Laura!) for an outstanding achievement!
Welcome back renewing members: Larry Craven, Jason Damaso, Lindsey Doane, Mario Font, Susan Garvey, Rosemary Hartman, Rob & Paige Lee and the entire Lee family, Becky, Nick, Sophia & Izzie Manicone, Robey Manno, Brian O'Connor, Stephen Rosenthal, Charlene Sloan, Bob & Debbie Smith and the entire Smith family, Lauren Sullivan, Renate Wallenberg and Ali Zaikouk. 
Welcome new members:  and from the cast of Leaving Iowa:  Danielle Comer, Lindsey June Sandifer, Amy Griffin and Michael Schwartz.  Look forward to seeing you on stage!
And welcome new members:  Phyllis Gillies, Stephanie Greenham, Carmen "Jake" Jacobs, Micaela Pond, Lily Pond and the entire Pond family, and Alan and Alda Whitt.  Welcome to Providence Players!
(Have an update you would like to share with your fellow members?  Please send an email to members@providenceplayers.org with the subject line "Member Update" and we will include it!)
(In a show with another company?  Join our Facebook Group page.  Share the news!)
Click here to see a list of previous WEBLetters.
Editor:  David P. Whitehead (send a message to David)