In celebration of our final mainstage production, Leaving Iowa, we invited our community you to share in our journey. Leaving Iowa is a funny, touching, inspiring show about how our trip through life and memories of our adventures shape our relationships and perspectives.  Whether one took regular road trips as a child or an adult, or even planned that perfect road trip that never quite came to fruition, we reflect on what those journeys meant to us — and how they shaped who we are today.
Click here to read about how the contest worked.
We are pleased to share the winner, Kathy White, of "Road Trip Memories."  Read her story and the many other entries below.  Weekly award winners noted.  Enjoy!
The Perfect Relationship – Until the Road Trip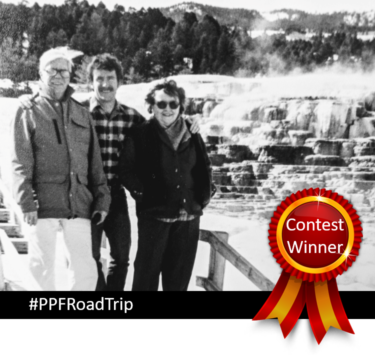 Kathy White, Fairfax, VA – Everything in our relationship was going along smoothly. Until his parents came to visit us in Montana and we took a Road Trip to Yellowstone Park.
His family, like ours, spent vacations on the road in the 60s and 70s, visiting far away relatives and American landmarks, camping out, picnicking and playing 20 Questions to pass the time. So as we packed up for this 2 day trip, I assumed it would be just like our family did it. But….but…as we packed the car, it was just suitcases and jackets…where were the snacks for the road?
I decided not to say anything because, of course, we would be stopping for gas along the way, and surely then we would be getting those treats that made the trip special! But…but…we stopped for gas and I looked around and they were all getting back in the car – empty-handed! While my stomach growled, I hinted to John, "Don't you think we should get some snacks for the car?" His reply was just a shrug of the shoulders.
Of course I couldn't insist, so I just harrumphed my way back into my seat and fumed for the next hour or so. No one noticed. I finally had had enough: I practically spit out my desire for something to eat. "Oh, sure, we'll stop for lunch in another hour or so!" was the cheerful reply from John.
It turns out that, NOT like our family that used the car ride for an excuse to snack and sip sodas and beers, HIS family always had five children and a small car, so there wasn't any room for food, much less the mess it would make. They NEVER ate in the car, not because they were ascetics but because it just couldn't be done.
35 years later, we still prepare for Road Trips differently. He doesn't bat an eye when I pack the snacks, and I no longer feel guilty when he doesn't imbibe with me. Old habits die hard.
Balto
Janet Kohler Dueweke, Falls Church VA – When you have a close-knit family, but you live out of state, away from all your relatives, you spend a lot of time on road trips!  From the time they were newborns, we drove 12+ hours each way – with our three daughters, au pairs, and pets on dozens of holiday trips and summertimes in northern Michigan.  We also made certain our girls visited lots of other places across the country, from San Diego to Boston.  Sometimes, we even took a plane!  😅
We had only one year in which all three girls attended the same school, as a kindergartener, a 3rd grader and a 6th grader.  We celebrated the end of that milestone year by taking our girls to NYC to attend their first Broadway play.  At the time, the girls had a special affinity for the story of Balto – the Siberian husky, who in 1925, led a dogsled team to deliver emergency medicine to a remote part of Alaska, for children stricken with diphtheria. There is a statue memorializing Balto in Central Park, and the girls begged us to see it.   We only had about 15 minutes to even visit the 182-acre park before our dinner reservation,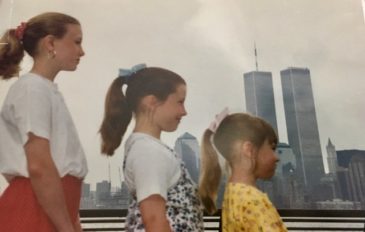 so we walked around a little bit (not telling the girls about the ice cube's chance in Hades that we would find Balto).   Never doubt your children, folks!  Yep – just as we were heading out of the park, our kids squealed, "THERE HE IS!"  And herewith, is a favorite vacation photo of that find.
(I must also share another poignant photo from that trip…  What was supposed to be just a sweet picture of our three girls in their ponytails, became ever so much more after 9/11.)
An Australian, Hostel Adventure
Michael Schwartz (a Leaving Iowa cast member) – Awhile back I quit my job and traveled for about four months. One place I went to was Cairns, Australia. Once I got there I booked a hostel, and walked into my co-ed dorm only to find three very drunk English dudes sleeping naked on top of their beds. I went out for the day and got back around 2 A.M. completely exhausted. The guys ended up getting back at 5 A.M. still drunk with some random people, and asked me if I would to leave right then to take a day trip in a sketchy beat up van (We had a sober driver, I'm not that crazy). They drove us to random places all over Northern Australia to go cliff jumping. It was a day I will never forget."
Rescue Animals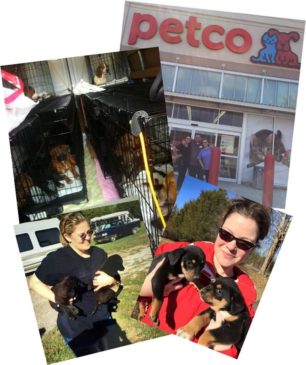 Charlene Sloan, Leesburg VA ("Leaving Iowa" cast member) – I've been on TONS of road trips! One I remember fondly was a "Rescue Road Trip" I did with Director Extraordinaire Julie Janson. We did several of these road trips to rural Alabama to save dogs living in deplorable conditions. Working with the ASPCA, we drove to Alabama in a cargo van filled with empty kennels to rescue animals from a hoarding situation. Once we got there we loaded the kennels up with as many animals as we could fit and drove them to safety in Delaware and Pennsylvania. It was fun, exhausting, stinky, and very rewarding. Adopt don't shop!"
Serendipity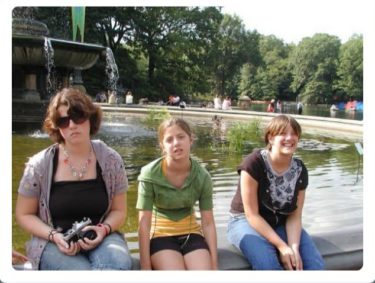 Robey Manno, Fairfax VA – So, this was a "fun" trip to NYC as seen on the joy filled faces of my three girls. Nothing says good fun like the audacity of mom wanting a picture of her three mostly teenagers. While I adore NYC, these three were underwhelmed by Serendipity, Young Frankenstein and the constant noise.🙄
Law School Break
Jeanna Lee, Tampa FL –  Law school can be toilsome and enervating at the best of times. I learned quickly to cherish any tidbits of happiness, hat I could muster during law school, no matter how insignificant. One of those rare moments of pleasure was the spring break of my first year of law school. A group of my fellow peers planned a spring break road trip to the great Southwest. This road trip led us to the vast deserts of Arizona and the plateaus of Utah.  The specific moment in the picture attached was an entirely spontaneous decision for us to get out of the car and take a picture of the Welcome to Utah sign at the border between Arizona and Utah. I then had the random idea to have us all spell out the word Utah. It was a great moment of solidarity and fun. This road trip reminded me that I needed to make time for myself, to sometime get away from all the noise, and make sure I have fun.  #PPFRoadTrip
Field of Dreams
Liz Mykietyn, Ashburn VA (Liz is a member of the production crew of Leaving Iowa, in charge of set decoration) – First up is Charlene actually IN Iowa at The Field Of Dreams.  Literally, we got to visit THE Field of Dreams in Iowa from the movie.  They kept the movie site just as they did due to the extreme popularity the farm had post release of the famous film.  The location is in the middle of 'no where' and vast amounts of corn to be had ALL around.   We were unsure for several miles if we would find it.  This site is literally in the middle of working farms.   This is why they picked it and the theme of the movie – finding your dreams still lives there today.  We both ran the bases & looked for 'ghosts' in the corn field.  Charlene got scared in the corn despite the gorgeous sunny day.  I thought this picture perfect for #PPFRoadTrip photo contest since it is "a dream" of Charlene's to play multiple parts on stage and she gets to this show.  On Labor Day weekend, there is a ball game with celebrities from sports & movies to raise money for different causes. Kevin Costner often shows up to play too.  We had a perfect day to find this fun stop along an unplanned road trip.  I'd go again in a heart beat.
Charlene Sloan, Leesburg VA  (Charlene is a member of the cast of Leaving Iowa) –  Kayaking on dangerous waters or is it just the company we keep that makes it dangerous. Here we are (with Liz) again but in Minnesota = riding the rapids.  OK maybe not rapids.  Maybe it was a gorgeous serene day, BUT we caused some ruckus and had many laughs as we 'yakkity yakked' on this kayak that sunny day. NO ONE WAS DROWNED IN THE TAKING OF THIS PICTURE!
The 38th Parallel
Mark Pitcock, Merrimack NH – The year is 1966. Dad is behind the wheel (and camera), Mom in the passenger seat. My sister and I are in the back, divided by a DMZ as fiercely guarded as the 38th Parallel. We play travel games and listen to the AM radio. Dad searches for the Beatles but more often finds Buck Owens. Sometimes boredom leads to conflict. "She's touching my side!" "He's looking at me!" If only I could read without getting carsick. We eat picnic lunches at rest stops and parks, saving money and time. Then it's back in the car for a few more hours, resting on the promise of a motel with a pool. #PPFroadtrip
Karakorum Pass into Hunza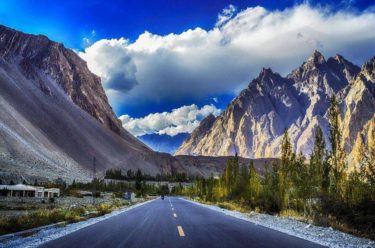 Harry Sullivan, Falls Church VA – (edited for length) My road trip through Pakistan (which began in Hong Kong and followed the Silk Road over the Karakorum Pass into Hunza and down to Karachi) was the road trip that springs to mind as one of my best. I am really nostalgic about that trip because 1) you cannot drive it safely anymore, and 2) it brought me to Hunza, the Mirdom upon which James Hilton based the Lost Horizon, one of my favorite books and movies. The entry into the valley is dramatic, as shown by the photo. Before the road's construction, travelers had to climb through the Himalayas for weeks to reach this remote valley. Additionally, its inhabitants routinely live to be over 100. Some said that it was minerals in the (delicious) local water that led to the longevity, but I tend to think it was the relatively stress-free lifestyle. The people who live on the side of the valley where the Mir lived are all Ishmaeli Muslims, which are a very mellow, accepting branch of Islam that emphasizes loving and doing good to others…From Hunza, I made my way to Gilgit, a lively market town that experienced a huge fight between Sunnis and Shias that caused many deaths. I then detoured for a day to Chitral, which has a valley extending into Afghanistan that is populated from the descendants of Alexander the Great's invading armies. They all had blonde hair and blue eyes, and they were friendly. I stayed with them for a couple of days and resisted the urge to venture down the valley into Afghanistan…If Pakistan ever gets secure again, hope you can all make it to Hunza.  #PPFRoadTrip
Hallowed Ground
Barbara Gertzog, Fairfax VA – I took a solo travel trip to Montauk in 2016;  Montauk is at the end of Long Island, the ultimate escape, unspoiled beaches, extraordinary seafood, the unpretentious beach destination of NYC Cops and firefighters, and found what was inescapable in the town square:  Hallowed ground.  #PPFRoadTrip
Leaving Kansas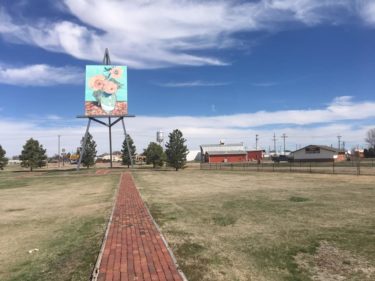 Chip Gertzog, Fairfax VA – Three great things: (1) I don't have to drive 7+ hours tomorrow (2) I saw this…leaving Kansas…on a family road trip….you have not lived until you have seen this (3) The Providence Players Leaving Iowa is not that far off. It is a story about family road trips. Behind every road there is a story. This painting is part of mine. What's yours?  Tickets and info.  #PPFRoadTrip