Providence Players Congratulate Our 2016 Student Scholarship Award Winners
At a recent performance of their hit comedy production Red Herring, the Providence Players announced and celebrated their Student Scholarship award winners for 2016. This year's winners, both from W.T. Woodson High School in Fairfax, are Miryam Mendelson and Blake Phillips.
Providence Players Board President Jayne Victor said "We are excited to provide an opportunity for young college bound members of our community to pursue their passion in the arts. We are proud to continue promoting the importance of higher education by rewarding our deserving and talented future artists through the PPF scholarship program."
PPF Board Member John Coscia who coordinates the scholarship program for the community theater troupe said, "It never ceases to amaze me how accomplished and well-rounded these young scholarship award winners are. They have already contributed so much to the arts in their high school and we believe they hold great promise for future theater arts contriibutions."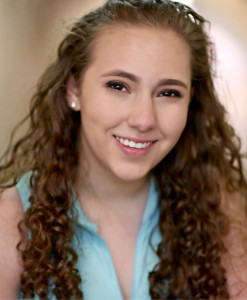 Miryam Mendelson is graduating this spring from WT Woodson HS. She received academic letters all 4 years of high school and was nominated for a 2013 Cappie award for her performance in W.T. Woodson's production of "Bye Bye Birdie". Besides "Bye Bye Birdie", Miryam has appeared in school productions of "Meet Me In St. Louis", White Christmas", and "Pride and Prejudice". In addition to acting, Miryam has done both costuming and choreography for numerous WT Woodson productions. She will be attending the Roosevelt Chicago College of Performing Arts Theater Conservatory in the fall.
Blake Phillips will also be graduating this spring from WT Woodson HS in Fairfax. He is a member of the National Honor Society, the International Thespian Society, the Math and German Honor Societies, and is an Eagle Scout. Blake appeared in numerous school productions including "The Hobbit", "Into the Woods", and "Pride and Prejudice", and also in the the Providence Players productions of "All My Sons" and "Best Christmas Pageant Ever". Blake takes great pride in being called a "theater nerd". He will be attending the College of William and Mary this fall.
The Providence Players, in 2011, established the annual scholarship program as a way of nurturing future theater artists and recognizing the contribution graduating high school seniors have made to the arts community in our region. Scholarships are limited each year. Miryam and Blake each received $1,500 scholarships. Up to three scholarships are awarded each year to graduating seniors with a demonstrated commitment to theater arts who have been accepted to a U.S. accredited college or university or conservatory program with an intent to further contribute to theater arts. Eligible graduating seniors must (1) reside within the school boundaries of Annandale, Fairfax, Falls Church, George Mason, J.E.B. Stuart, Marshall, Woodson or Yorktown high schools (PPF's core audience area) OR (2) have been a member of PPF for at least one year. It is not required that applicants to be committed to a theater arts major in college, only that they plan on continuing their involvement and contribution to theater arts in the future.
In the Press: Read David Seigel's "In the Moment" article on the Providence Players Scholarship Winners on DcMetroTheaterArts.com