Thursday Performance Tomorrow at 7:30 PM – Great Seats Available!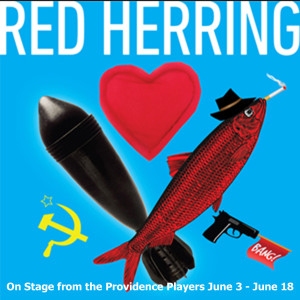 Four Performances this Week: Thur, Fri, Sat at 7:30 PM, Sun 2 PM
One audience member wrote: "My boyfriend and I attended "Red Herring." …. this was an AMAZING PERFORMANCE! The acting was top notch, the comedy aspect was spot on and it kept us interested the entire time. It lasted about 2 hours which I believe is perfect. I highly recommend it for a date night!
At the James Lee Community Center Theater- 2855 Annandale Rd, Falls Church
DCMetroTheaterArts wrote: "Red Herring' at the Providence Players is a delightful mix of murder mystery, romance, and broad farce…Director Beth Hughes-Brown provides many comic touches…'Red Herring' is a genial tribute to what seemed like a simpler time. It is rewarding entertainment for all." Sophia Howes, DCMetroTheaterArts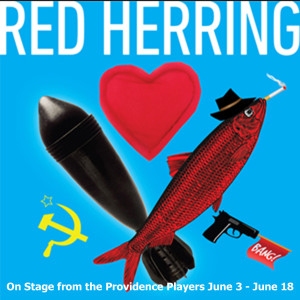 By Michael Hollinger
Directed by Beth Hughes-Brown
Love, laughter and espionage –the perfect evening out! Providence Players presents the zany spy farce/detective thriller/love story by award-winning playwright Michael Hollinger. Set in the 1950s, the play spoofs Red Scare era politics and culture. America's on the verge of the H-bomb, Dwight Eisenhower's on the campaign trail, and I Love Lucy's on Monday nights. Meanwhile, Senator Joe McCarthy's daughter just got engaged to a soviet spy, and a Boston detective has to find out who dumped the dead guy in the Harbor. Three love stories, a murder mystery and a nuclear espionage plot converge in this noir comedy about marriage and other explosive devices. (Not for young children – some bawdy humor and suggestive innuendo – PG13)
Remaining Performance Dates and Times
Thursday, Friday and Saturday 7:30 p.m.
June 9, 10, 11, 16, 17 & 18
Final Sunday Matinee 2:00 p.m.
June 12
At the James Lee Community Center Theater – 2855 Annandale Rd Falls Church