Good Seats Still Available For Weekend Performances
Thurs, Fri, Sat at 7:30 PM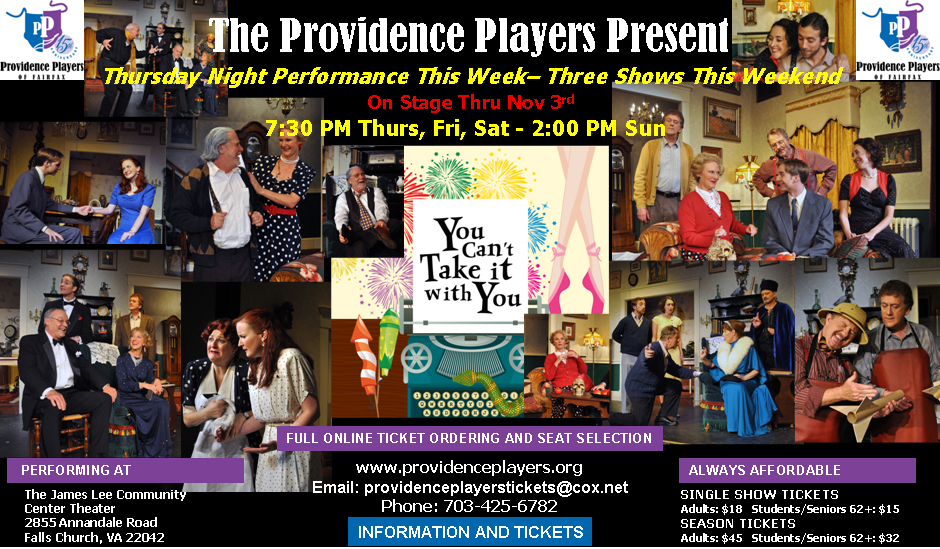 What the Critics Are Saying
"…the cast brought great energy to each scene and elicited laughter at the right moments throughout the evening."
"Bennett simply commands the stage from the first light cue."
"…Standout performances included John Coscia as the laid-back grandfather, and Sara Evans Bennett as the enthusiastic Penny."
"…Four actress pillars — [Katie Brown, Beth Hughes-Brown, Sara Evans Bennett and Andra Whitt] form the sparkling foundation of this farce, confections for every sense…"
[Patrick David] "…succeeded especially in presenting Mr. Kirby as someone with depth and humor, although dominated by propriety and business sense. This capturing of a rather nuanced personality becomes important when Kirby ultimately relents from his stubbornness and stifled behavior."
"…an extravagantly detailed set (overseen by design/construction genius John Coscia) — its unveiling set to a thoughtful soundtrack engineered by [Barbara Gertzog] that invites pre-show audience engagement. Contributing to the cozy clutter of the "Can't Take It" residence — partly decorated by Coscia's wife, Lisa Church…"
[The timeless themes of this Pulitzer Prize Winning play] "…are upstaged by sheer levity wrought by director [Chip] Gertzog both on- and offstage. He squeezes each laugh line and pratfall for full reward… For those who can't take it anymore, for the love of theater, go"
"You Can't Take It With You" – The comedy classic from The Providence Players. A brilliant, warm-hearted and critically–acclaimed comedy that is one of America's best. Join Grandpa and his good-natured, though eccentric, family as they meet the stuffy and more conservative Kirbys – nothing but hilarity ensues. This revival of PPF's very first production is a Pulitzer Prize winner and tremendous fun for all ages!
Continues this week and weekend at The James Lee Community Center Theater 2855Annandale Road,Falls Church.
Single Show Tickets Online, By Email, By Phone or At The Box Office
$18 adults, $15 Students/Seniors. providenceplayersticket@cox.net 703-425-6782.
Season Tickets Are Still Available Tickets online at www.providenceplayers.org and at the door. The Nov 3rd performance will be sign language interpreted.
Remaining Performance Dates And Times
Thursday, Friday and Saturday 7:30 p.m.
November 1, 2 & 3
More From The Critics
…"the cast brought great energy to each scene and elicited laughter at the right moments throughout the evening. A vibrant and intricately detailed set further enhanced my impressions of PPF's strong début."…[Andra Whitt effectively channeled] "awkward and ditsy humor, perfect for the role of Essie Carmichael. [Patrick David]  "…succeeded especially in presenting Mr. Kirby as someone with depth and humor, although dominated by propriety and business sense. This capturing of a rather nuanced personality becomes important when Kirby ultimately relents from his stubbornness and stifled behavior." [The production team] "…more than held their own in making this production a successful début for PPF's 15th season." –by Adam Sylvain www.showbizradio.net
"…Standout performances included John Coscia as the laid-back grandfather, and Sara Evans Bennett as the enthusiastic Penny. Christopher Swartz also did a fine job as Tony…John Coscia designed and constructed a set that resembles the interior of a lived-in home, complete with mismatched furniture, cluttered antiques, and a hodge-podge of assorted knick-knacks and trinkets. The result is not unlike walking into your grandmother's sitting room. Sound Designers Chip and Barbara Gertzog use old-time music to help reflect the 1930s, as well as sound effects, including explosives and a coo-coo clock, and Technical Director Sarah Mournighan keeps the stage well-lit… Another way the era is seen is through costumes by Robbie Snow, …. You Can't Take it With You will deliver a wonderful evening of entertainment." -by Julia Exline, DC Metro Theater Arts www.dcmetrotheaterarts.com
"…Four actress pillars — [Katie Brown, Beth Hughes-Brown, Sara Evans Bennett and Andra Whitt] form the sparkling foundation of this farce, confections for ever sense…One constant of PPF shows is that you can count on an extravagantly detailed set (overseen by design/construction genius John Coscia) — its unveiling set to a thoughtful soundtrack engineered by [Barbara Gertzog] that invites pre-show audience engagement. Contributing to the cozy clutter of the "Can't Take It" residence — partly decorated by Coscia's wife, Lisa Church, who last lended her expert touch for the 1998 blast-off production — are no fewer than 20 framed art pieces, a bulging curio cabinet, four implied rooms, three implied levels, ornate antiques, a radiator and clocks, namely a grandfather and a working cuckoo — befitting the Vanderhof/Sycamore household whose zany inhabitants dance and dally as if possessed. Strains of the pre-show "Pennies From Heaven" segue into our introduction to Evans Bennett's Penny, who underscores the show's comedic cadence, while Essie's flitting-about creates a rhythmic visual tapestry, even with no music (that we can hear). Though she plays a delusional dancer, Whitt raises the bar(re) with unmatched artistry. And Evans Bennett simply commands the stage from the first light cue." [The timeless themes of this Pulitzer Prize Winning play] "…are upstaged by sheer levity wrought by director [Chip] Gertzog both on- and offstage. He squeezes each laugh line and pratfall for full reward… For those who can't take it anymore, for the love of theater, go" by Terryism on the "T  IS 4 Theatre" Blog http://tis4theatre.wordpress.com/2012/10/21/you-cant-take-it-with-you-taking-wall-street-by-laughter/