"From the audience's first gasp….to the "group exhale" when its twisted thrill ride ends with a start, "Sleuth" keeps even the veteran theatergoer second-guessing."
Providence Players Sleuth  Final Performances
 Thursday, Friday and Saturday at 7:30 PM
"With a mind boggling, cork-screw twisting crime caper production of Sleuth, Providence Players of Fairfax ends its successful 2011-2012 season with a bang….Mike Donahue and Derek Bradley are intriguing and diabolically delicious master-class actors who expertly lead the audience through the twists and turns of this complicated thriller."
"Nothing is as it seems" – Tony Award Winning Mystery
Review: Providence Players of Fairfax's production of Sleuth showcases Donahue and Bradley at the top of their craft: http://www.dcmetrotheaterarts.com/2012/05/28/sleuth-at-providence-players-of-fairfax-by-queen-charlotte-lottie-yard1/
Review: Providence Players At Top Of Their Game With Sleuth:  http://tis4theatre.wordpress.com/2012/05/22/providence-players-at-top-of-their-game-with-sleuth/
Falls Church News Press: Veteran Providence Player to Direct Mystery-Thriller 'Sleuth': http://www.fcnp.com/arts/11827-veteran-providence-player-to-direct-mystery-thriller-sleuth.html
Connection Newspapers: "Traps and Mystery Galore": http://www.connectionnewspapers.com/news/2012/may/10/traps-and-mystery-galore-sleuth-arrives/
The Providence Players close their fourteenth season with the Tony Award winning mystery Sleuth.
Written by Anthony Shaffer, Sleuth is the quintessential "whodunit" classic which one critic called just "clean and bloody fun." Popular mystery writer Andrew Wyke lives in a world that reflects his obsession with games and game-playing – a world of plot twists and intricate strategies. In discovering his wife's lover, Milo Tindle, Andrew devises a devious game to humiliate him. But even the best laid plans can go astray when the police arrive and a new game begins – a game where revenge is devised and murder is plotted. The ultimate game of cat-and-mouse that will keep you guessing when imagination ends and reality begins – a tremendous mystery thriller.
Winner of the 1971 Tony Award and DramaCritics Circle Award for Best Play.
Final Three Performances
Thursday, Friday and Saturday 7:30 p.m. May  31, June 1 & 2
Want Really Great Seats?  – Check Out Our Remaining Thursday Performance on May 31st
Tickets are $18 for adults and $15 for seniors and youth. Tickets may ordered online at www.providenceplayers.org, by email at providenceplayerstickets@cox.net or by calling the Providence Players Ticket line at 703-425-6782 and leaving a message. Tickets will also be available at the door. The James Lee Community Center is located at 2855 Annandale Road, Fall Church, VA 22042.
The Providence Players production of Sleuth is directed by PPF veteran Director, Beth Hughes-Brown (Play On!, Moon Over Buffalo, Witness for the Prosecution, Cash on Delivery, The Skin of Our Teeth, Arsenic and Old Lace) The production features an outstanding cast;
Andrew Wyke:  Mike Donahue
Milo Tindle:  Derek Bradley
Inspector Doppler:  Frank Gilles
Constable Higgs:  Raymond Janer
Det. Sergeant Tarrant:  Michael McGinty
[Mike] "Donahue is on target with a heady, relentless performance."
[Derek] "Bradley tunes the play's pitch-perfect wordplay, adding just the right note of tension to the tit-for-tat tête-à-tête."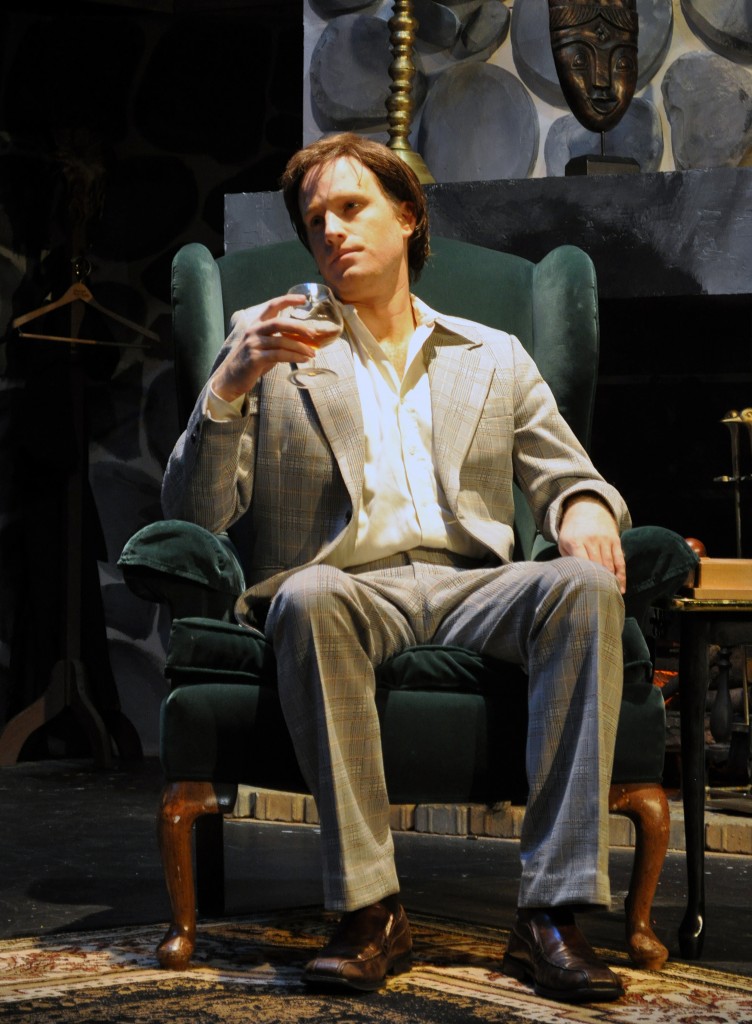 Derek Bradley as Milo Tindle in the PPF Production of Sleuth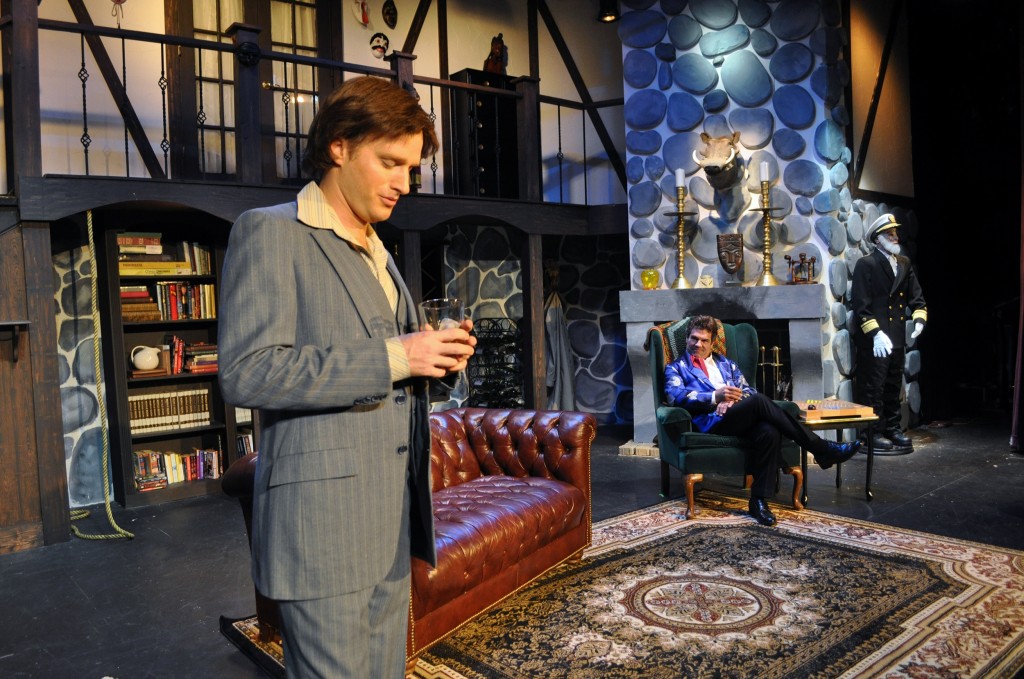 Derek Bradley as Milo and Mike Donahue as Andrew in a scene from the PPF mystery production of Sleuth
   "Inspector Doppler (Gilles) seems to spring from the pages of one of Wyke's novels"