Final Three Shows: Thur, Fri & Sat @7:30
Don't Miss This Masterful Audience and Critical Success
MD Theatre Guide's Erica Shadowsong on PPF's Side Man: "From the venue to the characters, Side Man is a collaborative masterpiece that brilliantly exhibits the essence of all that community theater can be… The actors were masterful in each of their roles.  The characters come to life with such vivid individuality that you come away feeling as if you know each of them, somehow, in your own memories….Certainly, at every turn, the story is heart-breaking, but also utterly hilarious. What will speak to audiences is the incredibly well-captured individuality of the musicians, Terry, and Patsy…"
Read The Full Review: http://mdtheatreguide.com/2012/04/side-man-at-providence-players/
DC Metro Theater Arts' Mike Spain on PPF's Side Man: "The Providence Players can 'toot their own horn' with their beautifully acted production of Side Man…it's powerful and blunt. Warren Leight's Side Man is so well written, so it's easy to see how it won a Tony Award for Best Play and was nominated for the Pulitzer Prize….Director Jimmy Gertzog receives fine performance from his solid cast. Andra Whitt gives a multi-layered performance and is the star of this production…She was so perfect in the role that you could feel her pain…Ari Post is perfectly cast as Clifford… Bobby Welsh (Jonesy) turns in a memorable performance as the addicted musician. His prison scene is unforgettable…"
Read The Full Review: http://www.dcmetrotheaterarts.com/2012/03/26/side-man-at-the-providence-players-of-fairfax-by-mike-spain1/
Read The Full Review: http://www.showbizradio.net/2012/03/26/review-pp-side-man/
Winner of the 1999 Tony Award for Best Play and a Pulitzer Prize nominee. After writing Side Man, Warren Leight garnered the Oppenheimer Award for Best New American Playwright. This production is not for young audiences. It contains mature themes and significant graphic language. Non-tobacco cigarettes used throughout performance.
      "Side Man…is an elegy for two things – a lost world and a lost love. When the two notes sound together in harmony, it is moving and graceful." – New York Daily News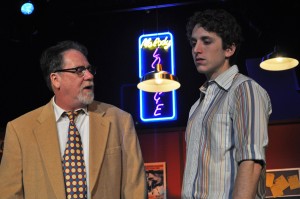 The Providence Players continue their fourteenth season with Warren Leight's Tony Award winning drama Side Man. Side Man captures the pulse and climate of the New York Jazz scene from 1953 to 1985. The story is told through the eyes of Clifford, son of a Jazz side man, and is a story of family struggles, recovery, and redemption in the waning years of the Jazz genre. Laced with humor, sharp dialogue, authentic characters, and underscored with the music of the era, Side Man has been beautifully staged and directed by Jimmy Gertzog in his directorial debut for the Providence Players.
Read About Director Jimmy Gertzog and the PPF Side Man Production in the Falls Church News Press: http://www.fcnp.com/arts/11420-gertzog-debuts-as-director-with-providence-players-side-man.html
 The production features an outstanding ensemble cast of Players' regulars and talented newcomers, Ari Post, Andra Whitt, John Coscia, Craig Geoffrion, David James, Bobby Welsh and Christina Thronson and is supported by a talented design team that helps bring this important, moving, and inventively staged piece of contemporary American theater to life.
FINAL THREE PERFORMANCES:
Thursday, Friday and Saturday 7:30 p.m. Apr. 5, 6, 7
Tickets are $18 for adults and $15 for seniors and youth. Tickets may ordered online at www.providenceplayers.org, by email at providenceplayerstickets@cox.net or by calling the Providence Players Ticket line at 703-425-6782 and leaving a message. Tickets will also be available at the door.
Performed at The James Lee Community Center Theater located at 2855 Annandale Road, Fall Church, VA 22042.