Directing, Producing and Acting in a Virtual World
In light of COVID-19 and the inability to bring audiences to James Lee, Providence Players has worked to create a new, virtual and creative way to reach its audiences – using Zoom technology.  Many of us are familiar with video conference technology.  If you are like me, I spend hours on a number of conference platforms (e.g., Zoom, Skype, WebEx, Microsoft Teams) to facilitate meetings with work colleagues, strategic partners, friends (playing BINGO) and family (mass family reunions).  But using it to create a theater experience?  Our first foray wading into the idea was The Story About the Tattoo, followed a few weeks later by Mere Mortals.  I have asked the directors and actors to share a bit about their experience, the fun, the challenges and the overall experience to this new way of reaching audiences.  Enjoy!
"Directing for the Zoom camera is definitely a different challenge," says Julie Janson, director of The Story About the Tattoo. "In 'Tatoo' the experience was a little closer to traditional theater in that we were working on a single take from start to finish.  Normally, in theater, we could easily do several rehearsals with the cast still on book (learning their lines), because there's blocking and familiarization to do. With the Zoom short, there's really not a whole lot of 'blocking,' so once we do the table work, we really need to jump right in with everyone off book and work specific character and scene development. Regardless, this experience has been a lot of fun. Because we are doing the shorts (shows that are only about 10 minutes long), we have time to really play with the material, brainstorm, and collaborate. It has been a blast collaborating with the cast and crew on how to pull off various impossible acts via a simple Zoom shot. The bottom line is, even though the process provides new challenges, it's a real gift to be creating and collaborating with fellow artists again."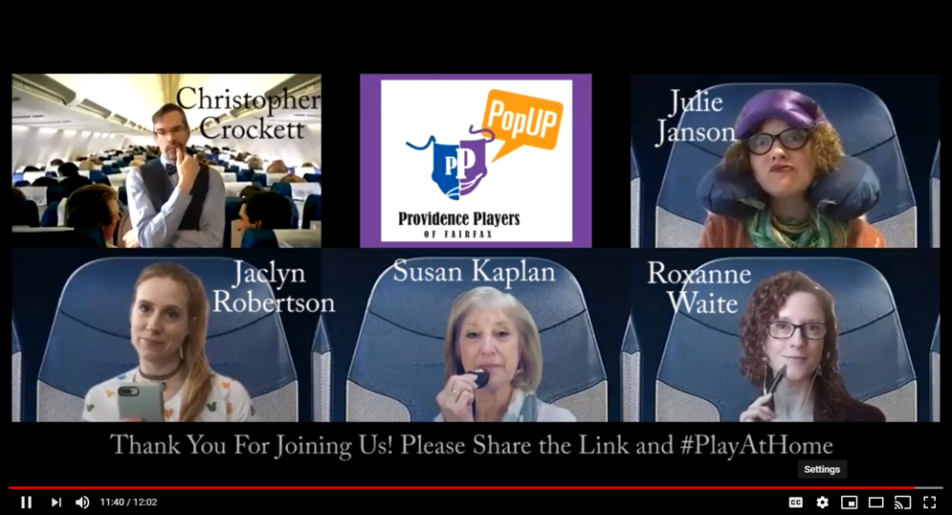 "Our rehearsals dissolved into laughter, as we attempted to master the Zoom format," shared Susan Kaplan, who played Wilma in The Story About the Tattoo.  We never knew which way to look since none of our screens showed us in the same order; we ransacked our closets and pantries for costumes and props since we weren't venturing out of our homes; we tried to position ourselves perfectly in front of our devices so that we looked like we were actually on a plane. After a series of very entertaining outtakes, we finally had something we could work with.  Chip Gertzog masterfully edited the production, giving us a solid performance that showed we could mount quality shows virtually. The rest, as they say, is history, but I may never look at an Oreo in quite the same way again."
"One of the biggest concerns was the timing and getting the right feel for the characters and script without being together," says Brian O'Connor, director of Mere Mortals.  "We worked very hard on this and were very pleased with our efforts.  Once we were able to learn to react, respond with just sound, we were rolling.  Remember we were in three separate locations and all three of us were using our iPads as the cameras.  All of us were 'looking' at the walls!  This play required a lot of dedication to the timing of the words and intentions.  The play is full of humor and we had a great deal of fun finding those moments, tough to do without seeing one another."
Speaking for myself (David Whitehead, who played Frank in Mere Mortals), one of the more satisfying moments in developing Mere Mortals was seeing the NYC skyline come together within one cohesive landscape, Though we were in three separate homes, we had to give the impression we were in the same place – a girder 50 stories above a NYC street.   To do this, we used six different (computer) devices to "piece" together the backdrop.  One high-definition photo was split into six different parts, re-sized and applied as Zoom backgrounds to create the one image.  When recording, the Zoom "blocks" disappear, leaving the one cohesive background.  We struggled with getting the photos right (dang mirroring option), but when it worked, it looked incredible.
I thank the incredibly creative folks who contributed to this process, growing our virtual offerings and the expansion of creative possibilities for Providence Players.
David P. Whitehead
Editor, Providence Players WEBLetter
Appointment of New Officers and Directors
On June 15, the Board of Directors met to finalize the appointment of officers and directors for the 2020-2021 season.   We are pleased to share that the board appointed the following board officers for 2020-2021:
Danine Welsh, President
Nick Manicone, Vice President
Mike Dazé, Treasurer
Janet Bartelmay, Secretary
In addition, the following directors were appointed to a two-year term (July 1, 2020 to June 30, 2022):
Michael Donahue
Julie Janson
Mike McLaughlin
Andra Whitt
The entire board thanks Jayne Victor who gave five years as the company's President.  During her tenure, she pushed for more challenging artistic endeavors:  the result was demanding productions like Amadeus, To Kill A Mockingbird, The Front Page and August: Osage County.  We launched Providence PopUp which brought an entirely new cadre of plays not considered for the mainstage and expanded our offerings for member artists.  The audience grew from an average of 4,200 patrons to over 4,600, and we grew our season ticket base.  Many thanks for Jayne's commitment and dedication to the goals and mission of Providence Players.  Per the bylaws, Jayne will hold the position of Immediate Past President and will lead the Nominating Committee.
We thank Andra Whitt for two years of service as the company's Treasurer.  During her tenure, Providence Players strengthened its financial position, and most recently she helped manage our financials through the current pandemic, which had a significant impact on the company's operations.
We thank Roxanne Waite for two years of service as Secretary, taking on the thankless job of taking and distributing minutes for each meeting.
Mike Dazé will move from the Vice President position to Treasurer.  We thank him for his continuing leadership.
The board also recognizes and appreciates the years of board service given by departing members Michael Donahue, Jimmy Gertzog and Jason Hamrick.  All three have made significant contributions to artistic, technical and infrastructure aspects of the company's work, and we thank them for their past and continuing support.
Please join us in thanking these leaders for their enormous contributions to Providence Players.
Board Member Spotlight:  Nick Manicone, Board Member & Actor
Nick Manicone is Vice President of the Providence Players' Board of Directors, and has served on the Providence Players' board since July 2019.  Nick has performed in three productions at Providence; he was first seen supporting his daughter Sophia (as Scout) in "To Kill a Mockingbird." In 2018, Nick took on the role of Diamond Louie in "The Front Page," and a Musician and Old Joe in "A Christmas Carol."  By day, Nick is a lawyer for the International Brotherhood of Teamsters.  Nick lives in Fairfax with his wife,  Becky, and daughters, Sophia and Izzie.  
"My involvement with Providence Players  of Fairfax started with my daughter Sophia. I've always enjoyed theater. But after high school my connection to theater was limited to being a member of the audience. Sophia was passionate about theater since seeing her first Broadway musical at the age of 3. As a result, we started going all the time, as well as taking her to lessons and that kind of thing. I developed a greater appreciation for all of the elements that go into creating a successful show.
In the Fall of 2016, Sophia was cast in her first major role – Tina Denmark in the musical Ruthless at Creative Cauldron in Falls Church. At the end of the show, there's a cameo role as Tina's father, who is referred to throughout the show but never seen. He comes on, says a couple of lines, and then Tina shoots him and he dies onstage. One night the person slated to take that role couldn't make it. So I volunteered. Sophia didn't know it was going to be me and she was surprised when I walked on. It was great fun and I was bit by the bug.
So when Sophia auditioned for To Kill A Mockingbird (TKAM) at Providence in spring 2017, I auditioned too. Partly, it was a practical consideration – someone needed to drive her to and from the rehearsals.  Partly it was an opportunity for me to spend more time with Sophia while she did something she loved. But it was also a chance for me to stretch my boundaries and do something different.
TKAM was a large cast, which meant I met a good number of people from the company and I had a great time. It was such a positive experience that the following year I auditioned for two other plays – The Front Page and A Christmas Carol. The Front Page was especially fun – I got to play a 1920's gangster named Diamond Louie and had a couple of funny scenes with fantastic actors. It was challenging to learn a whole new set of skills. I even got to play guitar for Christmas Carol – also great fun. My younger daughter Izzie who isn't interested in acting, but loves building even had the chance to work on set builds.
A huge part of what made the experience so great was the people involved. They are passionate, creative, and knowledgeable about theater. They were also friendly and welcoming to newcomers like me and my family.  At Providence, I found a real place of community and connection.
So when I was asked to join the Board and later to serve as Vice President, I jumped at the opportunity to give back to the community that had welcomed me and my family. While I have some skills as an actor and carpenter (and hope in future years to hone them with my friends at Providence), probably the greater part of my gifts are as a lawyer, negotiator and mediator – and I am glad for an opportunity to deploy them to help Providence Players' mission.
That mission – to bring quality community theater to the James Lee Community Center and Falls Church – is more vital than ever. The need for the stories we tell – that illuminate the human condition and help us see through each other's eyes – is evident in this time when empathy seems in short supply. And the way we bring that message – by forming a diverse community to which everyone can contribute – is a microcosm and example of what we need to do in wider society. The company's project is never complete, of course, and I hope that my contribution, added to everyone else's, can make it a better institution for the expression of our community's diverse voices."
Don't Miss the Next PopUp Production – The Librarian
The next virtual PopUp production, The Librarian, by Hansol Jung will open July 17.  Make sure you look for the notices to sign up for a space.  On the heels of The Story About the Tattoo and Mere Mortals, we will continue to provide a "virtual" offering to engage member artists and patrons during this time of sheltering-in-place.
Have an idea for a "virtual" PopUp?  Submit an idea.  More details about how to apply, go to this webpage.
A Virtual Annual Meeting
The Annual Meeting took place on Monday night, June 8, 2020.  We are happy to share that over 50 members attended.  Thank you to everyone who joined in!  For more information on the outcomes of the meeting, go here.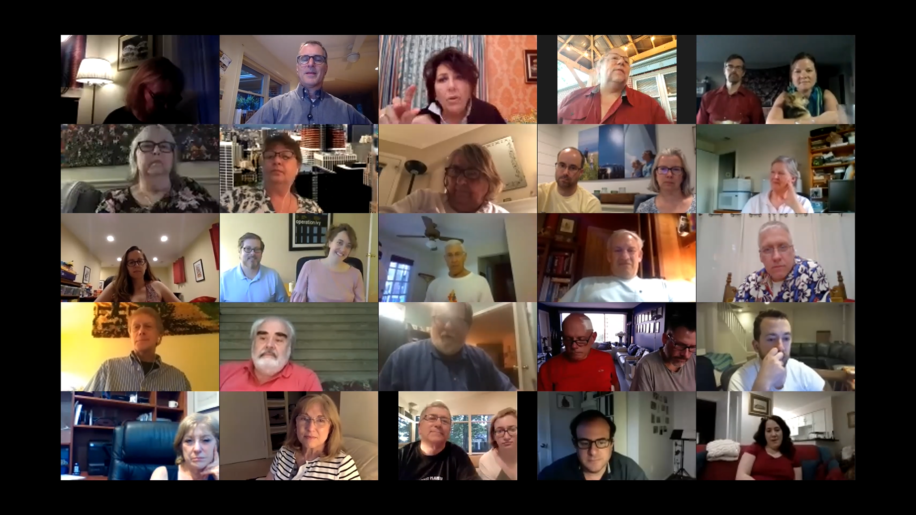 Save the Date:  Providence (Virtual) Happy Hour
Please join us for the next Virtual Happy Hour, July 14th at 6:30pm.  So, put it on your calendar!  Grab a pen and paper with your cocktail because we are going to play another game!  Graciously Organized by Providence Players of Fairfax (Prepare your own beverage at home!)
Where:  Zoom  RSVP to get the Zoom log-in information
Creativity in Captivity (Continued)
Were you able to check out the creativity members shared on the website?  Here are few more "creativity" photos to share.  We are inspired by the photos we received, so we want more! Haven't had a chance to submit your photos?  You still can!  Email us at members@providenceplayers.org  with your photo and we will post it!
Member Updates
Welcome back renewing members:  Michael Bagwell & Clark Chesser, Don Beatty, Sara Bennett, Wynter Chatman, Tommie Curtis, Ingrid & Patrick David,  Mike Dazé & Bev Baughman, Jason Damaso & Mario Font, Michael Donahue & Jayne Victor, Ia Ioannidou, Christian Faulkner,  Susan Garvey, Chip & Barbara Gertzog (and Charlotte Gertzog), Jason Hamrick & Andra Whitt, Kevin & Sarah Harnisch, Beth Harrison, Carmen "Jake" Jacobs, Susan & Saul Kaplan, Elizabeth Keith, Nick & Becky Manicone (and Sophia & Izzie Manicone), Mike Mattheisen, Mike & Prince McLaughlin, Becky McNair, Sarah Mournighan, Amanda Ranowsky, Kathi & David Ranowsky, Robbie & Nick Snow, Tina Thronson, Allison Turkel, Roxanne Waite, Beth & David Whitehead and Ali Zaikouk.
And welcome new members:  Nancy Joyner, Megan Klose and family, Frank Burdette and Xander Burdette.  Welcome to Providence Players!
 If your membership is lapsed and you wish to renew, you can click here.
(Have an update you would like to share with your fellow members?  Please send an email to members@providenceplayers.org with the subject line "Member Update" and we will include it!)
(In a show with another company?  Join our Facebook Group page.  Share the news!)
Click here to see a list of previous WEBLetters.
Editor:  David P. Whitehead (send a message to David)