David S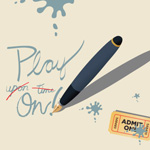 iegal gives a preview of Providence Players' upcoming production of Play On!  Here are a few exerpts from the article:
"Beth Gilles-Whitehead calls the Providence Players' next production, "Play On," a real crowd pleaser. "The audience will enjoy all the hilarious fun of watching a play-within-a play being rehearsed, then performed with the cast literally falling on their faces" said Giles-Whitehead, who plays a "diva" in the production.
"There is just so much visual humor, it is a really a cross between a bawdy Mel Brooks comedy and a choreographed musical," she said.
According to Director Beth Hughes-Brown, "Play On" is about "a small town community theater troupe trying to do a show on a shoestring budget, while the playwright continually rewrites the script even up to opening night."
"The cast are all busybodies trying to get involved in areas of the production that they have no business in," Hughes-Brown said. "This makes it difficult, if not impossible, to have the show ready since everyone has such firm opinions of what it should be.""
to read more of the article from the Connection.   Please join us starting May 27.  For more information, visit www.providenceplayers.org
Order your tickets online now!