Each year, Providence Players works with worthy organizations to provide concessions to patrons at each PPF performance.  Net proceeds benefit a worthy cause.
For its final production of the season, Play On! , PPF will work with Girl Scout Troop #2909 of Falls Church, Virginia.
"We are a group of 17 middle schoolers who provide service to homeless shelter guests, cancer survivors, and at risk youth in our community.  We also participate in outdoor adventures such as white water rafting and skiing.  Thank you for your support!"
In February, the troop earned the Girl Scout Bronze Award for Community Work, the highest honor a girl scout junior can achieve.   Learn more about this extraordinary group of young future leaders.
Troop member, Elise Welsh, performed in PPF's 2010 production of It's a Wonderful Life: A Live Radio Play.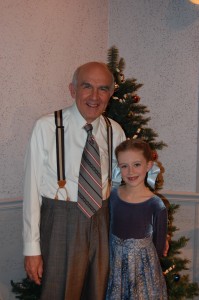 In Girl Scouts, girls discover the fun, friendship, and power of girls together. Through a myriad of enriching experiences, such as extraordinary field trips, sports skill-building clinics, community service projects, cultural exchanges, and environmental stewardships, girls grow courageous and strong. Girl Scouting helps girls develop their full individual potential; relate to others with increasing understanding, skill, and respect; develop values to guide their actions and provide the foundation for sound decision-making; and contribute to the improvement of society through their abilities, leadership skills, and cooperation with others.