A Night Under the (Lone) Stars!
Join Us For A Special Theater Adventure!
Live Theater and Live Music!
Dinner, Drinks and Entertainment!
A Limited Engagement!  Limited Seating!

Only The Final Weekend Remains!
Get a sneak peek of both productions.
| Performance Dates | Event Package for Up to Two |
| --- | --- |
| Thursday October 8, 2020 - 06:00 PM EST | Sold Out! |
| Saturday, October 10, 2020 - 06:00 PM EST | Sold Out! |
| Thursday October 15, 2020 - 06:00 PM EST | Sold Out! |
| Saturday, October 17, 2020 - 06:00 PM EST | Sold Out! |
Already have your tickets?  Come prepared!  Learn Everything You Need to Know to help ensure you enjoy your evening with us.
Laundry and Bourbon and Lone Star, a pair of popular, interlocking one-act comedies by James McLure, take place in small-town, Maynard, Texas.  The two plays combine for a wildly entertaining, and occasionally poignant, evening of live theater.
How can we do live performances, you ask?  We have established new processes and procedures.  All activity is in accordance with regulations from the Governor of the Commonwealth of Virginia, Virginia Department of Health, and the Center for Disease Control (CDC).  Visit our Safety Precautions for Live Performances page.
When:
Thursdays and Saturdays, 6:00 p.m.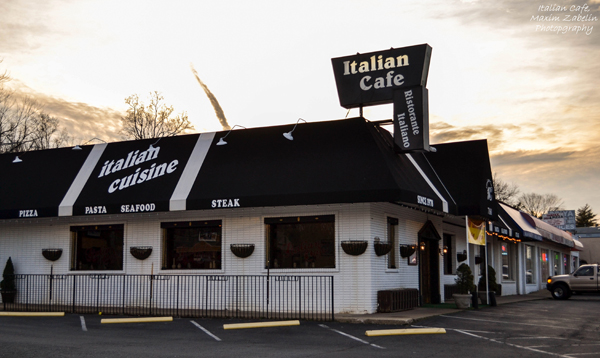 October 8, 10, 15 & 17
Doors open at 5:30 p.m.
Live music begins at 6:00 p.m.
Live theater performances start at 7:00 p.m.
Approximate end:  9:00 p.m.
(In the case of inclement weather, rain dates will be announced.  Please check this page for updates.)
Where:
The Italian Cafe' (behind the restaurant, outside, under the stars)
 7161 Lee Highway
Falls Church, VA 22046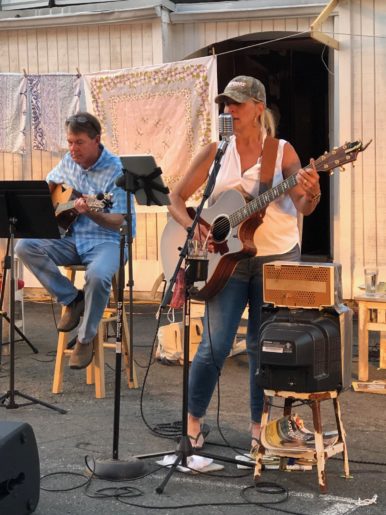 How Much:
Cost per square:  $75.00 (each square holds up to two people)
A 6'x 6' square (socially distanced from other squares)
includes space for up to two (2) attendees who can sit in close proximity – less than six feet apart)
Also, for the cost of admission, you receive:
One barbeque boxed dinner (meat or vegetarian) – additional meals can be purchased for $15/meal.
Two drink tickets (beer, wine or non-alcoholic) – supplied by The Italian Café.
Live music – Gretchen Purser and the Lone Star band will perform prior to the theater performance.
A live theater performance of Laundry and Bourbon and Lone Star, two hours which includes a 15-minute intermission.
A chance to get out and enjoy a theater adventure under the stars.
In order to ensure safe practices during the performances, each attendee must:
Bring your own chair (no other chairs are available or provided)
Wear a mask (required to wear unless eating or drinking)
Remain socially distanced from others, not in your square
For your own comfort, you may wish to bring:
Blankets, as October evenings tend to be chilly
Coats, gloves and hat (for warmth)
A small table to place dinner or drinks
Show Descriptions
Laundry and Bourbon
A Comedy by James McLure
Directed by Beth Gilles-Whitehead
(Running time:  55 minutes)
One hot summer afternoon on Roy and Elizabeth's back porch in Maynard, Texas, Elizabeth and her friend Hattie are whiling away the time folding laundry, watching TV, sipping bourbon and Coke, and gossiping about the many open secrets which are so much a part of small-town life. Amy Lee arrives and as a good Christian woman feels it's "her place" to share gossip about Elizabeth's husband.  Filled with nostalgia and poignant humor, all three women must let go of the past and accept an uncertain future.  Join us for this wonderful comedy of hope, laughter and longing!
Cast
Elizabeth – Julie Janson
Hattie – Sara Joy Lebowitz
Amy Lee – Jaclyn Robertson
Lone Star
A Comedy by James McLure
Directed by Michael Donahue
(Running time:  65 minutes)
An uproarious comedy about two bawdily rambunctious Texas brothers obsessed with a nostalgic past and struggling to face an uncertain future.  Roy, Elizabeth's husband and the local high-school hero, is back from the Vietnam war and desperately trying to recapture the loves of his past – Lone Star beer, wild and raucous jaunts, and his beloved 1959 pink Thunderbird convertible.  Ray, his younger brother, joins in on Roy's chronicles, until Cletis, a fastidious, insecure Roy wannabe (and Amy Lee's husband), drops in and disrupts a perfectly fine, drunk evening with an extraordinary revelation. But it's the last revelation of the night that forces Roy and Ray to face a new but hopeful future.
Cast
Roy – David Whitehead
Ray – Bobby Welsh
Cletis – Chuck O'Toole
These plays contain mature themes and strong language related to war, infidelity and sexual situations.  Not appropriate for children under the age of 16.