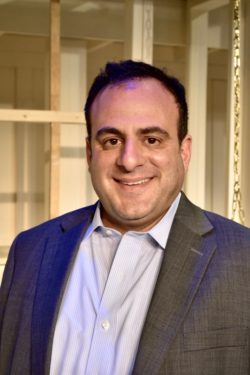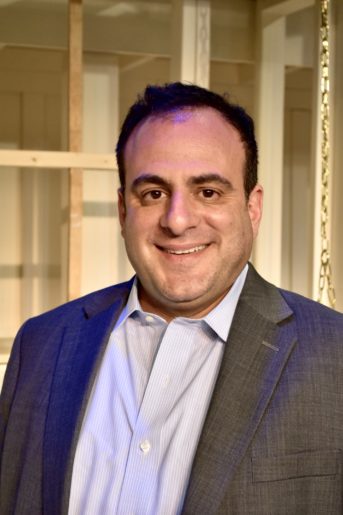 President's Message
Dear Providence Players Members, 
We have welcomed the summer and the end of a successful season back in the James Lee Center Theater.  We are very proud of the diverse offerings we presented: The Beatle Club; Junie B. in Jingle Bells, Batman Smells; Enchanted April; Playing Juliet and Casting Othello.  As usual, a lot of work went into mounting these productions, so we are happy to take a brief break while we make plans for a very special 25th Anniversary season.   
Thank you, as always, for your support of Providence Players of Fairfax.
Best regards,
Nick Manicone 

We could not be more excited about our upcoming 25th anniversary season.  It includes a scathingly funny satire on politics, an inspirational story of a woman leader in astronomy (based on a true story) and a raucous farce where chaos ensues among couples with secrets.  We hope you will join us for this wonderful season.  Get involved!  Click the banner or here to read about all the exciting productions.
Applause for our Final Production,
by Tina Thronson
Congratulations to the cast, production team and crew of Playing Juliet and Casting Othello. Literally "behind the scenes", these two companion one acts explored a theater company's trials, tribulations, and lessons in the multi-racial casting of two of Shakespeare's most famous plays. Both funny and insightful, the show gave audiences much to think about. 
In the interim, we took the opportunity to enjoy the opening weekend party.
Our guests included the playwright Caleen Sinnette Jennings, who sent us a wonderful letter in tribute.  Click here or the banner to read the entire letter. 
Providence Players Support of Tinner Hill Heritage Foundation,
by Kevin Harnisch
The 28th Tinner Hill Music Festival, was held in Cherry Hill Park in Falls Church on Saturday, June 11.  Once again, Providence Players was a major sponsor of this wonderful local community social event.  Tinner Hill Heritage Music Festival is the premier charity event. It celebrates the Tinner Hill Heritage Foundation's mission which honors the local African American legacy in history, education, and the arts.
The summer music festival always brings a sensational, culturally rich, live music experience to the City of Falls Church.
When the gates opened at 11:00 a.m., a light drizzle of rain ended, and the sun came out to shine on a full day of music, food, beer, and fun. Providence Players was pleased to sponsor the Foundation's Festival Village with historic exhibits about our local history and the Foundation.  We are very thankful to the many volunteers who supported our sponsorship efforts, prior and during the festival.  
Providence Players' Scholarship program:  And the Winners Are . . .,
by Mike McLaughlin
Providence Players is dedicated to promoting an ongoing interest and commitment to theater arts in our young people. We award scholarships to graduating high school seniors, from our community, who have demonstrated such a commitment, who have been accepted to a U.S. accredited college or university or conservatory program, and who intend to continue participation in theater.
We had five times as many applicants this year as in 2021, which made it very difficult to choose only two winners. However, after a full review of the applications, we are pleased to announce the winners of the Providence Players Theater Scholarships for 2022: Evelyn "Evie" Izdepski (Fairfax High School) and Kathryn "Kat" Nickel (Robinson Secondary School). 
Evie has appeared onstage with Providence Players (Best Christmas Pageant Ever, A Christmas Carol), Bethesda Summer Music Festival (The Sound of Music), and Fairfax High School (Into the Woods), has worked as camp counselor at Encore Stage and Studio and at Fairfax High School, and has received numerous awards. Her plans include pursuing a Bachelor of Fine Arts in Music Theatre at Rider University in New Jersey. 
Supervisor Penny Gross (Mason District) presented Evie with her scholarship before the opening performance of Playing Juliet and Casting Othello. 
Kat Nickel is already a multi-talented singer, and dancer, who has directed and designed and painted sets. She received a dance scholarship in 2021 at Signature Stage and was nominated for a Cappie this year as Best Comedic Actress in a Musical for her role in Robinson's production of Head Over Heels. She is also a member of the International Thespian Honors Society. Kat will pursue a Bachelor of Fine Arts at Oklahoma City University School of Theater. 
Unfortunately, Kat was unable to attend the presentation by Supervisor Gross, but we congratulate both Evie and Kat on their accomplishments, and wish them continued success in theater and life in the years ahead.
Are You Interested in Learning More or in Volunteering?
To know and support everyone's interests we are asking each member to complete the Member Interest survey. We have designed it so we can reach out directly as new and exciting opportunities present themselves.
All you do is click the hyperlink below, go to the bottom of the "Get Your Art On" page, click "Next" and take a few minutes to register your interests.
We look forward to hearing from you!
Annual Membership Meeting: Another reason to celebrate!
The Providence Players Board of Directors hosted the Annual Membership meeting on June 13 at the Italian Café. This provided us with another opportunity to celebrate theater and each other while we went through a packed agenda. It included the President's update, the Treasurer's annual report, the election of Board Directors (see below) and the presentation of an exciting 2022-2023 season. We also took a moment for member recognition. Thanks for special efforts and contributions this season went to Sarah Baczewski, Emerson Bennett, Han Nguyen and Joe Neff. As always, we want to express our thanks for the hard work and support of all our members and donors. We look forward to working together in the upcoming season on a terrific theatrical year.
2022-23 Directors and Officers Elected
At the Annual Meeting this June, the Providence Players membership re-elected Michael Donahue, Kevin Harnisch, and Beth Whitehead to new three-year terms commencing July 1, 2022. All three had been recommended by the Board's Nominating Committee, comprised of past Presidents. 
"The committee takes into account past contributions as well as skills that a Board director could bring. In our view, these three offer a wide range of talents that will serve the Board well, " commented Janet Bartelmay, a member of the committee.  Michael, Kevin, and Beth join the other members of the 2022-23 Board: Janet Bartelmay, Mike Dazé, Susan Kaplan, Nick Manicone, Mike McLaughlin, Tina Thronson, Jayne Victor, Roxanne Waite, and David Whitehead. 
Following the Annual Meeting, and as prescribed by the bylaws, the Board formally elected the 2022-23 Officers:
President: Nick Manicone

Vice President: Kevin Harnisch

Secretary: Janet Bartelmay

Treasurer: Mike McLaughlin
Member Updates
Congratulations to the multitalented Sophia Manicone who most recently played Liesl in the Prince William Little Theatre production of

The Sound of Music

. Kudos to her sister Izzie Manicone who lent a hand on the tech side. This production was a family affair!
More congratulations to Allen McRae for snaring a role in Glynn Cosker's play

Masked

which was just performed at the Chain Theatre.

It is certainly special to have a gig in NYC – Off-Broadway!

Our good wishes to members working with NOVA Nightsky Theater:

Break more than one leg! Chuck O'Toole will make his directorial debut this August with Shakespeare's

As You Like It.

It will be performed out of doors and the cast includes our own Ariana and Will MacLeod.
Sarah Baczewski will be directing

After the Storm

by member Ward Kay in September.

Breaking News – Jaclyn Robertson has been cast as Lady Macbeth in another Shakespeare classic. She will be working with the City of Fairfax Theatre Company this September – and we know she will be wonderful.
Congratulations to Mike and Prince McLaughlin on the arrival of their newest grandchildren – twin boys Logan and Spencer. They join their brother Jesse (age 2) and their parents Adam and Mary Lee, who now have their hands full with three under three. Welcome little ones. Good luck parents!
Welcome New members:  Ali Cheraghpour, Juliana Cofrancesco, Robert Hannan (and Family), Sharon Kourtz, and Nina-Sophia Pacheco.  Welcome to Providence Players!
Renewing members include: Janet Bartelmay, Sara Bennett, Tommie Curtis, Ingrid & Patrick David, Michael Daze and Bev Baughman (and Family), Michael Donahue & Jayne Victor, Stuart Fischer, Allen and Jenny Flanigan, Jason Hamrick & Andra Whitt, Kevin & Sarah Harnisch, Beth Harrison, Ia Ioannidou, Carmen Jacobs, Nancy Joyner, Susan Kaplan, Frank & Megan Klose (and Family), Mike & Prince McLaughlin (and Family), Sarah Mournighan, Amanda Ranowsky, David & Kathi Ranowsky, Robbie Snow (and Family), Tina Thronson, Allison Turkel, Roxanne Waite, and Beth & David Whitehead.  
If your membership is lapsed and you wish to renew, you can click here.
Final note: The Providence Players Member WEBLetter will be on hiatus for the rest of the summer. We'll be back in the fall.
Final Curtain?
(Have an update you would like to share with your fellow members?  Please send an email to members@providenceplayers.org with the subject line "Member Update" and we will include it!)
(In a show with another company?  Join our Facebook Group page.  Share the news!)
Click here to see a list of previous WEBLetters.
WEBLetter Editor:  Tina Hodge Thronson