A Two Part-Series:  The Empty Stage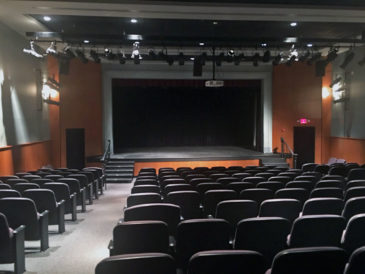 At set strike, I'm always amazed when we are finished.   From the seats, I look at the blank stage and think, "an empty space full of possibility."  The potential a blank stage can offer – once you've seen what it can be – is awe-inspiring.  Having been on many stages in many types of productions and having witnessed many incredible productions as an audience member, I am awed and inspired by the creative individuals that can bring that space to life.  In preparation of this article, I found a quote by Vicktoria Adam, a theater blog writer who shared, "The stage, which is clearly a stage, transforms into a different environment; sometimes this is done with a fabulous stage design and set, sometimes it's done by the actors transforming the environment…"
This quote inspired a two-part article.  The first, how designers transform a space (below) and the second on how actors bring that space to life (next edition).
A Space Transformed
I could think of no better way to share stage transformation than to ask the "transformers" themselves.  I asked three PPF creative designers (all WATCH award winners) for their insights on how an empty space transforms into a different time and place.  Here is what they said:
Chip Gertzog:  "Since the company's inception, some of PPF's finest artistry has been displayed in creating the world envisioned by playwright and director on the blank canvas of the James Lee Community Center stage. Constrained by the size of the stage and the limited budget of a non-profit community theater company but with boundless imagination and creativity we have done some amazing work. Scenic design, the set design, construction, painting and set decoration, (as well as props, costumes, lighting and sound) are key to telling a play's story by establishing the environment in which the play takes place. These design elements establish a sense of place, time, mood and style of the play and moves the story forward.
On a personal level, what I love about set design is the challenge of designing a small slice of world that elegantly serves the basic story the play tells as well as the mechanics of the staging of the story that the director envisions and the needs of the actors in performing that story. Like all things in theater, it is a team sport and it is pure joy for me to work through the scenic and visual challenges of the play with a team of designers and then have a large slice of the company's membership join in the building of the world we are creating.
Over the years, my favorite sets have been those that have to respond to the challenge of a play's requirements for multiple spaces or locations. It is a real challenge to do this on a small stage and we have been extraordinarily successful in doing that. This past season, we have seen great examples of this: John Coscia's design for August: Osage County creating the illusion of enormity and separate spaces of a large multi-story house on a small stage or Brian O'Connor's design for Leaving Iowa (coupled with projections I had the pleasure of designing) implementing Julie Janson's vision of family cross-country travel.
As you look at our great sets, two things jump out at you. First, the teamwork involved in building the worlds in which our plays take place and second, the artistry and commitment to detail that our designers bring to the stage. It is an area in which Providence Players excels. Very few corners are cut. And, it is truly a thrill to be part of that and a great way for members to contribute to a production and expand their skills in theater.
I love working on all the Providence Players sets and I rarely miss a set build. It has been an essential part of my theater education and my joy in working with PPF."
Patrick David:  "How to transform a stage from a dark, empty space into a place that magically brings a place to life?  It takes a lot of creativity from many talented people – set and lighting designers, stage carpenters, set decorators and painters, sound technicians, and, well you get the idea. I've had the opportunity to design sets for several Providence Players productions, so I'll pass along my thought process on just that piece of the creative process.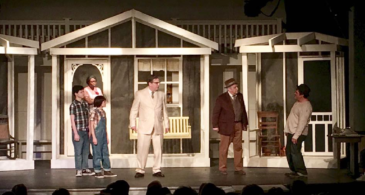 There are several sources of input I seek in the set design process. First and most importantly, what is the director's vision for the show?  The set design must advance, if not mirror, that vision. Secondly, are there budgetary or physical space considerations that must be incorporated into the design? And thirdly, are there past productions of the show I can review to spark the creative process, such as; use of different building materials, innovative building techniques and/or different solutions to space restrictions.
From that beginning I use an iterative drafting process to share with the director and lighting designer the building blocks of the set. That allows me to more closely capture the director's vision, as well as tease out any future technical or blocking issues that may arise from the design of the set.  After the director gives the thumbs up, I draw out, using a CAD program, the final design of the set, along with a materials list, and detailed building diagrams that are used by the stage carpenters during the actual set build weekend. And then the magic begins as the paper drawing comes to life over that busy set build weekend."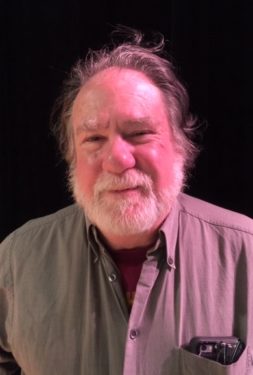 John Coscia:  "When I need to design and build a set for a play, the first thing I do is read the play three times and then meet with the director to try and get as good an understanding as possible of what their vision for the play is, any requirements they might have for the set, and generally what they have in mind.  In this conversation we try to reach a joint vision of the general direction I need to go with the design.
My feeling about sets is that the set must, above all, serve the play, in that it allows and even helps the director to frame and convey the story they want to tell to the audience. Once the general vision is agreed on, the two things to keep in mind when designing are the budget and the difficulty in building it with the time and manpower available.  After all of that is done and you come up with a design the director is happy with, the fun begins.  Buy the material, charge the screw guns, get the coffee and bagels, and make it all happen."
David P. Whitehead
WEBLetter Editor
Board Member Spotlight:  Beth Gilles-Whitehead, Board Member, Actress and Director
Beth Gilles-Whitehead is a 17-year veteran of Providence Players. She is currently on the board and will be directing "The Gift of the Magi" opening this December. Beth has directed a number of shows for the Players including: "To Kill a Mockingbird," "A Christmas Carol (2018)," Shakespeare's "Twelfth Night," "All My Sons" (Ruby Griffith award winner for Overall Excellence), "The Best Christmas Pageant Ever," "The Good Doctor" (co-directed with David Whitehead), "Waiting in the Wings," "California Suite" and others. She's acted in many PPF productions including: Mame in "Auntie Mame" (WATCH nomination), Barbara in "August Osage County," M'Lynn in "Steel Magnolias," Charlotte in "Moon Over Buffalo," Romaine in "Witness for the Prosecution," (WATCH nomination), Meg in "Crimes of the Heart," as well as others.  She also is a producer, set decorator, costumer, does props and cleans the theatre and dressings areas – a lot. 
"My love for theatre began in 10th grade when I went to a fall production at my high school of My Fair Lady. I walked out of the auditorium and looked down the hallway where I saw actors and tech people coming from the stage and thought to myself, 'I really want to be back there!' Forty five years later, two theatre degrees, 100's of performances, many auditions and hours of teaching, directing and acting, I still 'want to be back there.'
I 'got back there' by breaking my finger on the first day of volleyball practice in 11th grade.  So, I tried out for the theatre department's production of Snow White and the Seven Dwarfs – the Disney one.  I was a tree, a demon and a court lady.  I started off with green paint all over me, then put on glow in the dark skeleton makeup and crawled out of a cauldron (scaring the #@%* out of little kids), then became a court lady. I loved it.  I continued in theatre at Sheldon High School for the next two years. I had found a home. I then moved from Eugene, Oregon to Washington state where I received my BA in Theatre from the University of Washington. I auditioned for Cornell University's MFA program and was accepted. There were six actors in my MFA class. I spent two years there honing and learning my craft, acting and teaching undergraduate students.
After graduating, I was hired at the Colorado Shakespeare Festival in Boulder for the summer outdoor Shakespeare.  I moved back to Seattle to work as an actor and found my way to the Seattle Repertory Theatre, The Empty Space, Montana Shakespeare in the Parks, Alaska Repertory Theatre and the Seattle Children's Theatre. I met David Whitehead, a fellow actor. We met, fell in love and married. We both worked as professional actors in Seattle for a number of years and then began our family. We have four kids, Daniel, Marie, Joshua and Claire. To make a living in the theatre you do many different things. David became a fund raiser, we both worked for a catering company, sold tickets at a Ticketmaster, I did many workshops in schools and taught acting for the Seattle Children's Theatre. We decided in 1999 when the kids were still young that we would make a big cross country move from Seattle to Fairfax, Virginia. We've enjoyed northern Virginia for 20 years now.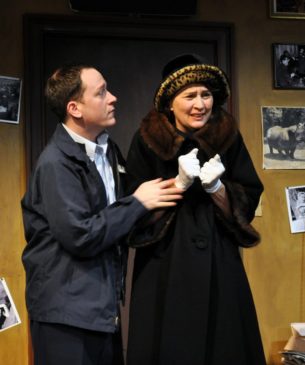 The kids were all in grade school and I was volunteering at Mantua Elementary School where Susan Devine ran a wonderful theatre program. She 'graduated' out of the school and I stepped up and advanced the program to include first thru sixth graders.  I produced four thirty-minute shows, one that included music.  I ran the program for the next six years.  I volunteered with Michael Ehrlich at Woodson helping stage the Dessert on Broadway program.  I substituted and taught for different theatre teachers including Terri Hobson, and was raising our children.
In 2003, I decided to audition for the Frost Players. They were doing a production of Crimes of the Heart at Frost Middle school. I played the smoking, drinking, black sheep of the family who comes home to 'help out.' It was fun. I then started directing with the theatre. We moved to the James Lee Community Center and we became The Providence Players and I guess the rest is history.  I love this theatre group.  We work hard, play hard and create terrific theatre.  I  would like to invite you 'back there' as well. Get active as a team player, a creative artist and a member."
Join us for our next Providence PopUp production:  Bobby Gould in Hell!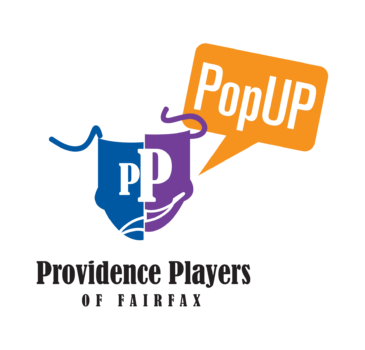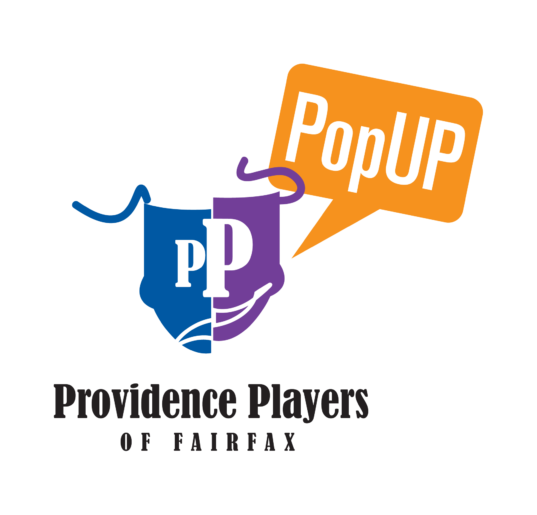 As you probably heard, Providence Players of Fairfax's special engagement production of Oleanna was a wonderful success. Not only did this thought-provoking show play to sell-out crowds, it opened up a new venue for Providence, allowing us to engage more intimately with our audiences and artists. Many of you told us you loved the format, and wanted more. Well, here's your chance.  Make sure you read David Siegel's DC Metro Theater Arts interview with producer, Julie Janson.
Bobby Gould in Hell, opens September 5.  Only six (6) performances.  Seating is limited (50 seats per performance) so, get your tickets today!

Join us for our 2019-2020 season!
Have your season tickets yet?  It's not too late.  Providence Players' 22nd season will truly be a great one.  It starts with Agatha Christie's most popular whodunit, followed by a holiday classic. In March, we produce a Pulitzer-prize winning drama followed by a romantic comedy that won numerous awards and Tony-award nominations!  Click here to read more about the plays selected for 2019-2020!  Season tickets are already on sale online.  Get your tickets today.
Blast from the Past:  Photos of Some of PPF's Amazing Sets
Following on the theme of this edition of the WEBLetter, we've put together a photo gallery of some of the sets that have been designed for some of the company's most memorable productions.  Special thanks to Chip Gertzog for the photos.  Enjoy!
(Top to Bottom)  Set of Phantom Tollbooth (2017) designed by Chip Gertzog; set of Other Desert Cities, designed by John Coscia; set of Time of Your Life (2006) designed by John Coscia and Chip Gertzog; set of The Lion, the Witch and the Wardrobe (2014), designed by Brian O'Connor; set of All My Sons (2009), designed by Patrick David; set of Heaven Can Wait (2004), designed by Chip Gertzog; set of Moon Over Buffalo (2008), designed by David Whitehead; set of Saturday Sunday Monday (2007), two photos, kitchen and dining room, designed by John Coscia; set of Side Man (2012), designed by Chip Gertzog and Raedun de Alba; [Load More] set of Steel Magnolias (2008), designed by John Coscia; set of House of Blue Leaves (2014), designed by John Coscia; set of The Man Who Came to Dinner (2004), designed by John Coscia; set of The Shadow Box (2011), designed by John Coscia and Chip Gertzog; set of Twelve Angry Men (2005), designed by John Coscia; set of Waiting in the Wings (2010), designed by Patrick David.  All photos by Chip Gertzog.
Member Updates
Welcome back renewing members:  Angela Cannon, Fred & Donna Lash, James McDaniel, Allen McRae, Donna Naybor, Alison Raffaldt and Maria Watson!
And welcome new members:  Alex Marshall, Bill Bodie, Sahar Siddiqui and Kelly Tate.   Welcome to Providence Players!
(Have an update you would like to share with your fellow members?  Please send an email to members@providenceplayers.org with the subject line "Member Update" and we will include it!)
(In a show with another company?  Join our Facebook Group page.  Share the news!)
Click here to see a list of previous WEBLetters.
Editor:  David P. Whitehead (send a message to David)