Time to Celebrate!
At last – after several postponements – we finally gathered for the "Luck of the Irish 2022" Providence Players belated holiday party! We were delighted to see so many friends at the Italian Café on March 19. Thanks to the A2Z Picture Booth for pictures of some of the dancing darlings who came to party!  Enjoy the photos!
Journey's End:  Enchanted April
Congratulations to the cast, crew and production team for our most recent production, Enchanted April. Despite numerous challenges, including a 2-year pandemic delay, reduced audiences due to social distancing, and the recent deployment of the stage manager, this sentimental tale was met with more than a few cheers and tears. Thanks for the memories.
Next Up:  Playing Juliet and Casting Othello
by Caleen Sinnette Jennings
Directed by Eleanore Tapscott
The New Vistas Theatre Company sets out to put on Romeo and Juliet and Othello using a multi-racial cast. Wendy, the determined white director, has cast her long-time black friend, Georgia, in the role of Juliet. Tempers flare and friendships are strained when Jimmy, Georgia's maintenance-man boyfriend, tries to prevent her from playing the role. In a later production of Othello, Jimmy, now married to the pregnant Georgia, has grown accustomed to being a stand-in for the lead in rehearsals. Despite his lack of training, Wendy thinks Jimmy could perform the role of Othello in front of an audience. The atmosphere is charged as Georgia vigorously opposes this casting. In these companion one-acts, issues of race, class, gender, politics and nontraditional casting emerge as the Bard brings out surprising fears, animosities, love and laughter in this company of players.
Spotlight: Director (and Actress) Eleanore Tapscott, by Tina Thronson
As with so many in the theater community, Eleanore wanted to be an actress at an early age. She pursued her dream through high school in Oakland, CA and at U.C. Berkeley, followed by study at the National Shakespeare Conservatory (NSC) in New York City. "Going to New York was an easy choice for me since I felt film people go to Los Angeles, theater people go to New York, and so off I went dreaming dreams of Broadway. After completing the conservatory program, I travelled cross-country with the National Shakespeare Company for three seasons. In New York I acted in probably every off off off Broadway theater in the city."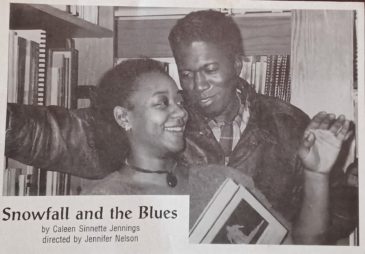 Rather than the usual waitressing gig, her "survival job" was working in communications for non-profits. Her expertise grew to the point that, when one of her employers moved to D.C., she went along. By day she now works for a medical/scientific organization directing their book publishing operations. By night she works "in theater", which includes serving as the executive director for The Actors Center, a DC-based nonprofit providing resources and community for actors at various stages in their career
Upon arrival in D.C., her very first theater work was with the Source Theatre Company on An Evening of One Acts (Snowfall and the Blues) by Caleen Sinnette Jennings and directed by Jennifer Nelson. Eleanore was immediately taken with the playwright's style as well as her attention to an often overlooked or misrepresented segment of the community, African Americans who are well-educated. In a time when plays and films tend to focus on, as Eleanore describes it, "keeping-it-real urban ghetto characters", Sinnette Jennings' characters did not fit that stereotype. "Too often well-educated African Americans have either been portrayed as bourgeois or as comic foils". Eleanore appreciated the portrayals in those first one acts, "Educated folks should not be portrayed as buffoons".
Although VA-based, she describes her twenty years of theater work as "agnostic." I go where the opportunities present themselves – Maryland, D.C., or Virginia." She had been to see a number of Providence plays and appreciated the quality of the productions and the performances. When Providence Players member Mike Donahue, who had worked with her on three separate productions at other companies, suggested she submit a script for consideration to the Providence Players Board, she followed the process and was selected in the upcoming slot to direct Playing Juliet and Casting Othello.
"There is a certain symmetry in directing these two one acts since I was first bitten by the theater bug when studying Romeo and Juliet. The scripts Playing Juliet and Casting Othello touch me, and are likely to touch audiences, in different ways. Although they were written in 1996 they are incredibly timely. We are currently in a period in which groups are making efforts to become more inclusive. So many of us are searching for ways to change minds and hearts. But even people of good will can make missteps. This play exposes some of those missteps and provides, in the setting of a theater company presenting two classic plays, an opportunity to begin a dialogue regarding race. What should Juliet look like? In Romeo and Juliet, race is not a factor. It is ostensibly about love gone awry. However, if you cast an African American actress, then race impacts the story. In Othello we have a real black character. Does our current social climate impact the way this role is performed, or do we tend to fall back into stereotypes?"
The way Sinnette Jennings has constructed the scripts provides audiences an opportunity to consider themes of racism and class but in a setting that challenges yet respects, the attitudes of the characters – while challenging some of the preconceived notions of our audience. Providence Players is delighted to welcome Eleanore to our group of directors. We look forward to presenting these two wonderful plays and hope that our audiences will come and enjoy this intriguing production.
In Production: It Starts With A Table Reading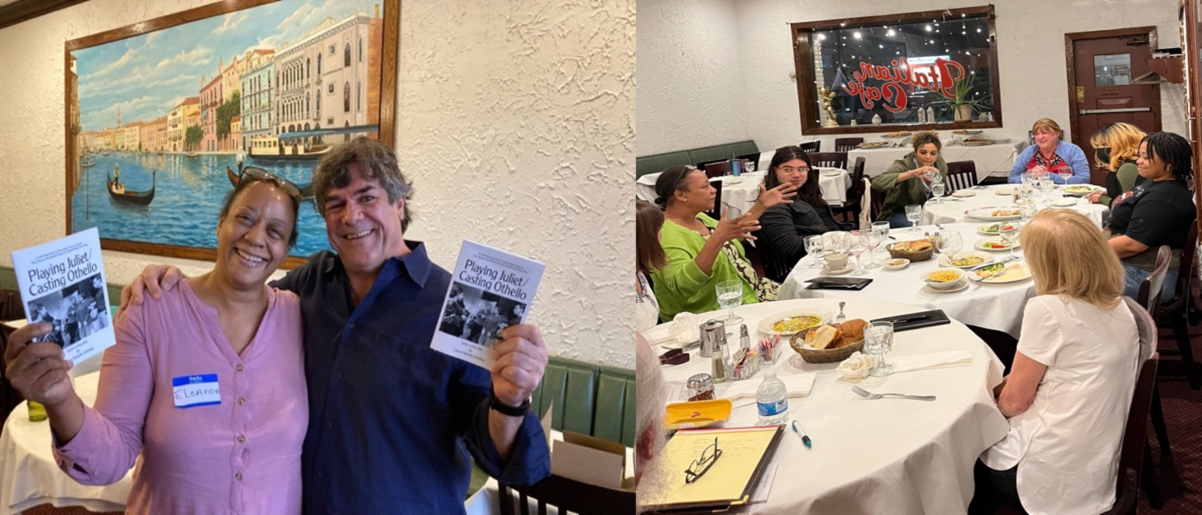 Community Theater Scholarship Program, by Mike McLaughlin
Providence Players of Fairfax offers scholarships to college-bound students from area high schools as a way of nurturing future theater artists and recognizing contributions to the arts community in our region. Up to two $2,000 scholarships will be awarded to graduating seniors with a demonstrated commitment to theater arts and who have been accepted to a U.S. accredited college or university or conservatory program.
Eligible graduating seniors must (1) reside within the school boundaries of Annandale, Fairfax, Falls Church, Meridian, Justice, Marshall, Bishop O'Connell, Trinity Meadow View, Woodson or Yorktown high schools OR (2) have been a member of PPF for at least one year. It is not required that applicants commit to a theater arts major in college, only that they plan on continuing their involvement and contribution to theater arts in the future.
Application requirements are published on the Providence Players website. Materials must be completed and emailed to info@providenceplayers.org no later than May 15, 2022.
Community Representation:  LET'S HOPE. LET'S LOVE. LET'S DANCE, by Kevin Harnisch

Once again Providence Players is looking forward to partnering with Tinner Hill Heritage Foundation for the 28th Annual Tinner Hill Heritage Music Festival on Saturday, June 11, 2022, 11:00 AM – 8:00 PM.  This music festival is the premiere charity event that highlights the Tinner Hill Heritage Foundation's mission – to honor the area's African American legacy. This sensational event brings a culturally rich live music and arts experience to the City of Falls Church. Organizers are thrilled to announce the participation of two Festival headliners: legendary Blues artist Marcia Ball and New Orleans Rebirth Brass Band.  Providence Players will be sponsoring the Tinner Hill Heritage Village. Please come by and say hello!
Providence Players Wants You!
Are you thinking about doing something new post pandemic? Getting outside your comfort zone perhaps? Want to meet new people? Express your creativity? Then click here to fill out the form and hit submit! Let us know of your interest because it takes a village to put on a production.
For every show that PPF produces – mainstage, PopUps (both live and online) and our outdoor events, our producers will review your volunteer information and reach out to you as opportunities present themselves.
This volunteer database is another way we can engage our Providence member family. Together we will continue to serve our community by presenting quality theatre!
Upcoming Event: Happy Hour, May 10, 2022
Please join us for an in-person Providence Players Happy Hour on Tuesday, May 10, from 6:30-8:30 pm, at Liberty BBQ in Falls Church. The address is 370 W Broad St., Falls Church, VA 22046. High tops in the front will be reserved. Come mingle, chat, nibble and sip with some friends you may not have seen for a while! We can't wait to see you! We do hope you will join us and, if you can, please reply at least one day before the event to members@providenceplayers.org.  Remember, only members can attend! So, if you need to, make sure you renew or join.
Save the Date:   Annual Membership Meeting, June 13, 2022
The Annual Meeting of Members of Providence Players of Fairfax will be held Monday, June 13, 2022, at 6:30 p.m. At the meeting, the Board will provide an update on Providence activities, including a look at the year ahead, and the Nominating Committee will present to the members a proposed slate of directors. It is also a great chance to meet new members (please come!) and spend time with friends and fellow theater colleagues.
Doors open at 6:30 pm at the Italian Café (7161 Lee Highway, Falls Church VA 22046). Pizza and salad will be served beginning at 6:30. Soft drinks and alcoholic beverages may be purchased from the restaurant. Presentations begin at 7:15 PM

The Board is very excited about the future of Providence Players and hopes that you will join us on June 13!
Volunteer Opportunities
We still need Marketing help!  Have any experience with marketing within social media networks?  We could use some help spreading the word about Providence Players.  Experience with Facebook, LinkedIn, Twitter, TickTock, SnapChat and Instagram and other networks wanted!  Send an email to members@providenceplayers.org with any interest.
Farewell Ovation: Act II for the Welsh Family…Almost Maine, by Tina Thronson
Anyone who has interacted with the Providence Players over the last decade knows Bobby and Danine Welsh. And if you're lucky, you know their daughter Elise, too!
Bobby, a cybersecurity specialist, started his acting career with us by playing a kindly employee concerned for the elderly residents at a home for retired actresses in our production of Waiting in the Wings. He has since played an emotionally withholding son in Other Desert Cities, a drug addicted trombone player in Side Man and a mentally unstable murderer in The Front Page.
In real life, Bobby is a good-humored and easy-going guy who relishes the challenge of transforming himself. Given the type of work he does, he recently told me, "Theater feeds my creative side. I especially love it when the dialogue is so good, when it allows you to get into a rhythm onstage and find that natural give and take with the other actors."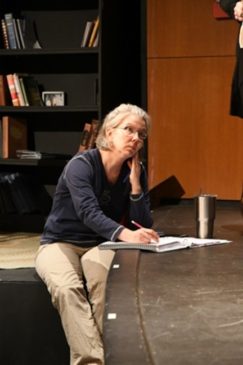 Danine, a desk jockey at Freddie Mac, took a different route with Providence and participated by becoming indispensable behind the scenes. She has used her superlative organizational skills when producing and as stage manager of numerous productions, as well as running the box office for several years. Recently, she has served on the PPF Board and is our immediate past Board President. She was eventually coerced to be onstage and showed off some fine comedic timing in our productions of Is He Dead? and Snow White and the Family Dwarf. The latter play was a special treat because it was the only time that she, Bobby, and Elise (who caught the acting bug in her first show with PPF's Auntie Mame) were all on stage together.
Bobby noted that, "Besides doing great shows, it has been so satisfying to collaborate with the Providence Players family onstage and off."  Danine agreed. She became active with the company because of how welcoming everyone was. "It feels like family. We have fun, share ideas, problem solve and support each other onstage and off. Providence Players provides a chance to stretch yourself while getting lots of support. For example, when I was asked to stage manage You Can't Take it with You I really didn't know what I was getting into but Chip (Gertzog, director) was there to help me figure it out – while giving me the latitude to do some things my way."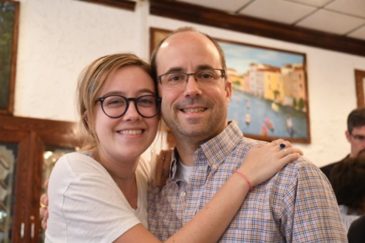 In 2007, the Welshes took a year off and traveled around the country, mainly to enjoy the experience, but also keeping an eye out for the next place to be. Out of all the places they've seen, they kept returning to their honeymoon state, Maine. As Danine said, "When we recently returned there for two weeks in February and still loved it, we knew we could make life in Maine work."  Much to the regret of their Providence family, they are soon off to the next phase of their lives.
Danine ended by saying "We will be hard pressed to find a company as talented and as giving. Plus, we have made great, life-long friends. So, we promise that we will be back but, for now, we will just say – see you later."
Member Updates
Break a leg – two legs? – four legs? to Mario Font and Jason Damaso, longtime PPF members and the directors of the Damascus Theater Company production of Head Over Heels – the Musical by Jeff Whitty and James Magruder. Also in the cast is a new PPF member, Joe Neff. Have a great opening night. We know it will be a fun show.

Chris Crockett and Julie Janson.  Photo by Tina Thronson.

At last, after a two-year delay, Chris Crockett and his wife Julie Janson were able to fulfil their promise to work on Enchanted April with their friend Amanda Ranowsky. Chris not only designed the sound but had a leading role. Julie was the ace stage manager – keeping the production on track while supporting Amanda. And then, the real world encroached yet again – war in Ukraine. So just before opening night, Julie (Lieutenant Colonel, U.S. Air Force) was deployed to Germany. Thank you, Chris, for your sacrifice – and thank you, Julie, for your service.

Nick Snow

In Memoriam: We are saddened to report that our friend and longtime member Nick Snow, beloved husband of our indispensable Robbie Snow, passed away on April 1, 2022. Nick was a life-long writer and journalist. A quiet presence at many of our parties and events, he was kind enough to share his plays with us at our play readings. Our heartfelt sympathies go to Robbie, their daughter Amanda (son-in-law Christopher) and son Eric.

New members:  Thomas Albertson, Dana Gattuso, Aja Goode, Brenda Hornbeck, Ursula Jones, Clyde Miller, Tiffany Morina, Carol Pappas, Bruce Rauscher, Mary Beth Toomey.  Welcome to Providence Players!
Renewing members include: Sarah Baczewski, Gerry, Smitty and Caitlin Connolly (Family), Kayleen Fitzgerald and Nora Rice, Mario Font and Jason Damaso, Janet Kohler Dueweke, Rosemary Hartman, Daniel Lavanga, Robey and David Manno, Elizabeth and John Milam (and Family), Bob and Debbie Smith (and Family), John and Julia Smith (and Family), Tara Tripp, Renate Wallenberg, and Ali Zaikouk.
If your membership is lapsed and you wish to renew, you can click here.
Final Curtain?
(Have an update you would like to share with your fellow members?  Please send an email to members@providenceplayers.org with the subject line "Member Update" and we will include it!)
(In a show with another company?  Join our Facebook Group page.  Share the news!)
Click here to see a list of previous WEBLetters.
WEBLetter Editor:  Tina Hodge Thronson