A remarkable director and cast present Leaving Iowa.  Opens Friday, May 31.  Let the road trip begin!

MEET THE DIRECTOR
Julie Janson is the director of the PPF's special presentation of Oleanna, produced earlier in the year.  Also, she directed PPF's 2016, award-winning production of Amadeus – winner of the Ruby Griffith Award of Outstanding Achievement in a Play as well as six (6) WATCH nominations, including Outstanding Play.  Amadeus was one of the top three highest producing and most watched shows in PPF history.
"I wanted to direct Leaving Iowa because it's a show about family relationships that almost anyone can relate to. It is not only hilarious, but touching and thought-provoking as well, especially when it comes to showing gratitude for those we may take for granted. Particularly appealing to me is that this show presents wonderful staging challenges that will make me and the team better at our craft. I look forward to working with our team to put on a family friendly show which will showcase the extremely sophisticated talent in our local community."
MEET THE CAST
We asked the following cast members, "Can you tell us a bit about a memorable road trip you took?"  Here is a little more about them, and their answers.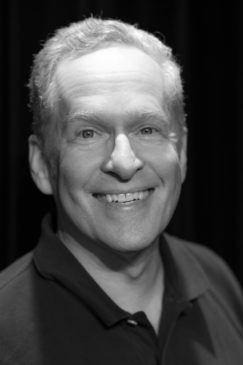 Michael Bagwell (Dad) is ecstatic to be back at PPF where his previous shows have included The Front Page (Bensinger) and Amadeus (The Emperor).
"In July 1995, my sister and I drove our mom and my two nieces (a 4 year old and a 4 month old) from Chattanooga, Tennessee to Bremerton, Washington where the Navy had transferred my brother-in-law. We only had a week to make the trip, so much of the Great Plains and mountain West we could only enjoy from a van window. Fortunately, we got a day off half-way through the journey for a quick family reunion at my uncle's ranch near Laramie, Wyoming. There we got to ride on ATVs through the rugged landscape, eat copious amounts of Bar-B-Q and marvel at an occurrence of snow flurries on the 4th of July. Even better, we had a few moments to get reacquainted with family members that time and distance had—and would again—put us on different journeys."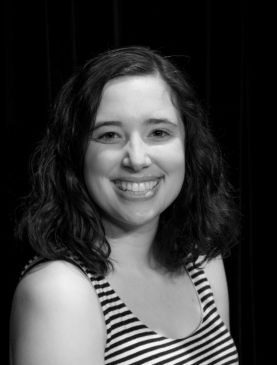 Danielle Comer (Multi Character: Produce Cart Owner, Shopping Lady, Amish Daughter, Museum Assistant, Fran, Hotel Lady) is delighted to be making her PPF debut as one of the multi-characters in Leaving Iowa.  Previous roles include Joan in The Nance (LTA) and McKenzie in A Party To Murder (LTA).  She has a BA in Theatre & English from James Madison University and is currently pursuing her MA in Arts Management at George Mason University.
"I took a road trip with my dad, mom, brother, and my brother's wife to the National Baseball Hall of Fame.  The five of us in my mom's van driving from Alexandria, VA to Cooperstown, NY. I just remember that it was long and my mom made a trail mix of M&Ms, Cheerios, and peanuts, and my brother LOVED it.  He ate most of it along the way and it became a joke to tell him that it was all gone, even if it wasn't. I also remember the REALLY cheap motel we stayed in with the smallest bars of soap you've ever seen.  We stole one when we left and teased my dad about choosing that hotel for years. Mostly, it was hilarious and fun. My dad passed away a little over a year ago now and I like to remember this trip and how much we laughed and smiled."
Amy Griffin (Mom) is delighted to make her debut on the PPF stage. She is enjoying leaning into her current maternal streak after a year of playing moms including Penny Sycamore in You Can't Take it With You (LTA), Prudy Pingleton in Hairspray (RCP), Vi Moore in Footloose (CFTC), and Mrs. Bumbrake in Peter and the Starcatcher (RCP).
"In my junior year of high school, my mom drove my younger brother and me up to Maine.  As a single mother my mom was always more concerned about the destination, so as to maximize our vacation time so I don't remember much about the journey there.  But I do know that the week we spent in Boothbay Harbor was perfect. We didn't do anything one might consider noteworthy or remarkable except to spend time exploring the coast, put together puzzles in the cabin we stayed in on the bay and eat lobster and blueberry pie almost every day.  To this day it's one of my most favorite trip memories."  
Lindsey June (Sis) is jazzed to have Leaving Iowa as her PPF debut. She is loving fully leaning into her former life as a teenage angst-fueled whine machine on a weekly basis. Her previous roles include Elaine Harper in Arsenic and Old Lace (TAP), Nurse Nancy in A New Heart (Page to Stage Festival), Annie in Wounded Warrior (Playwrights Round Table), Mercy Lewis in The Crucible (STAGE), and many other stage and film projects while bouncing around cities.
"My dad and I went on a pure mid-west adventure. We headed up toward San Francisco from LA. It'd been a long time (practically never) since I spent more than one day with my father by myself. It was exciting to finally get that father/daughter bonding time, especially as an adult. While growing up, he was always working and we could never find much to say to each other. This trip changed it all. I remember, we finally got the Sierra Nevada Mountains, as we came around a bend in the road, just like in a movie, the sky opened up, there was a huge lake in front of us, and mountains on all sides, huge pines, and not a single spot untouched by snow. It was the first time I'd seen real winter in 4 years, and he knew how much I loved the snow. He stopped at the first outlook we found, we both got out our fancy cameras, and started shooting away, both of us in our ideal element…until I hit him with a big snowball, which prompted him to come chasing after me with an even bigger one ready for fire."
Michael Schwartz (Multi Character: Bob, Uncle Phil, Grandpa, Joe Hoefingers, Cart Chaser, Jack Singer, Civil War Actor, Wayne) is honored to be doing his first show with PPF.  Recently he has enjoyed being cast in The Count of Monte Cristo as Fernand Mondego and in The Boys Next Door as Barry Klemper.
"Awhile back I quit my job and traveled for about four months. One place I went to was Cairns, Australia. Once I got there I booked a hostel, and walked into my co-ed dorm only to find three very drunk English dudes sleeping naked on top of their beds. I went out for the day and got back around 2 A.M. completely exhausted. The guys ended up getting back at 5 A.M. still drunk with some random people, and asked me if I would like to leave right then to take a day trip in a sketchy beat up van (We had a sober driver, I'm not that crazy). They drove us to random places all over Northern Australia to go cliff jumping. It was a day I will never forget."
Charlene Sloan (Multi Character: Judy, Aunt Phyllis, Grandma, Amish Mom, Jamie, Jessie, Hotel Clerk and PA Announcer) is thrilled to return to PPF in Leaving Iowa! Recent previous roles include Sylvie in The Nance (LTA), Mary Surratt in The Judicial Murder of Mrs. Surratt (ACCT), Harriet in Key for Two (LTA), Lynn McCarthy in Red Herring (PPF), The Queen in Snow White and the Family Dwarf (PPF), Chris Gorman in Rumors (PPF), and a Bad Idea Bear and Mrs. T in Avenue Q (LTA).
"I've been on TONS of road trips! One I remember fondly was a "Rescue Road Trip" I did with Director Extraordinaire, Julie Janson. We did several of these road trips to rural Alabama to save dogs living in deplorable conditions. Working with the ASPCA, we drove to Alabama in a cargo van filled with empty kennels to rescue animals from a hoarding situation. Once we got there we loaded the kennels up with as many animals as we could fit and drove them to safety in Delaware and Pennsylvania. It was fun, exhausting, stinky, and very rewarding. Adopt don't shop!"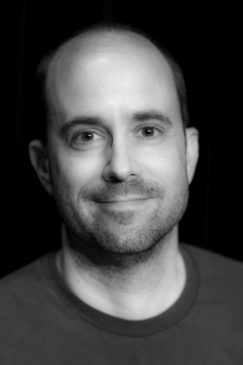 Bobby Welsh (Don Browning) is always happy to be performing with PPF. His past roles include Earl Williams (The Front Page), one of the Venticelli (Amadeus), Trip (Other Desert Cities), Whit (Of Mice and Men), and Jonesy (Side Man). He is so glad to be working with such a funny and generous cast. He loves a good road trip–especially the year-long odyssey around the country he took with his lovely wife Danine and amazing daughter Elise. Their presence makes every trip a joy.
"Ten years ago, my wife Danine and I sold our house, quit our jobs, and drove around the country for a year with our daughter Elise (seven at the time) in a pickup and a trailer. It was very different from the long-haul road trips we all think of. Instead it was lots of little trips, to deserts, coasts, mountains, and family too. Our trailer was our house, so it felt like being nomads and being at home all at once. We visited 39 National Park sites, countless state parks, spent over 1,200 quarters on laundry, and even met 2 Maasai warriors!"

Guide to Abbreviations: ACCT – Aldersgate Church Community Theater; CFTC – City of Fairfax Theater Company; LTA – Little Theatre of Alexandria; PPF – Providence Players of Fairfax; RCP – Reston Community Players; TAP – The Arlington Players; WATCH – Washington Area Theater Community Honors;