On behalf of Providence Players of Fairfax, Director Julie Janson is pleased to announce the cast of Leaving Iowa, which runs May 31 to June 15.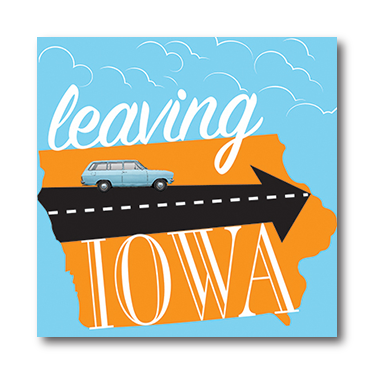 by Tim Clue and Spike Manton
Called "a comedy with a surprisingly deep soul… simultaneously hilarious and touching," Leaving Iowa portrays Don's journey to return his father's ashes to his childhood home, only to discover that Grandma's house is now a grocery store. This father-and-son road trip shifts smoothly from the present to Don's memories of the annual, torturous vacations of his childhood: the classic American summer vacation, which often meant being trapped in the back seat of a station wagon. Don's memories bring to life the people of his past and present, weave a tale of reconciling idealism with reality, and ultimately show us what it means to love one's family.
CAST
(* denotes PPF debut)
Don – Bobby Welsh
Dad – Michael Bagwell
Mom – Amy Griffin*
Sis – Lindsey June*
Multi-characters (splitting 22 roles) – Danielle Comer*, Michael Schwartz*, Charlene Sloan
PRODUCTION TEAM
Director – Julie Janson
Producer – Jason Hamrick
Stage Manager – Amanda Ranowsky
Technical Director – Christopher Crockett
ABOUT THE DIRECTOR
Julie Janson directed Providence Players' most recent production of Oleanna, which received rave reviews from audience and critics.  She directed Providence Players' award-winning production of Amadeus in 2016 – winner of the Ruby Griffith Award of Outstanding Achievement in a Play as well as six (6) WATCH nominations, including Outstanding Play.  Amadeus was one of the top three highest producing and most watched shows in our history.
"I wanted to direct Leaving Iowa because it's a show about family relationships that almost anyone can relate to. It is not only hilarious, but touching and thought-provoking as well, especially when it comes to showing gratitude for those we may take for granted. Particularly appealing to me and my husband, Christopher Crockett (technical director), is that this show presents wonderful staging challenges we know will make us both better at our craft. We look forward to working with our team to put on a family friendly show which will showcase the extremely sophisticated talent in our local community."