Three Performances Remain – To Kill a Mockingbird – Don't Miss this Hit
This weekend is the final weekend of PPF's critical and audience hit, To Kill a Mockingbird, written by Christopher Sergel, directed by Beth Gilles-Whitehead. DcMetroThetaerArts.com reviewer William Powell wrote that the show "is easily one of the top five shows on D.C. area stages this year, worthy of every accolade and award it may receive." Tickets for this American classic, based on Harper Lee's Pulitzer prize-winning novel and one of the best loved stories of all time, are selling out fast.
Throughout the run of To Kill a Mockingbird, Providence Players member Julie Janson has been chatting with a number of members of the cast and crew. In this interview, Robert Heinly who portrays Atticus Finch, discusses his creative process and the relevance of Mockingbird in today's world.
Julie: Please tell our readers where they may have seen your work on local stages.  
I have portrayed Sheriff Heck Tate twice before and am relishing the opportunity to play the heroic Atticus this time around. Most recently I participated in an immersive production on the life and works of Edgar Allan Poe entitled A Within a Dream: Madness, with a group called Through The Fourth Wall, staged at the Torpedo Factory this past fall.  I have been seen in several productions of A Christmas Carol at LTA and have worked as well with The American Century Theater, Accokeek Creek Theatre Co, and Dominion Stage over the years.
What is your creative process?
I am not terribly scientific in my approach to theatre. I make no bones about drawing from any and all sources for inspiration and interpretation, be it film versions, other stage versions, books, other actors both known and unknown to me.  My "trick" if I can even be said to have one, is handwriting my lines out. I generally go through a script, write everything out, write out cues and scenes, then go back and re-write lines that give me trouble.  I believe that the hand writing slows the thought process down and allows the words to sink in in a more encompassing way.
As a classic show, To Kill a Mockingbird has been staged many times. Why do this show now? (Warning: Spoilers)
As far as the timeliness and timelessness of the story, one need look no further than the relationship of father and daughter, father and son, father and community to see that good transcends all.  Atticus has a beloved respect for the law and the justice system, but even that falls prey to "the right thing to do" in the final scene.  We know from the first few words of the trial testimony that Tom is innocent, that the Ewells, out of their hatred and resentment and bigotry, have concocted this story against Tom to assuage their own unhappiness.  It is only the moment in history, in American history, that allows them the brief and unfortunate satisfaction of victory in the case, and it is the sadness of that victory and the hope that comes out of the little step that is taken, that foretells the advancement of us as a nation and as a group of human beings.  As we have seen over the last few months, that message and hope are being forced to relive themselves, to be revisited, to be reinstilled in us.  I did this play a year ago just after Ms. Lee's passing and it felt important then as always, but it feels so much more so at this moment.  It is arguably the greatest American novel and so incredibly pertinent to the current climate of our country.
"Robert Heinly's performance as Atticus Finch was in a word, breathtaking. Spot on. Brilliant. Perfect." – William Powell, DcMetroTheaterArts.com
An American classic based on the Pulitzer prize-winning masterwork and one of the best-loved stories of all time, To Kill a Mockingbird is a gripping and heart-wrenching tale of coming-of-age in the South. Set in a town poisoned by prejudice, the play portrays a world of great beauty and savage inequities through the eyes of a young girl, Scout, as her father—a crusading local lawyer—risks everything to defend a black man unjustly accused of a terrible crime.
To Kill a Mockingbird plays through April 8, 2017 at the James Lee Community Center Theater – 2855 Annandale Road, in Falls Church VA 22031. Most performances have been sold out. For the best possible seat selection, order tickets online as soon as possible. There is never a fee for online ticket purchases from The Providence Players
You may also reserve tickets by e-mail providenceplayerstickets@cox.net, or call (703) 425-6782, and leave a message.
Remaining Performance Dates And Times
Thursday, Friday and Saturday 7:30 p.m.
April 6, 7, 8
Read More of Julie Janson's Conversations with the To Kill a Mockingbird Cast and Crew: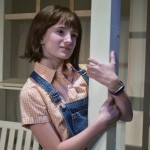 DCMTA Interview with Sophia Manicone (Scout)
DCMTA Interview with Mihara India (Calpurnia)
Closing Week Conversation with Caden Mitchell (Dill)
The Full DcMetroTheaterArts Review of the Providence Players Production of  To Kill a Mockingbird by William Powell May be Found: Here