On behalf of the board of Providence Players, we wish you and yours a peaceful, prosperous and happy New Year!  We look forward to working with you all to make great theater in 2020!
A New PopUp Production:  Venus in Fur
For me, there are few things more exciting than hearing about, planning for and getting ready to produce a new PopUp production.  As theater goes, I think there is something incredibly intimate and exciting about the new process we have, the environment we create and the intimacy of a space where 50 or 60 people sit to watch a wonderfully engaging piece of theater.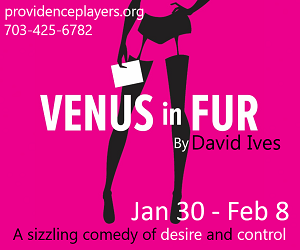 It is my pleasure to announce Providence Players has a new PopUp production opening on January 30 – just one short month away.  To describe the "why" and "how" we came to choose this engaging piece of work by David Ives, please enjoy this question and answer session with director Jimmy Gertzog on this next PopUp challenge.
Q:  Thank you, Jimmy, for this interview.  Tell us a bit about the production – author, people involved, where did it play, and how it was received?
A:  Venus in Fur was written by David Ives and debuted off-Broadway in 2010. He is a playwright I admire greatly for his ability to weave novel hilarity into scripts of surprising depth and quality. Usually you find the latter in contemporary comedies that are pessimistic at heart. With directing Ives, and this play in particular, you get the opportunity to engage with some stickier topics while playfully entertaining your audience.  Venus in Fur has a cast of two, one man and one woman. The action takes us behind the scenes of an audition that has not gone well thus far for Thomas Novachek, adapter and director of an eponymously titled show. A late-arrival in Vanda Jordan turns the audition on its head. Thomas is a bit egotistical, a bit of a misogynist, and more than a bit exacting in his expectations for his prized play. Vanda's charm and unlooked-for skill in the audition disarms him. Venus in Fur ultimately is a meta-comedy of ideas about power and gender, as well as a play about play-acting.
Q:  What do you think are the major themes and what makes it relevant for today?
A: From the writer's mouth himself, eroticism and the power dynamics behind different relationships were on his mind when he wrote the play. "Eroticism, if you do it right, can play well on stage…Venus in Fur worked rather well because it's not literal. It remains a game between these two people for a very long time in the play…  It's the power play between them and 'who is going to get what in this.' You have to make it true to the way people understand emotional relationships, because without an emotional relationship there's really no play."
I really enjoyed this play for how it engaged these ideas as an erotically- and emotionally-charged dance.  Our cast has been approaching the script as one would a tango. In a post #MeToo era, it can be really uncomfortable for people to engage honestly with some of the tenacious realities about our 21st century society, particularly as it relates to masculinity in the workplace, particularly workplaces where there is an inherent power inequality.
Looking at Thomas Novachek, he is in a position not too dissimilar from, for example, Harvey Weinstein throughout the years. But the beauty and quality of this script is that we (the actors, the director, the audience) can have a conversation through comedy, where the dance of power shifts back and forth consensually, to sort of obliquely wonder at some big ideas without turning the audience off by hammering hard truths. There are plays that need to be written and told that do this. Other times, it is worth examining power under a different lens, to understand how it is manipulated, what forms it takes, and what actions/words/permissions people are afforded in different contexts (in the workplace, at school, in public).
In this play, we all are permitted to delight in that examination.
Q: Why did you propose this show as a Providence PopUp production?
A:  There are a couple reasons I was interested in pitching this project for the PopUp. The PopUp is the sort of smaller scale, black box-like production that I have wanted to offer within Providence Players for a long time. Kudos to Julie Janson, producer for the PPF PopUp program, for building the model to make it work.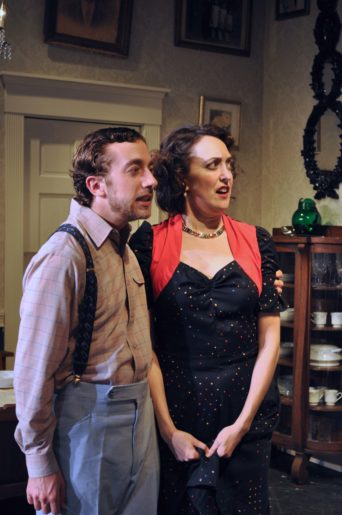 This venue is an opportunity to do material that we would not normally get to perform on our mainstage. There is explicit sexual content in Venus in Fur, as you may have gathered from reading this much, and that has typically not been something that the PPF Board has built into our regular season at the James Lee Center. The presence of challenging content has meant that it can be hard to introduce more contemporary theater to our audiences. Also mainstage productions are precious opportunities for our membership to audition and act, and we are reluctant to devote a quarter of our regular season to a play that will allow minimal opportunities on the stage.
Finally, and perhaps the biggest selling point for me to pitch this show:  I pitched because of the opportunity to collaborate on a specific project that my lead actress, Andra Whitt, and I had been toying with for a long time. The chance to work with a small group on a passion project, and to put on something where we have designed the experience from the ground up in this alternative acting space, reminds me very much of why I got interested in theater in the first place. This feels like a 'the sky's the limit, as long as you roll up your sleeves and will it' type project. I love that.
Q:  Why should people come see this show? 
A:  The play is great, my cast is great, and they are going to provide for you a fantastic evening of entertainment. People will get a more intimate experience then you typically get with a staged play. You will be sitting quite close and surrounding the action of the play in a unique way. There's something voyeuristic about the experience of Venus in Fur; you are constantly wondering where things stand between these two characters, even as they up the stakes erotically more and more. You, the audience member, are invited to participate in this dance, to watch actors engage with this material, to admire it and laugh (and laugh and laugh again) and enjoy it in a safe place where we all have agreed on the terms.
Thank you, Jimmy, for your insights.  We look forward to seeing the production.  To read more, or purchase tickets, go to the show page.
David P. Whitehead
WEBLetter Editor
Board Member Spotlight:  Jimmy Gertzog, Board Member, Director, Designer & Actor 
Jimmy Gertzog is a long-time member, marking over two decades of creativity at Providence Players.  Jimmy will direct the next PopUp production of "Venus in Fur," by David Ives.  He recently directed "Vanya and Sonia and Masha and Spike" in spring 2017 and the award-winning production of "Side Man" in early 2012.  Jimmy played Ed Carmichael in PPF's revival of "You Can't Take It With You," and Jim in "Big Tree Falls."  More often his credits come from technical roles, especially sound design, set construction, and lighting ("Bobby Gould in Hell," "Lovers & Executioners," "The Front Page," "Phantom Tollbooth," "Calendar Girls," "Of Mice and Men," "Little Shop of Horrors").  He is eternally indebted to his wife Audrey for settling, and he cannot wait to introduce his two small kids Tristan & Cordelia to the joys of theater.
"I have been a theater nut since I was a preteen, but I was never particularly charismatic. If I had been given an 'Expected Creativity Index' test as a kid, theater would not have popped up in the results. I was really lucky to discover I had the seed however, the creative drive to collaborate in the communal experience of bringing life to a play, because my entire family united around and learned they had something to give and express themselves at the same time. When some parents in the Mantua neighborhood decided to put on a play for charity, I was an 11-year-old usher and witnessed how that project imbued a sense of passion and excitement into people from a myriad of backgrounds and professions. Only a couple years later at 13, when PPF incorporated as a not-for-profit troupe in its own right, I was one of a couple vocal advocates for getting fledgling members like me the right to vote for this nascent company that would eventually be called the Providence Players. Through the Providence Players, I have been given the opportunity to explore my creative drive I didn't know I had. I also got the chance to share in this adventure with my family and my friends – to build something and to always be looking to make it better.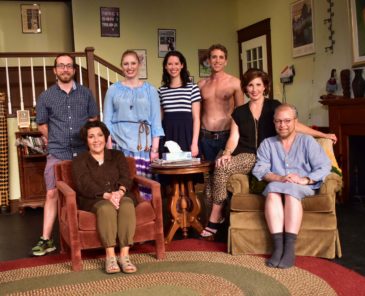 In this light, I have always had the Stage in my blood, but it wasn't always this way. At some point in High School I had to make a choice. I knew I had this hobby in a community theater company. I also played football and lacrosse for eight years (though you wouldn't necessarily believe it when you meet me today). I made a choice one day in High School and threw myself into the theater scene through Providence. And it stuck. We fit together, notwithstanding weekends commuting back from college to help with a set build, or lend a hand with whatever is needed during precious weekend days in my 20s. I am a Board Member now, with two kids of my own. I will get to direct my 3rd production with this company with Venus in Fur for our upcoming PopUp in January. And it still is a family endeavor at the core of it all. I do this to be with people I like to work with, and others who discover our little corner of the community theater world and say "Hey, this seems fun, I can grow in this."
I became a Board Member of the Providence Players of Fairfax to show my commitment to a mission.  We all have something to contribute to our stage, to return continually to this project we call PPF, regardless of where our adventures in life take us. I ushered as an 11-year-old. I learned to focus lights and program a board by 15, learned to stage manage by 21. I was a puppeteer of a giant (and expensive) rented plant at 27. I carry a sort of seed for the company – my own unique experience. My dad will provide technical direction for the first play of 2020, Venus in Fur. Regardless of playbill credit, we constantly are in collaboration on almost every production. I want to give this to others.
As a Board Member, I have served on the executive committee. Currently I contribute to the group that helps plan future mainstage seasons for the Company. I dabble in ticket management software, in establishing an official company archive, and in hopefully advancing our continual artistic and communal growth. I strive to bring in more people of all backgrounds to share in this adventure, push our new members to find something they love in our the theater, and teach them how to improve themselves in those tasks.  Help them lead a project and take control.
I have a wonderful project with a cast I am so excited to work with in Venus in Fur. It is a different sort of project for PPF: a smaller cast, ambitious, thematically challenging maybe. But this is exactly where I want to be, among friends and family, testing ourselves in something we all discovered somehow we love doing. That's what the initial project now called the Providence Players of Fairfax meant after all."

Reminder:  Annual Winter Fest (Holiday) Party, January 11, 2020
You should have received your invitation!  If you have not and you think you are a current member or donor, please email us at info@providenceplayers.org.  The timing of this event to after the New Year made it possible for more people to come.  And the more, the better!  Join us for this wonderfully festive annual event.  Food, friends and fun!  (Reminder:  you must be a member or donor to attend this event.)
Save the Date:  Set Build, March 1, 2020 (and tentatively, February 29, 2020) – Picnic
We are set for set build for Sunday, March 1.  Due to potential conflicts, we are tentative for Saturday, February 29 – so stay tuned.  Come one, call all!  The more hands, the lighter the work and the more we get done.  Please RSVP to info@providenceplayers.org, if you can join us, and we will send updates on the additional date.  We hope you can!
Blast from the Past:  the cast and crew of the 2012 award-winning production of Side Man
Quick Quiz
For two free tickets to Venus in Fur, answer the following question correctly:  What are the three highest-attended Providence Players productions in its history?  
The winner will have the answer with the most shows correct.  Please provide only three (3) productions in your answer.   Submitting more than three productions will result in a disqualification.  Please submit your answer to our email address for members:  members@providenceplayers.org.   (Sorry, Board members and Chip Gertzog are not eligible!  Sorry, Chip.)
Member Updates
Welcome back renewing members:  Ariana Colligan, Christopher Crockett & Julie Janson, Judi Deatherage, Ward Kay, Daniel Lavanga, Sarah Maurer, Mike & Prince McLaughlin and Thomas Udlock!
And welcome new members:  Katie & Mike Cook (and family), Mandi Ellis, Earle Greene, Elizabeth and John Milam (and family), Gunner Moskowitz (and family), Jessica Singley, Louisa Stanwich, Anand Tripathi and Bo Villa.  Welcome to Providence Players!

(Have an update you would like to share with your fellow members?  Please send an email to members@providenceplayers.org with the subject line "Member Update" and we will include it!)
(In a show with another company?  Join our Facebook Group page.  Share the news!)
Click here to see a list of previous WEBLetters.
Editor:  David P. Whitehead (send a message to David)