In celebration of our final mainstage production, Leaving Iowa, we invited our community you to share in our journey. Leaving Iowa is a funny, touching, inspiring show about how our trip through life and memories of our adventures shape our relationships and perspectives.  Whether one took regular road trips as a child or an adult, or even planned that perfect road trip that never quite came to fruition, we reflect on what those journeys meant to us — and how they shaped who we are today.
Click here to read about how the contest works.
The following are stories that have been submitted by you, our patrons, members and donors!  Award winners noted.  Enjoy!
Hallowed Ground
Barbara Gertzog, Fairfax VA – I took a solo travel trip to Montauk in 2016;  Montauk is at the end of Long Island, the ultimate escape, unspoiled beaches, extraordinary seafood, the unpretentious beach destination of NYC Cops and firefighters, and found what was inescapable in the town square:  Hallowed ground.
Leaving Kansas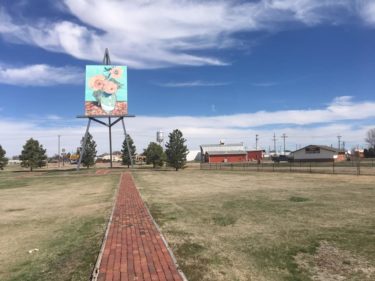 Chip Gertzog, Fairfax VA – Three great things: (1) I don't have to drive 7+ hours tomorrow (2) I saw this…leaving Kansas…on a family road trip….you have not lived until you have seen this (3) The Providence Players Leaving Iowa is not that far off. It is a story about family road trips. Behind every road there is a story. This painting is part of mine. What's yours?  Tickets and info.