We do not expect any significant weather impact from Hurricane Matthew in the DC area this Weekend – Click for Wed 10 PM Forecast
Only Two Weeks Remain – Four Performances this Week
Thurs, Fri, and Sat at 7:30 PM – Final Sunday Matinee 2 PM
Tickets continue to sell quickly. As of Thursday morning, great seats available for tonight's (Thursday 10/6) performance and good seats available for Friday and Saturday night. For Sunday, the final matinee of the run, only about 50 seats remain and they will go very quickly. As always, best seat selection, and fastest way to secure tickets is online.
Thursday, Friday and Saturday 7:30 p.m.
Through October 15
Final Sunday Matinees 2:00 pm
October  9
Not for young audiences – mature themes and language
At  the James Lee Community Center Theater – 2855 Annandale Rd Falls Church
Season tickets are available through though the end of the run of Amadeus
There is a tremendous amount of fine community theater on stage in the DC/MD/VA region at any given time. But, every once in a while, there is a convergence of a superior play, a passionate director and just the right cast and production team that results in a truly special production. Such is the case with the Providence Players' production of Amadeus. Director Julie Janson, her cast, and the production team have brought Peter Shaffer's award winning script to life in a stunningly beautiful and inventive way.  Opening weekend audiences were brought to their feet each performance, moved by the stage work of David Whitehead as Salieri, Mike Rudden as Mozart, Julia Buhagiar as Constanze and the rest of the fine cast. Throughout the production, The James Lee Community Center Theater swells with the music of Mozart and the outstanding voice of Christina Massimei as Katherina Cavalieri. The production moves seamlessly through time on a gorgeously rich set designed and decorated by Patrick and Ingrid David. The play itself is a masterpiece and the production is inspired and should not be missed.  On stage for two more weeks, just 7 more performances. Tickets are selling quickly. Be sure to get yours online today.
Music-Drama-Intrigue-Humor 
AMADEUS has it all!

DcMetroTheaterArts.com in their five star review says:
"The Providence Players of Fairfax's production of Amadeus is a glorious mixture of drama and comedy and music that is truly transcendent. This production was skillfully directed by Julie Janson [and] Music Director Kyle Keene does a superb job as he blends the music of Mozart into just the right places to provide a wonderful effect of time and place. The performances in Amadeus are exceptional. The ultra-talented David Whitehead as Salieri takes on a challenging role with intelligence and intensity…[his] performance is layered and nuanced. As Mozart, Mike Rudden is brilliant as an innocent genius who simply cannot cope. The characters known as Venticelli 1 (Bobby Welsh) and Venticelli 2 (Debora Crabbe) are truly excellent as sort of "narrators" to fill in the blanks and keep the story moving. Katherina Cavalieri…portrayed by the incomparable Christina Massimei is an opera singer…She has a rich soprano voice that is nothing short of stunning. …Please get your tickets for this profound and enjoyable experience. It is not to be missed!"
Read the full review by Paul M. Bessel And Barbara Braswell at DcMetroTheaterArts.com Amadeus Review

The Cast
Antonio Salieri – David Whitehead
Wolfgang Amadeus Mozart – Mike Rudden
Constanze Weber – Julia Buhagiar
Emperor Joseph II – Michael Bagwell
Count Johann Kilian von Strackm – John Barclay Burns
Count Franz Orsini-Rosenberg – Sean Wilson
Baron Gottfried van Swieten – Shawn Cox
Venticelli 1 – Bobby Welsh
Venticelli 2 – Debora Crabbe
Valet/Major-Domo/Civilian – Zachary Todd
Cook/Civilian – Amanda Ranowsky
Teresa Salieri – Carol Strachan
Katherina Cavalieri – Christina Massimei
Guiseppe Bonno/Mason/Servant/Civilian – Nicolas Queyrane
Don Giovanni/Servant/Civilian – Roxanne Waite
Production Team
Director – Julie Janson
Music Director – Kyle Keene
Producer – Danine Welsh
Stage Manager – Liz Mykietyn
Combat Choreography – Michael Donahue
Technical Directors – Jason Hamrick, Sarah Mournighan
Lighting Design – Sarah Mournighan
Sound Design  – Jason Hamrick
Set Design and Construction – Patrick David
Set Decoration and Painting – Ingrid Helvig David
Costume Design – Robbie Snow
Seamstress – Tommie Curtis
Properties – Beth Whitehead
Hair and Makeup Design  – Beth Harrison, George Smith, Robbie Snow
Amadeus is the story of legendary composer Wolfgang Amadeus Mozart, as told through the eyes of his jealous rival Antonio Salieri, this psychological mystery has played to thunderous applause the world over. The scene is set in Vienna, 1781: the young Mozart can write an opera a week but can't control his exuberant giggling and notorious libido. Antonio Salieri–until now the royal court's most lauded musician–recognizes Mozart's genius, calling him "God's magic flute." Pious, wicked, and soon to be guilt-ridden, Salieri tries everything to subvert the success of this enfant terrible. Will that include murder? Peter Shaffer's Amadeus has won five Tony Awards including Best Play, and the 1984 film adaptation won eight Academy Awards, including Best Picture. This masterpiece has been passionately adapted and inventively staged by Julie Janson in her directorial debut with the Providence Players.
Argia's and PPF Team Up For Dinner and a Show!
 More Information Argia's Dinner and a Show


Pre-Opening Press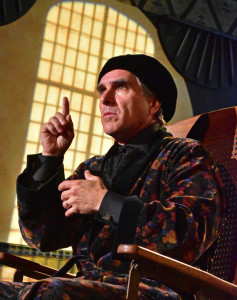 From the Connection Newspaper's David Seigel:  For Season Opening, 'Amadeus' – Providence Players to perform the multi-Tony award winning play
From Northern Virginia Magazine's Danielle Kent: Witness the rise and demise of Mozart in Providence Players of Fairfax's 'Amadeus'
On DcMetroTheaterArts.com- Meet the Cast and Director Series:
Part 4: Meet Debora Crabbe and Bobby Welsh
Part 5: Meet Director Julie Janson
AMADEUS Kicks Off PPF's 2016-2017 Season

Ticket Information and Prices
Online: PPF Ticket Information
Email: providenceplayerstickets@cox.net
Phone: 703-425-6782 (Leave Message)
Season Tickets (3 Shows, not including Holiday Show)
Adults-$53
Seniors/Students-$40
(12%-22% off single show price)
Single Tickets
Adults-$20
Seniors (62+)-$17
Students (w/ID)-$17
Single Tickets – Holiday Show
All tickets – $17
No reservations required, general seating
The Providence Players perform at the
James Lee Community Center Theater
2855 Annandale Road, Falls Church VA 22042