The Providence Players kick off their 2015-2016 season this weekend with the outstanding Tim Firth comedy Calendar Girls
Best seat selection available through online purchase but good seats will also be available at the door.
Season and Single Show Tickets on sale here: PPF ONLINE TICKETS 
 Check out our outstanding 2015-2016 season lineup here PPF 2015-2016 SEASON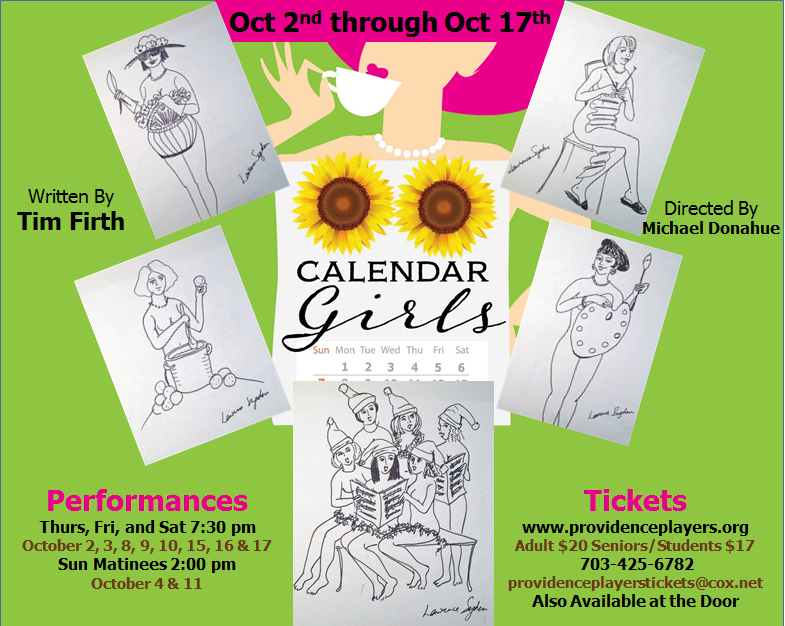 Calendar Girls – In this delightful comedy, Annie and her best friend Chris belong to the Women's Institute – a do-good organization in the heart of Yorkshire. When a member's husband dies of leukemia, the best friends resolve to raise funds, but donations are tight.  They persuade fellow Institute members to pose for an "alternative" calendar that attracts media, fame and funds.  Based on a true story, Calendar Girls is an uplifting, feel-good story of friendship, ingenuity and triumph.  Also made into a popular film, Calendar Girls received the British Comedy Award for Best Comedy and several Golden Globe nominations. Not for Young Children – PG13

Featuring an Outstanding Cast
Jayne Victor as Chris, Susan Garvey as Annie*, Gayle Grimes as Jessie, Michelle Fletcher as Ruth* Barbara Gertzog as Celia, Joanna Snitzer as Cora*, Anne LLoyd as Marie*, Angela Cannon as Lady Cravenshire* Bob Cohen as John*, Bob Thompson as Rod*, Diana Conn as Elaine*, Smitty Chai as Lawrence/Liam* and Andra Whitt as Brenda Hulse
At The James Lee Community Center Theater – 2855 Annandale Rd, Falls Church
Evenings – Thurs, Fri, and Sat at 7:30 PM  Oct 2,3,8,9,10,15,16,17
Sun Matinees 2:00 PM Oct 4, 11
Tickets Adults $20 Students and Seniors $17
Season Tickets – Your Best Value Adults-$53 Seniors/Students-$40
(12%-22% off single show price)
PURCHASE SINGLE SHOW OR SEASON TICKETS HERE
Single show and season tickets may also be ordered by emailing providenceplayerstickets@cox.net or by phoning our box office number at 703-425-6782 and leaving a message (we are an all volunteer organization and will return your call as soon as possible). Single show and season tickets will be on sale at the box office throughout the run of Calendar Girls. All our regular season shows are reserved seating. Tickets are generally available at the door BUT for your best seat selection, order online at the above link. The PPF Box Office opens 40 minutes before performances begin.
Meet the Cast of Calendar Girls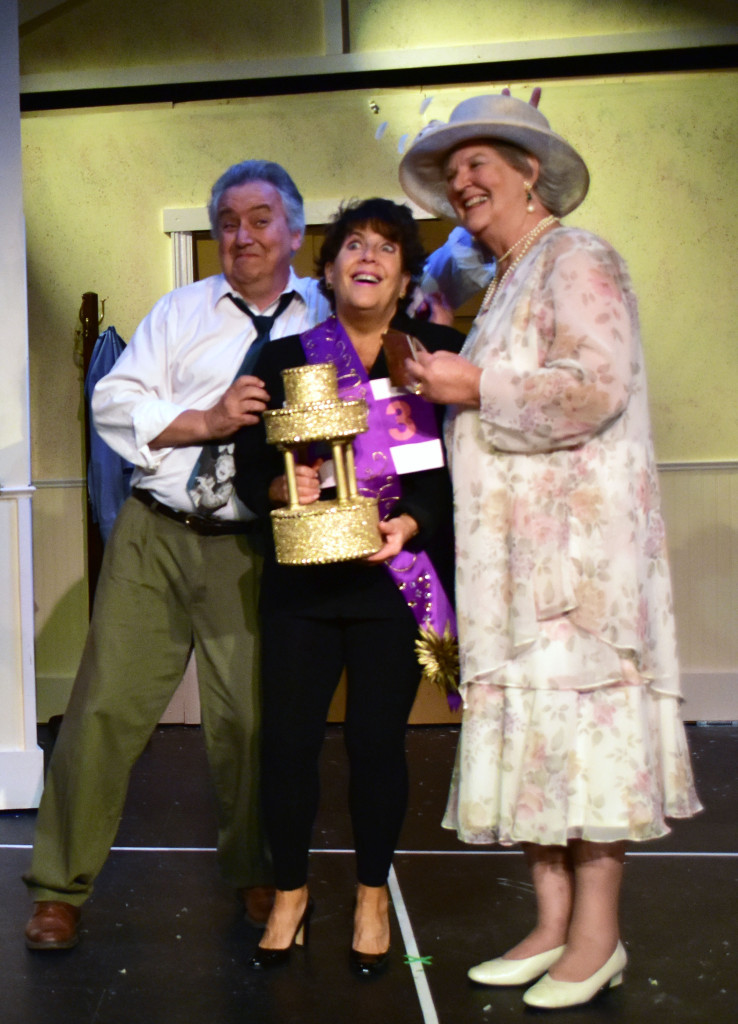 Angela Cannon (Lady Cravenshire) is making her first appearance with PPF. A past Board Member of the British Players (formerly British Embassy Players), she has performed dramatic and comedy roles with them including Old Time Music Hall and the title role of Mary Herries in Kind Lady. Other roles include Joan, 84 Charing Cross Road (LTA), Her Ladyship, TheDresser (PCP) and Donna Lucia D'Alvadores (the real Charlie's Aunt in – what else? – Charlie'sAunt (Potomac Theatre Company). Dialect coach for the award winning Lady Windermere'sFan (LTA) and Noises Off (TAP), she's delighted to be back "on the boards".
Smitty Chai (Lawrence/Liam) is ecstatic to make his stage debut with PPF in The Calendar Girls. His past stage experiences include the role of Bob Cratchit in A Christmas Carol with Britches and Hose Shakespeare Company and The Flying Muskrats "Lust Lies and Lesbians" 24 Hour Theatre Festival. He is originally from the Northern Virginia area and started theater while attending George Mason University. He also has an array of independent film credits and has had a small part for the Investigative Discovery Channel. When not involved in acting, Smitty is an avid Break Dancer and a performer in spoken word poetry.
Bob Cohen (John) started acting 9 ½ years ago as the irrepressible Col Thomas McKean in FCT's production of 1776. Since then he has portrayed a variety of characters in over 30 local theater productions. His roles include Felix Unger in The Odd Couple, Nathan Detroit in Guys and Dolls, Marcus Lycus in Funny Thing Happened on the Way to the Forum and 13 characters in 39 Steps. Bob has also appeared on Investigation Discovery's "Nightmare Next Door and "Stolen Voice Buried Secrets" and most recently on AMC's "Making of the Mob NY". Bob is thrilled to be making his Providence Players debut.
Diana Conn (Elaine) came to the northern VA area from West Virginia eight years ago. She works as a property management accountant in DC during the day, and enjoys hiking, performing with the local clogging dance group Happy Feet, watching live theater, and exploring DC. Diana performed in high school and community theatre in WV and is happy to be back on the stage with Providence Players after a 10-year hiatus from acting. Diana is thrilled to be working with a great theatre company and cast and wishes to thank the cast and her family/friends for their support.
Michelle Fletcher (Ruth) is in her first role with the Providence Players. She is delighted to be cast in this funny yet touching play, which praises the spirit, character and comradery of a bunch of friends making a difference in a different way. She played Inspector Goring, in The Game's Afoot and Mickey, in The Odd Couple (Female Version), both recent LTA productions. Her theater experience is through 10 years of community theatre in Brussels. Audrey in Little Shop of Horrors, Amanda in The Glass Menagerie and Signora Morelli in Lend Me a Tenor were favorite roles (American Theatre Company).
Susan d. Garvey (Annie) is making her PPF debut in The Calendar Girls. Other credits include: Other Desert Cities, Colder than Here (VTC), Gutenberg! The Musical!, Flowers for Algernon, Life X 3, Wit, The Memory of Water (NST/ESP); Twilight of the Golds, Working the Musical, Proposals, The Women, Harvest Moon (RCP), Children, The Dining Room (SCT); Equus (Taking Flight). She won the WATCH Award- Properties- for RED (ESP/NST).
Barbara Gertzog (Celia) is thrilled to be working under the masterful direction of Mike Donahue and with a great cast and crew. A long time PPF member, Barbara was most recently seen as Silda in Other Desert Cities (PPF) and has directed for and performed in many productions for PPF over the years. She extends a warm welcome to our new players and grateful thanks to the PPF stalwarts who make this and every production possible. Special thanks to my love, Chip, and to my family and friends for their support.
Anne Lloyd (Marie) has been acting since the age of three when she starred as the Littlest Angel in a church production called, coincidentally, The Littlest Angel. Years of dance and drama classes, music lessons, recitals and theatrical performances followed, leading her to pursue a BA in Theater. She is fortunate to have acted professionally off-Broadway in the NYC area, on television and in some films, and in regional theater. This is her first show with PPF and she's grateful to be working with such a talented cast, director and crew. Anne is married to Trip and they have two teenagers.
Gayle Nichols-Grimes (Jessie) would like to thank Michael for the opportunity to perform with the Providence Players in this wonderful production showing the beauty in us all! Some of her prior area performances have been: The Odd Couple (Female Version) as Olive Madison (LTA), Dixie Swim Club as Vernadette (PCP-WATCH Winner), 33 Variations as Dr. Gertrude Ladenburger (RCP-WATCH nomination), August Osage County as Mattie Fae (RCP- WATCH nomination), Next Fall as Arlene (PCP), Sylvia as Kate (Next Stop Theater), Jeffrey as Ann/Debra/Mom/Mrs.Marcangelo (DS-WATCH Winner), Funny Money as Betty (LTA), Noises Off as Dotty/Mrs.Clackett (LTA), Widdershins as Old Betty (LTA), Nude with Violin as Isabel (LTA), Lady Widermere's Fan as the Duchess of Berwick (LTA), Savannah Disputation as Margaret (RCP), Beautiful Thing as Sandra (DS), and The Dresser as Madge (PCP). To Carter – my love and slightly dented/rusty knight – as always, bless you for all your support, patience and love.
Joanna Snitzer (Cora) started singing in her family band from the age of six, with her dad and three of her brothers on guitar, performing at local charity events in her home town of Newcastle-Upon-Tyne. She combined singing and dance lessons with performing in her local theater group, taking lead roles in various musicals and pantomimes. At age 15 she landed the role of Annie Oakley in Annie Get Your Gun with her local theater group, followed by several leading roles after that in musicals and Pantomimes. Joanna enrolled at the prestigious Guildford School of Acting & Dance and gained a BA (Hons) in Theatre Studies. One of the highlights of her career was singing at the opening of Rod Stewart's world concert which kicked off in her home town of Newcastle in front of 16,000 people.
Bob Thompson (Rod) is very excited to be making his stage debut with PPF after a 12-year hiatus from the theater and is looking forward to being a part of this very talented cast. His acting credits include starring as Newton Fuller in LTA's production of George Washington Slept Here, three productions of 1776 (120 shows), The Wizard of Oz (American Music Stage), Gypsy (McLean) and more recently as a background extra on Netflix's House Of Cards. In real life Bob is an Art Director, and he thanks his wife Elena for her support and for putting up with his need to be up here in the footlights from time to time.
Jayne L. Victor (Chris) notes that Calendar Girls is really about friendship and not the nude calendar shots. That is how Jayne rationalized accepting the part of Chris. She treasures her family and friends and figured, "Oh what the hell!" Jayne has performed on the PPF stage in prior shows and recently directed The Glass Mendacity at PPF. In addition, Jayne has performed at The Little Theatre of Alexandria and Hexagon. A huge debt of gratitude to phenomenal cast mates who made Calendar Girls sooooo much fun and a fantastic crew and ….well the Director is not so bad himself!
Andra Whitt (Brenda) is delighted to be celebrating her four-year anniversary with PPF with this production. She was most recently seen onstage last spring as Brooke in Other Desert Cities. Her other PPF credits include Claire in Rumors (2014), Essie in You Can't Take It With You (2012), Terry in Side Man (2012), and Sallie Cato in Auntie Mame (2011). When not onstage, she enjoys dressing all in black and helping move set pieces around and persuading her husband to join in the fun in the tech booth. Andra also serves on the PPF Board of Directors. Thanks to Mike for including her in the fun, and to her family and friends for their support.