Last Chance for One of PPF's Funniest Shows Ever!
The Glass Mendacity
At The James Lee Community Center Theater
2855 Annandale RD Falls Church 22042
Last Two Performances
Friday, Saturday 7:30 PM
 Great Seats Remain – Best Selection Online But Tickets Will Be Available at the Door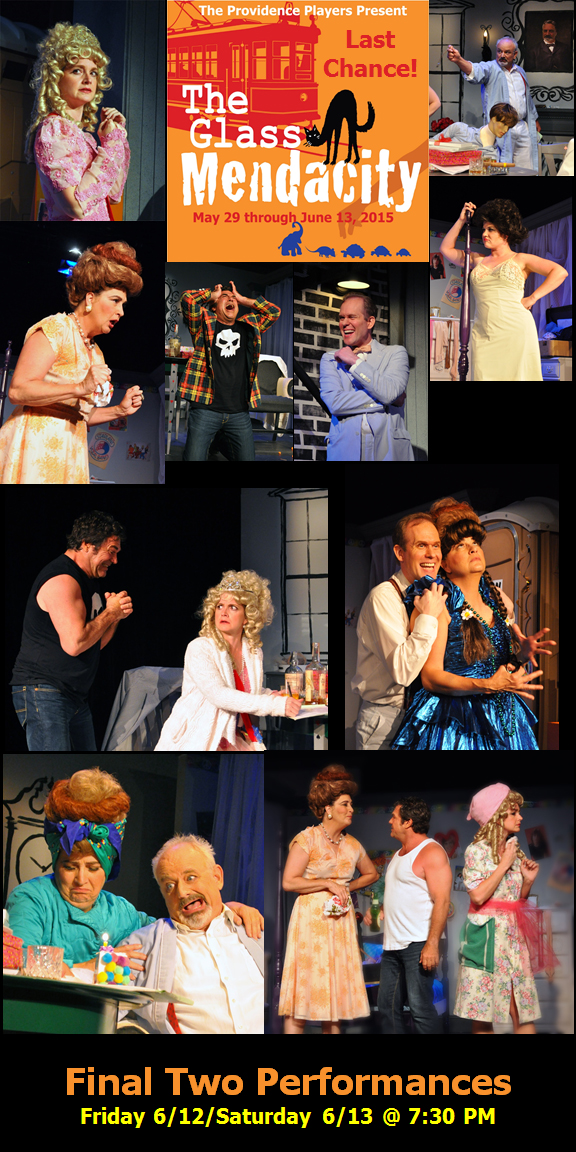 What is this Riotous Comedy About?
The Providence Players presents The Glass Mendacity, Maureen Morley and Tom Willmorth's hilarious comedy parody of some of Tennessee William's most celebrated works: The Glass Menagerie, A Streetcar Named Desire and Cat on a Hot Tin Roof. It's Big Daddy's birthday and the entire blended family, a comedy cocktail of characters each one more of a caricature than the last, have gathered at Belle Reve to celebrate with sweet tea, cheese balls, cards and brutish, unfettered, southern charm. The Glass Mendacity is a lampooning look into what would happen if all of Williams' characters came face to face. If you don't know these plays, don't fret. The off-kilter and dysfunctional family shenanigans can be enjoyed by all!
Here Has What the Audience has Said: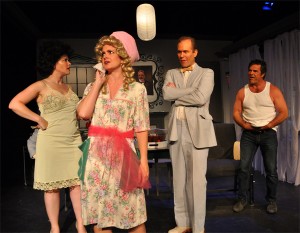 "I attended yesterday's matinee of "Glass Mendacity", and I wanted to tell you that I haven't enjoyed anything so much in years!!!!!  A fabulous play/satire, good acting, and good casting.  This was my first time at a Providence Players production, and I liked it so much that I've signed up for a 2015-2016 subscription."
"Very funny, entertaining spoof of the 3 Tennessee Williams plays. Actors were wonderful. Very enjoyable evening…."
"This was hysterical! Go see for great entertainment in Falls Church"
"Tons of laughable moments. At 80 minutes the show flies by, and consistently delivers laugh after laugh… remarkably enjoyable. Definitely worth checking out!"
"If you have seen some of Tennessee Williams' plays, then it is hysterical, but even if you've never seen Cat on a Hot Tin Roof, Streetcar Named Desire, or Glass Menagerie the play is more than funny enough on its own."
"Excellent acting and a fast paced very funny performance. Mike Donahue as Stanley Kowalski was excellent."
"Great acting…funny dialogue…enjoyable evening!"
"An enjoyable play, well acted, lots of laughs for the audience."
"Delightful comedy mash-up of three Tennessee Williams plays. Well acted. I laughed throughout the play."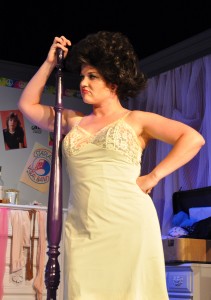 "Anybody who lives in (or will be in the DC area) the DC area go see The Glass Mendacity. Whether you've seen all, some or none of the Tennessee Williams canon (Streetcar, Cat on a Hot Tin Roof, Glass Menagerie), the dialogue is whip smart at 100mph, and Julie Janson and the rest of the cast are brilliant."
"We thoroughly enjoyed it! Kudos to everyone involved, with a special shout out to the props, makeup and costume crews! We can't wait to see it again next weekend!"
"This is a stitch, folks. Run, don't walk!"
What the Reviewer Said:
Terry Byrne, DCMetroTheaterArts.com says "Director Jayne L. Victor, [and] six of the finest actors in town.. have another finely chiseled hit on their hands. They have squeezed every droplet of sweat and gag outta this mockery. They will coax plenty of knee-slapping, gum-swallowing, Heimlich-inducing moments for Williams fans, the theatrically uninitiated, and hardened critics alike….each actor shines…the set design is as smart as they come…[set decoration, lighting design, costumes and props provide all] the eye candy that PPF is famous for.  So let Providence Players of Fairfax mix you something light and fizzy for summer, manic and mellifluous, Southern and saucy – and guaranteed to 'giddi-fy.'"  Full review at DcMetroTheaterArts
The Glass Mendacity Closes Tomorrow Night, June 13, 2015
Don't Miss This Very Funny Production
At The James Lee Community Center Theater
2855 Annandale RD Falls Church 22042
Last Two Performances
Friday, Saturday 7:30 PM
 Great Seats Remain – Best Selection Online But Tickets Will Be Available at the Door
 Check Out Our 2015-2016 Season Here