Audiences Love – Critics Rave – 5 Stars For
"Of Mice and Men"-Two Weeks Remain
Season and Single Show Tickets 
ONLINE HERE
and At The Door
Runs until Oct. 18th – Thurs thru Sunday This Week
At The James Lee Community Center Theater – 2855 Annandale Rd Falls Church, VA 22042
Opening weekend audience reaction: "A classic done with class!"    "We loved this brilliant production of a timeless play – its a don't miss performance at Providence Players in Falls Church!"   "…it was fabulous! Great casting, beautiful sets, and perfectly directed by John Coscia…"    "It was amazing! Top notch acting presenting a difficult story… Kudos to everyone involved in this production!"
REMAINING PERFORMANCE DATES AND TIMES
Thursday, Friday and Saturday 7:30 p.m.
October  10, 11, 16, 17, & 18,
Final Sunday Matinees 2:00pm
October  12
Season and Single Show Tickets ONLINE HERE and At the Door
Five Star Review from DCMetrotheaterarts.com
DCMetrotheaterarts.com reviewer Anne Vandercook says:
[Complete review and extensive performing arts coverage on DCMetrotheaterarts.com]
"Providence Players of Fairfax's Of Mice and Men is a superb production. I encourage anyone, especially if you have not had the chance to see the stage production of the show, to take a trip out to see it. The top-notch design and direction by John Coscia, his designers and team of actors, make this a 'must-see' impressive production.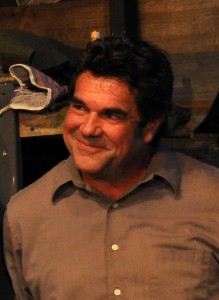 Coscia… assembles an enviable cast to play out the timeless tale. Leading the cast are Mike Donahue as George Mitchell and Kyle Keene as Lennie Small.
[Donahue] has moments of brilliance as he goes from brooding, cynical working man to fearless protector and compassionate care taker to his friend and companion, Lennie. I was particularly enthralled by his dream like storytelling to the childlike, Lennie. Keene is equally spell-bounding as the gentle giant, Lenny Small. Keene is perfectly cast as the caring yet clumsy mentally challenged man. His wide eyes stares as he dreams about his future and "living on the fat of the land" that he plans to purchase with George are very authentic and flawlessly constructed. The pair interact well, it was a pleasure to watch them throughout the show.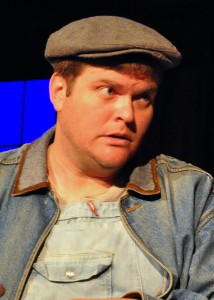 Joining the pair in their quest for a new life is the endearing one-handed Candy (David James). James delivers a powerful performance [and] takes us on a roller coaster ride of emotions, he evokes a raw sense of compassion and had me rooting for him as he had hopes of a new life in his grasp. Equally outstanding as the dignified and practical jerkline skinner is Ian Wade as Slim. The talented cast is rounded out by Mike Mattheisen as the stoic Boss, Mike Dempsey as the napoleon complex inflicted Curly, Julie Janson as the temptress Curly's wife, Bobby Welsh and Craig Geoffrion as the farm workers, and Stephen Olbina as Crooks. All of the supporting cast members serve the play well.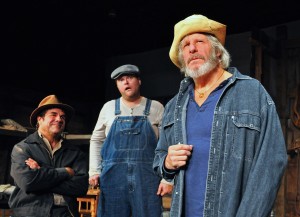 Director John Coscia and the Providence Players shine in their current production of the melancholy story [Of Mice and Men]."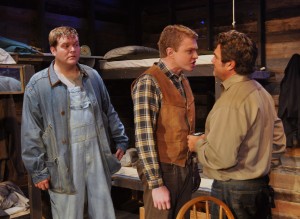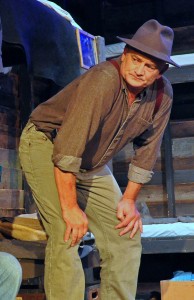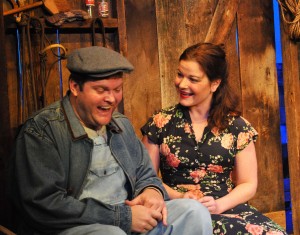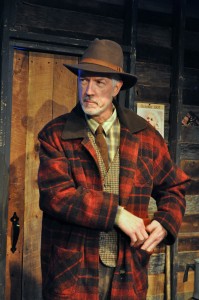 For complete ticket purchase information CLICK HERE
Single show tickets $20 Adults $17 Students/Seniors – Season Tickets (Your Best Value) Still On Sale
The Providence Players, performing at The James Lee Community Center Theater at 2855 Annandale Rd in Falls Church, opens their 17th season with Pulitzer Prize winning author John Steinbeck's Of Mice and Men. This classic American drama chronicles four days in the lives of depression era migrant workers, George and Lennie.  Unlikely friends, they move from town to town hoping to work and save enough for their own piece of the American dream. On their way, they meet other wanderers, all searching for their version of the dream. Their plans are thwarted by the cruelty of fate and hard times. This unforgettable tale is beautifully and imaginatively staged by the Providence Players and creates a vivid picture of the Great Depression while conveying a tale of friendship, loneliness and unfortunate circumstances for even "the best laid schemes of mice and men."
The Cast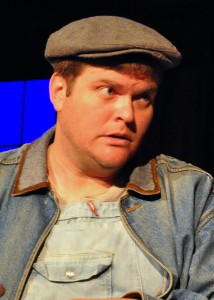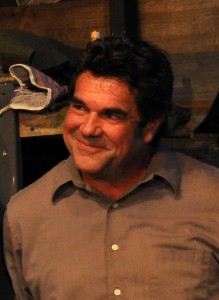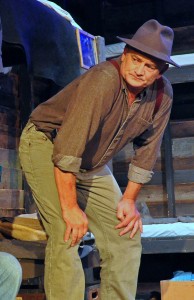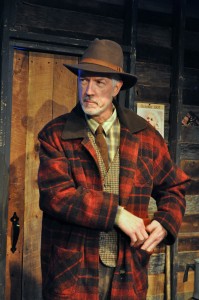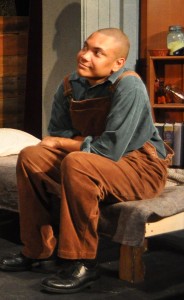 Inventively staged by Director and Set Designer John Coscia, "Of Mice and Men" takes place in 4 locations. Once again, PPF has created a rich and detailed world for this production with a magnificently designed and executed set decorated by Lisa Church.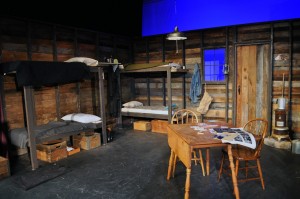 The Providence Players season opener is on stage now! Join us for our 17th season of quality, award winning, and affordable community theater! Season subscription packages, always your best value, are on sale online now. Single show tickets for all of our productions are also available for online purchase. For complete ticket purchase information CLICK HERE
 Season and Single Show Tickets ONLINE HERE
 Quality Theater at Affordable Prices and Conveniently Located
Our 17th season production lineup features classic drama, contemporary award winning dramatic comedy, fantasy and laugh-out-loud comedy. Never been to a PPF production? This is a perfect season to introduce yourself to some of the best community theater available in the Northern Virginia/DC area.
All Performances at:
The James Lee Community Center Theater
2855 Annandale Rd Falls Church VA 22042
The James Lee Community Center Theater is an outstanding and comfortable venue, steeped in history, and  conveniently located in Falls Church CHECK OUT THE VENUE and PLAN YOUR VISIT