Order you Tickets Today for the Best Seat Selection for This Pulitzer Prize Winning Drama!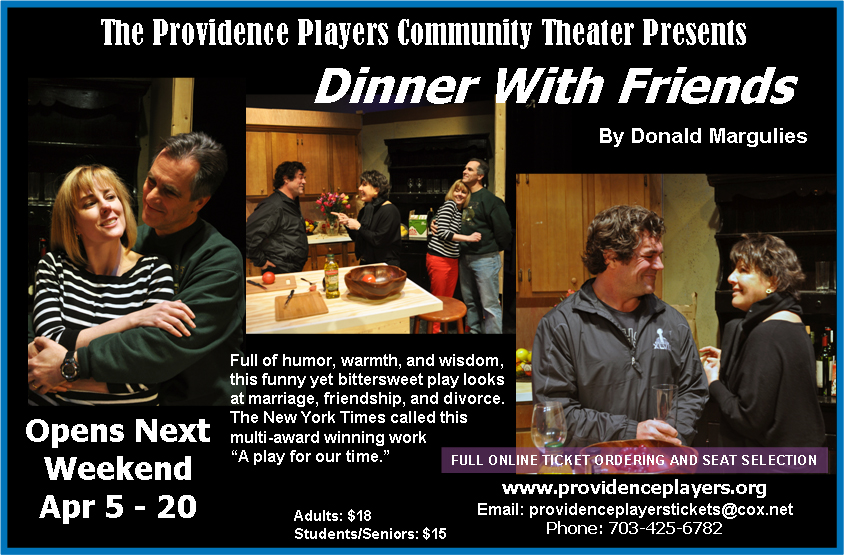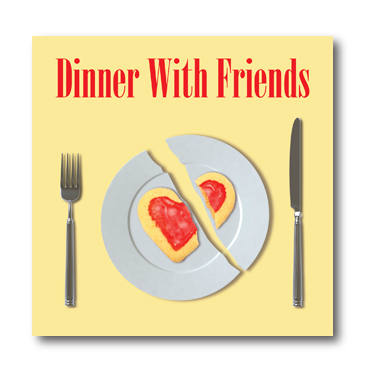 Full of humor, warmth, and wisdom, this 2000 Pulitzer Prize winning drama is a funny yet bittersweet look at the marriages of two couples who have been friends for years and the impact on both couples when one of those marriages goes sour. Margulies' elegant, breezy and witty dialog nourishes the audience as do his poignant insights which are deeply affecting.  The New York Times called this multi-award winning work "A play for our time."  Dinner with Friends is not for young audiences.  It contains mature themes and language.
Written By Donald Margulies
Directed By Tina Hodge Thronson 
The Laramie Project, Steel Magnolias, Twelve Angry Men, The Man Who Came To Dinner (8 WATCH Nominations-3 WATCH Awards) , Born Yesterday
Featuring an Outstanding Cast of PPF Veterans and One Delightful Newcomer
Beth: Jayne L. Victor  Moon Over Buffalo, All My Sons (WATCH Nomination, Lead Actress) Big Tree Falls, The Shadow Box
Karen: Melissa Dunlap Making her Providence Players Debut!
Gabe: David P. Whitehead The Good Doctor, The Man Who Came To Dinner (WATCH Nomination, Featured Actor) Christmas Carol, Witness for the Prosecution, The Time of Your Life, All My Sons, It's A Wonderful Life
Tom: Michael Donahue  All My Sons, Big Tree Falls, Sleuth, You Can't Take It With You
PERFORMANCE DATES AND TIMES
(Ten Performances, Three Weekends, Two Thursday Evenings and Two Sunday Matinees to chose from)
Thurs-Fri-Sat Evenings @ 7:30 p.m. April 5, 6, 11, 12, 13, 18, 19, 20
Sunday Matinees @ 2:00 p.m. April 7 & 14
At the James Lee Community Center Theater 2855 Annandale Road, Falls Church VA.
Tickets are $18 for Adults $15 for Students and Seniors (62+) and Can Be Purchased Online Here