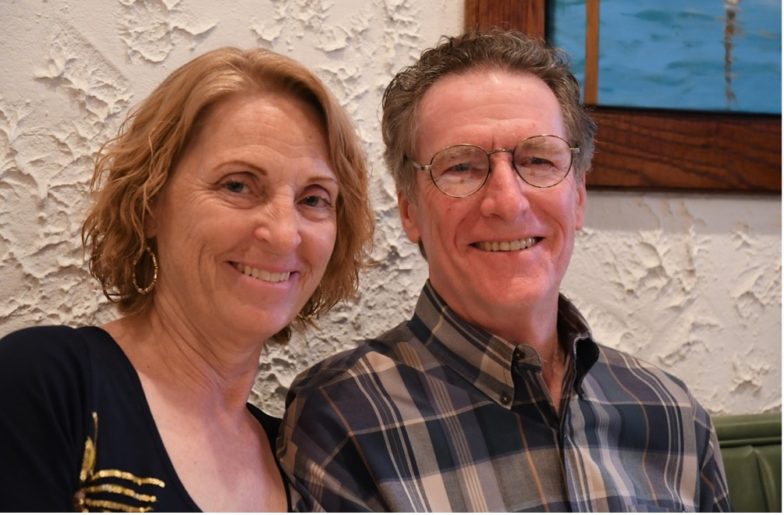 He doesn't sing. She doesn't build sets. Yet the duo of John and Kathy White have combined their talents and contributed to numerous PPF productions over many years. They will be missed as they move on to the next phase of their lives.
Actually "moving on" sums them up neatly. They met in Billings Montana when John first saw Kathy on the steps of St. Thomas's Church and then heard her sing as cantor at Mass.  Although John was working for Exxon (having gotten a degree in Mechanical Engineering) they both discovered they shared a love of theater. John had built sets in high school while Kathy's singing and acting frequently got her cast in her school's musical productions and, later, in dinner theater. While starting a family (John, Jimmy and Ann Marie), they remained devoted fans of The Studio Theater in Billings. When Exxon had different plans for John, they moved on to England, where they became devoted fans of theater in London's West End. As an outlet for her creative energies, Kathy directed and performed in variety shows with "The American Women of Surry" (England).
After years abroad, they moved back to Fairfax VA and attended our production of Arsenic and Old Lace. Kathy told me "The play was so funny, and the acting was so good."  Soon she discovered that her neighbor, and fellow Catholic and estate sale addict, was also teaching drama to her daughter. Beth Whitehead sang the praises of the PPF and Kathy and John were hooked. From that point on they made an effort to help out in some capacity at least once every season. Kathy played the piano for Let me Sing, an original one act and our first musical. She later oversaw the music for To Kill a Mockingbird and The Best Christmas Pageant Ever. She also had roles in Waiting in the Wings, and The Phantom Tollbooth and produced All My Sons. She did set decoration for Big Tree Falls, Red Herring, and Snow White and the Family Dwarf. And she was literally waiting in the wings as Beth Whitehead's dresser for her role as Mame. "When I offered to help I didn't realize that Beth had wigs and dressing changes in essentially every scene. At one point we went from full southern belle regalia immediately to an English riding costume. It was wild!"
When John was not traveling for Exxon, he was a skilled and ever-reliable presence to help build many of our sets. He designed the sets for Red Herring and Gift of the Magi and used his talents to "engineer" a functional, 12-sided head for his lovely wife for her role in The Phantom Tollbooth. But his most lasting legacy will be the lighting he set up in our wonderful make-up room. So many productions have benefitted from his work.
Sadly for the PPF, this lovely couple will be moving on again. This time they are heading to Lincoln, Nebraska to live near their daughter & son-in-law and to be closer to son Jimmy and daughter-in-law in Denver. Although we commend their love of family, and wish them well, the PPF family will miss them. As Kathy said "It was always fun working on shows – working with such nice people". Well, those of us who have had the pleasure of working with the Whites feel the same way – it was always nice working with them. Our thanks to you both for everything.