Greetings from the Providence Players Board
On behalf of Board President Nick Manicone and the rest of the Board of Directors, I want to share with you our enthusiasm over the upcoming holiday season. In weeks to come our members will be celebrating Christmas, Hanukkah, and Kwanzaa as well as welcoming 2023 on New Year's Eve. In the spirit of these holiday celebrations the company decided to do something different.
Our second offering of this season is entitled Cabaret Takes a Holiday. Instead of setting it in the James Lee Community Center Theater we chose, for the first time, to present a musical in the more informal setting of the Italian Café in Falls Church.  We hope that you will take a break from holiday preparations to stop by to enjoy this unique event.
Of course, we will be back on the mainstage in the new year to finish out the season with two very different plays. Keep an eye out in March for the poignant and visually stunning drama about the unknown heroines of astronomy in Silent Sky by Lauren Gunderson. In stark and hilarious contrast, we will finish the season in June with a classic farce Don't Dress for Dinner by Marc Camoletti. Please be sure to add us to your calendar. We are confident you will be moved and entertained.
All our best to you during the Holiday Season!
Tina Thronson, Board Member & WEBLetter Editor
Spotlight: Musical Cheer for the Season
A night of music and storytelling with a holiday flair!
Come join us as a group of talented singers interpret Broadway and jazz standards, classic cabaret music and seasonal favorites. This special holiday show, directed by Deborah Davidson, will be presented at The Italian Café, Providence Players' favorite restaurant. This will be a delightful evening filled with joy, music and laughter.
Come sing along!  But do it soon, as several shows are already sold out.   Tickets on sale now!
Behind the Scenes:  Community Relations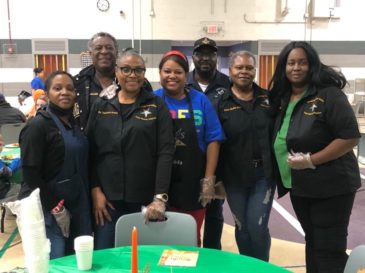 The Providence Board received an invitation to the early Thanksgiving Community Dinner, on November 17th, at the James Lee Community Center. Board member Kevin Harnisch joined the celebration which was sponsored by Fairfax County Neighborhood & Community Services.  Their staff cooked for two days so that local families could enjoy a delicious Thanksgiving meal.  The dinner was well attended and support was provided by many volunteers – including those pictured here. Our thanks to this team for a delightful event!
Save the Date:  Two Celebrations in One!
Join the Board of Directors on Saturday, January 14, 2023 to welcome the New Year at our annual holiday party and to celebrate the 25th anniversary of the founding of the Providence Players of Fairfax.  We would love to have you share this special event with us. Be sure to RSVP early since attendance may be limited.  Please note that you need to be a member or donor to attend this event. If you have any questions, email us at info@providenceplayers.org
Providence Productions Celebrate the Holidays
Enjoy these photos from previous holiday productions, including The Lion, the Witch and the Wardrobe (2014), Gift of the Magi (2019), Christmas Carol (2018), and The Best Christmas Pageant Ever (2016).  All production photos by Chip Gertzog.
Help Wanted
Please pass the word along that the management of The Italian Café (7161 Lee Highway, Falls Church VA 22046) is in need of an additional server. Any new server would be joining the team of a friendly and well-established neighborhood restaurant. For more information please contact our friend Younes at  (703) 241-1829
Member Updates
Julie & Chris

And away they go … with our love and best wishes.  Members Julie Janson and husband Chris Crockett are off to Stavanger, Norway where she will continue her military service and Chris will continue to write articles about science. Their contributions to our company have been numerous – from acting, directing and tech design – and have included Amadeus, Of Mice and Men, Leaving Iowa, Glass Mendacity, Red Herring, Almost, Maine, Oleanna and Enchanted April. They will be missed, but we can be sure that they will generate some wonderful theater while in Norway.

Robbie Snow (left) receives her award!

Each year the Fairfax County Board of Supervisors honors two outstanding volunteers from each magisterial district as Lord and Lady Fairfax. Congratulations to our own Robbie Snow as having been named one of 20 honorees!

Welcome new members:  Anna Acup, Marji Clark, Barbara Schelstrate, Susan Dye, George Willis, Mary Knight (and family), and Jennifer Levy, welcome to Providence Players!
Renewing members include: Kenneth Zabielski and Eleanor Tyler.
If your membership is lapsed and you wish to renew, you can click here.
Final Curtain?
(Have an update you would like to share with your fellow members?  Please send an email to members@providenceplayers.org with the subject line "Member Update" and we will include it!)
(In a show with another company?  Join our Facebook Group page.  Share the news!)
Click here to see a list of previous WEBLetters.
WEBLetter Editor:  Tina Hodge Thronson
54