Lovers & Executioners
by John Strand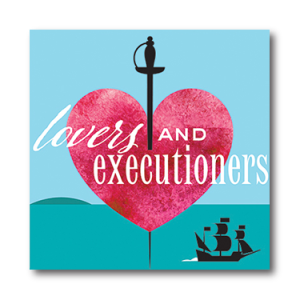 Take classic swashbuckling, blend it with romance and revenge and season it with an ingenious disguise and you've got all the elements for some great comedy. This "startlingly modern" tale about attempted murder and a woman's revenge concerns Bernard, who discovers evidence that his wife, Julie, has been unfaithful. He abandons her on a desert isle, expecting her to die. But she escapes, returns three years later disguised as a man to discover why and seek justice. Winner of the 1999 Helen Hayes Charles MacArthur Award for Outstanding New Play, this lively period comedy combines classic elegance with a resonant contemporary sensibility.
Order season tickets online now!
Meet the Director and Cast of Lovers & Executioners
* Indicates Providence Players Debut
Julie/Frederic – Kirstin K. Apker*
Bernard – Chris Persil
Beatrice – Jaclyn Robertson
Guzman – Joshua McCreary*
Constance – Emily-Grace Rowson*
Octavius – Scotty Stofko
Don Lope – Chuck O'Toole
Meet the Director of Lovers and Executioners
Beth Hughes-Brown is a longstanding member of PPF and a past member of the PPF Board of Directors. has previously directed for PPF, including Is He Dead?, Sleuth, Moon over Buffalo, A Christmas Carol, Witness for the Prosecution, Cash on Delivery, Arsenic and Old Lace, Play On! and Lend Me a Tenor.  Also, a tenured actor, Beth has performed in many PPF productions included Cookie in Rumors, Olive the Lush in Big Tree Falls (for which she received a WATCH nomination), Veta Simmons in Harvey, Ouiser in Steel Magnolias, Delilah in Good Help is So Hard to Murder, among others.
WE HAVE A GREAT LINE UP FOR OUR 21st  SEASON!
JOIN THE FUN!   JOIN US AS A SEASON TICKET HOLDER!
TICKET INFORMATION AND PRICES
Online: PPF Ticket Information
Email: providenceplayerstickets@cox.net
Phone: 703-425-6782 (Leave Message)
Season Tickets (3 Shows, not including Holiday Show)
Adults-$53
Seniors/Students-$40
(12%-22% off single show price)
Single Tickets – Holiday Show
Not part of our season ticket package but an easy add on
We do it this way for the convenience of our season subscribers
All tickets – $17
No reservations required, general seating