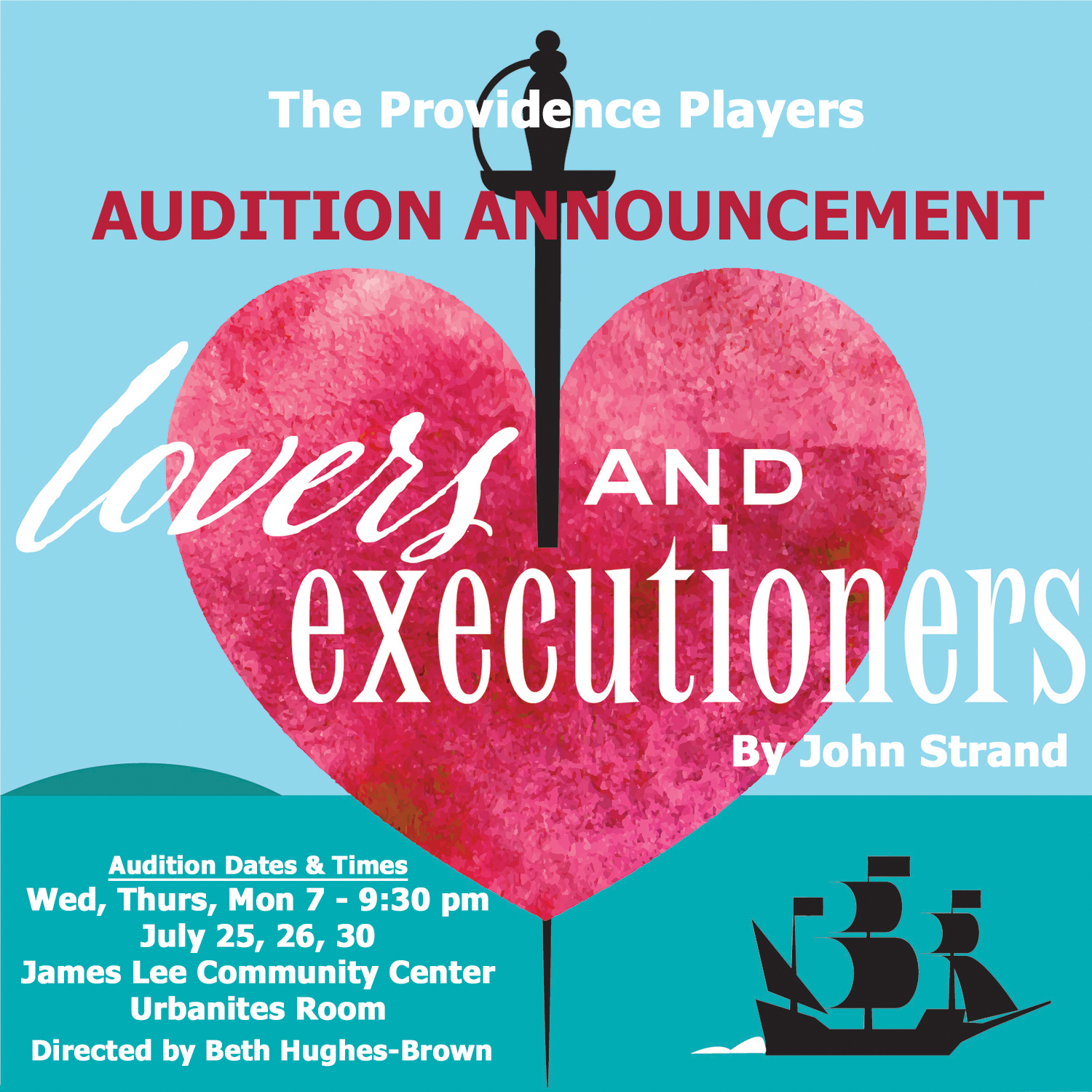 If You Will Be Auditioning:
Please Download the Complete Audition Announcement and Form Here
Please RSVP the Date You will Be Auditioning – Click Here to Email
An RSVP is necessary for planning purposes only. We do NOT require or make audition reservations or time slot appointments. Plan on attending as much of the audition session as you are able.  We have fun at auditions and you will be up and down multiple times in different scenes and with different audition partners.  Read on for further information.  Call backs will be by invitation only and will be held on July 31st.
Lovers and Executioners
By John Strand
Directed by Beth Hughes-Brown
Take classic swashbuckling, blend it with romance and revenge and season it with an ingenious disguise and you've got all the elements for some great comedy. When Bernard suspects that his wife Julie has been unfaithful, he strands her on a remote desert island. Years later, he has become infatuated with the flirtatious young Constance and plans to marry her, though he faces competition from the overbearing Spanish captain Don Lope and from a mysterious new suitor: Julie, very much alive and disguised as a man. This feisty 17th century feminist sets out to discover why Bernard wanted her dead and launches a revenge plot with the help of her trusty confidant. Winner of the 1999 Helen Hayes Charles MacArthur Award for Outstanding New Play, this lively period comedy combines classic elegance with a resonant contemporary sensibility. 
7 Actors (4 Men – 3 Women) – All Open 
The Providence Players of Fairfax is a non-profit community theater troupe. All participation is on a volunteer, non-compensated basis.
The Providence Players of Fairfax is a membership organization. Membership is not required to audition. If cast, actors in addition to production team members will be asked to become members of the Providence Players ($10) for the season (if they are not already).
Character Notes From Director Beth Hughes-Brown:  As those of you who have been cast in shows I've directed in the past are aware, I'm flexible in that I don't necessarily cast "by the book," i.e., use the ages (and sometimes sexes) suggested by the playwright.  I tend to cast the funniest; for this show, your ease with speaking "fancy" will definitely give you a leg up.  There will be lots of movement, some ribald action, lots of swordplay, and one face dunking (Bernard).  For general guidance, here are Mr. Strand's words (mostly).
BERNARD: Wealthy bourgeois, 40+ [maybe older]
JULIE/FREDERIC:  His wife, 30's [maybe older]
She also appears disguised as FREDERIC
CONSTANCE: Pursued by Bernard, 20's [maybe older]
GUZMAN: Valet to Bernard
DON LOPE: Spanish captain, in love with Constance
OCTAVIUS: Valet to Julie
BEATRICE:  Servant/companion to Constance
Performance Dates and Times
Preview: Oct. 4, 2018 7:00 pm Curtain
Evening Performances: Thursdays, Fridays, Saturdays; 7:30 pm Curtain 10/5, 10/6, 10/11, 10/12, 10/13, 10/18, 10/19, 10/20
Matinees:  Sundays; 2:00 pm curtain 10/7, 10/14
Audition Dates
7 to 9:30 p.m. Wednesday, July 25 & Thurs, July 26; Monday July 30
Call Backs (Invitation Only) Tuesday July 31 7 PM to 9 PM
All at Urbanites Room of James Lee Theater in Falls Church
(Please note that auditions will not be held in the theater)
Location
The James Lee Community Center
Urbanites Room – NOT IN THEATER
2855 Annandale Road
Falls Church, VA 22042 
Audition Information/Instructions
HOW WE WORK: Most PPF auditions have actors up and down to read multiple times in multiple combinations and scenes. Most actors find this fun. As space allows, you will be able to watch all the auditions. You may be asked to go into the hallway with audition partners and work a bit on a scene. We will do our best to get you up multiple times reading for parts you are interested in. You will also be asked to read for other parts you may not be auditioning for. The Providence Players strives to make our productions open to interested and engaged actors & actresses, regardless of their level of experience. We try and make our auditions as relaxing and fun as possible.
AUDITION PROCESS: Auditions will consist of readings from the script – The director encourages but does not require a 1 to 3 minute comedic monologue.   Or you can tell a joke.  Or do something else that's funny.   This normally works to your advantage, as it will give you an opportunity to make us laugh.
AUDITION SIDES: Sides for the audition process will be supplied at auditions.
AUDITION FORM: Resumes and headshots will be accepted but are not required. Please ALSO COMPLETE the PPF Lovers & Executioners Audition Form which is part of the audition download and bring it with you to the audition.
MEMBERSHIP: The Providence Players of Fairfax is a membership organization. Membership is not required to audition. If cast, actors in addition to production team members will be asked to become members of the Providence Players ($10) for the season (if they are not already).
RSVP: Please send us an RSVP if you plan to audition to rsvpprov@gmail.com (email us any questions you may have).
Production Schedule:
Call-backs (by invitation) Tuesday July 31 from 7-9:00
REHEARSALS
August 1-August 26 Rehearsals:  rehearsal times are TBD—I'll work around your schedule to the degree possible. Includes:
First read-thru
2-3 Movement sessions (possibly including swordplay coaching)
2-3 Language coaching sessions
Improv work
Full rehearsal schedule (see calendar included in the audition download) starts week of 8/27.
Blocking rehearsals during the last week of August are ONLY for Bernard & Guzman (for 8/28) and for the 3 swordplay scenes (8/30), which involve Frederic, Bernard, Guzman, Don Lope and Octavius.  For more info, see "who's on" chart, which lists who is in each scene.
Preview Performance Thurs 10/4 at 7:00 PM
PERFORMANCES
Performances: Th, F, Sat (10/5, 10/6, 10/11, 10/12, 10/13, 10/18, 10/19,10/20) at 7:30; Sun (10/7, 10/14) at 2 pm
Please come to auditions prepared to list any availability conflicts over this time period. Space is provided on the audition form for this purpose.