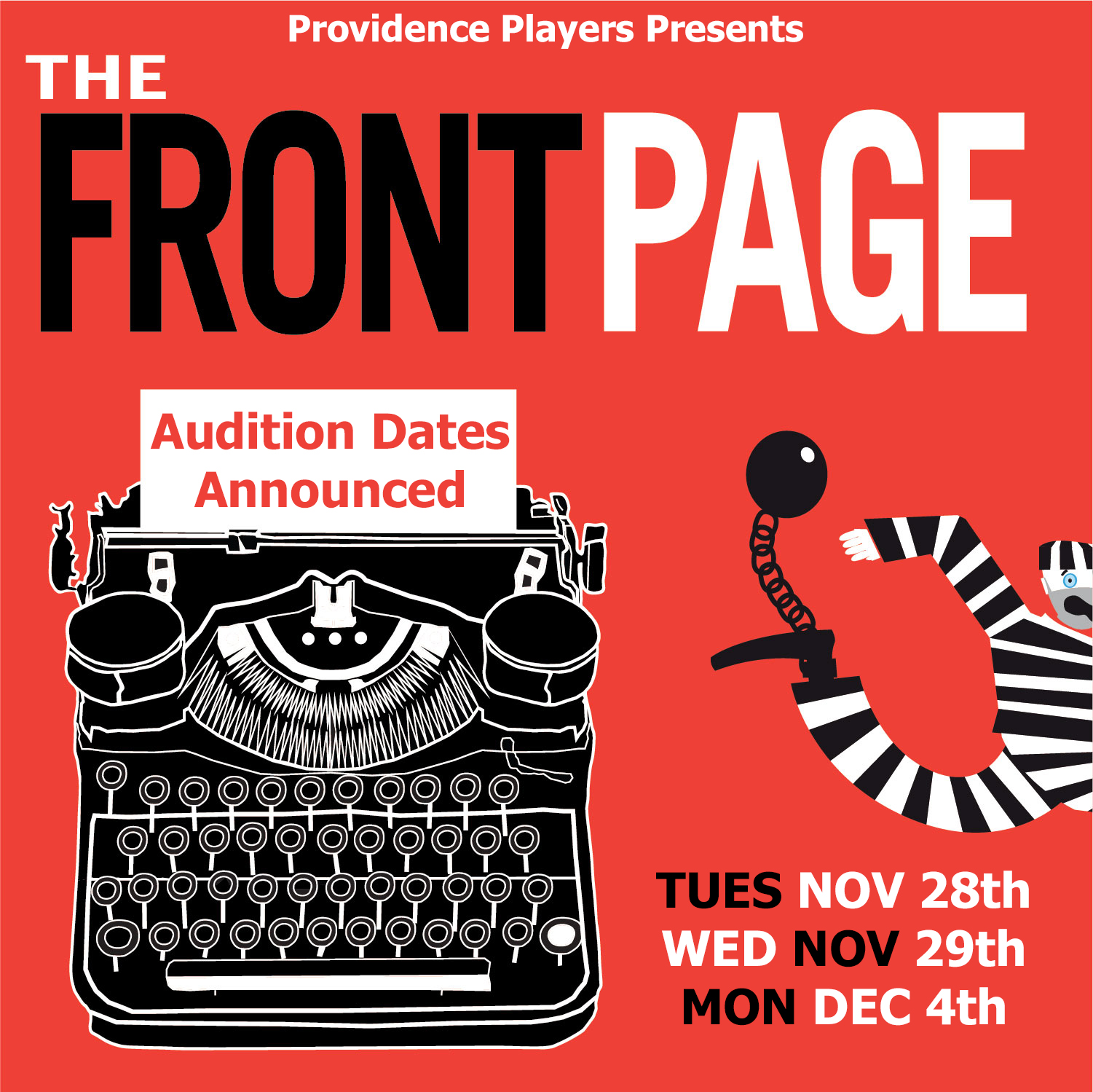 Audition dates for the Providence Players production of the classic American comedy The Front Page by Ben Hecht and Charles MacArthur have been announced. The full audition announcement will be published in the next couple of weeks but in the meantime, select one of these dates below and mark your calendar to save the date! The Front Page is being directed for the Providence Players by Michael Donahue.
All auditions will be held at the James Lee Community Center located at 2855 Annandale Rd in Falls Church in the room locations noted below.
Tuesday, November 28, 2017 6:30PM to 9:30PM [James Lee Urbanites Room]
Wednesday, November 29, 2017 6:30PM to 9:30PM [James Lee Urbanites Room]
Monday, December 4, 2017 6:30PM to 9:30PM [James Lee Multipurpose Room]
The Front Page as written has 23 roles – 17 Men, 6 Women all roles are open and uncompensated.
Auditionees should plan on attending only (1) scheduled session and stay the entire evening.   More information will be published soon
Auditions will be held at the James Lee Center in rooms noted above and consist of cold readings form the Samuel French script.
The Providence Players is a twenty-year-old, award-winning, all volunteer, non-profit community theater troupe.  The Front Page is the 3rd production of the Providence Players 20th Anniversary season.
The Providence Players of Fairfax is a membership organization. Membership is not required to audition. If cast, actors in addition to production team members will be asked to become members of the Providence Players ($10) for the season (if they are not already).
Availability of the Play for Review – The Providence Players does not provide review copies of plays. The script for The Front Page may be obtained from Samuel French, the play's publisher and rights holder (http://www.samuelfrench.com/p/2473/front-page-the) and other places.
The Front Page 
By Ben Hecht and Charles MacArthur
Directed by Mike Donahue
"Gorgeously melodramatic. One of the funniest and most exciting of American plays." N.Y. Times.
The classic comedy set in a 1920s Chicago Criminal Courts press room. Reporter Hildy Johnson wants to break away from journalism and get married, but all that changes when there is a jailbreak and an escaped convict, Earl Williams, falls into the reporter's hands. Hildy's daunting challenge now is to get Williams out of the building to a safe place for an interview before rival reporters or trigger-happy policemen discover him. Fast paced, and filled with crisp dialog and sharp humor, this irresistible comedy of both stage and screen fame packs a wallop of nostalgic Americana.
Performance Dates and Times
Thursday, Friday and Saturday 7:30 p.m.
April 6 – 21
Sunday Matinees 2:00 p.m.
April 8 & 15