Upcoming Performance
The Phantom Tollbooth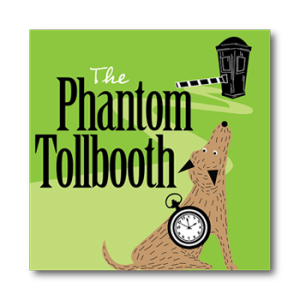 By Susan Nanus
Norton Juster's acclaimed fantasy adventure comes to life onstage! Milo is bored and the Demons of Ignorance keep telling him "If you get the urge to do anything — don't. It could be dangerous." To the rescue comes the Phantom Tollbooth! Aided by a trusty timekeeping dog Tock, they meet many memorable characters in the Land of Wisdom on their quest to rescue the princesses Rhyme and Reason. Based on the classic young adult novel, The Phantom Tollbooth is outstanding entertainment for the whole family!
Performance Dates and Times
Thurs, Fri and Sat at 7:30 p.m. December 8 - 16
Sat & Sun Matinees 2:00 p.m. December 9, 10, 16, & 17
Co-Produced by The Young Hearts- This special production will support the work of The Young Hearts, a group of amazing teens who raise funds to battle blood cancers and other diseases.  Half of all net proceeds from this production will be donated by the Young Hearts to the Leukemia and Lymphoma Society.
Ticket Information
Single Tickets
Adult - $20
Senior (62+) - $17
Student (w/ ID) - $17
Holiday - $17
How To Order
Online
Call 703-425-6782